Picnic baskets
Feast outdoors with one of these effortless, prefilled picnic baskets.
By Laura Shunk Mon Jul 2 2012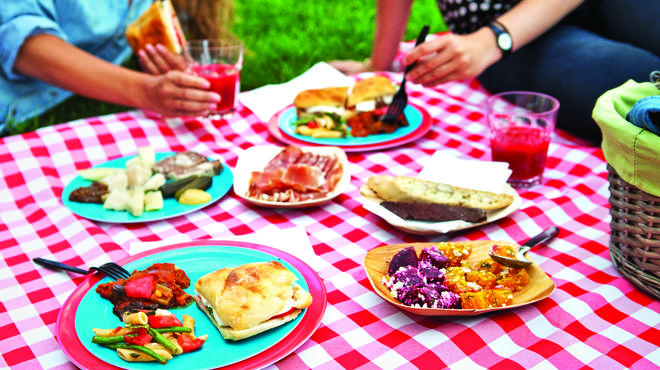 Photograph: Jakob N. Layman
Grab a picnic basket and head to the park for an alfresco meal when the warm weather hits this summer. Whether you're heading to Central Park or Prospect Park, you can pick up a feast-ready basket from top-notch BBQ joints, Italian restaurants and cheese shops for your next meal in the sun. Plus, you don't need to sweat the details when these prefilled picnic baskets include smart extras, like cutlery, Wet-Naps and even picnic blankets for spreading out in the park.
Picnics: $80–$140
Compile a picnic basket from an array of Italian-leaning small plates at this West Village wine bar. For $80, twosomes can enjoy six of the tantalizing offerings—such as roasted beets sprinkled with feta, chickpeas studded with flakes of Italian tuna, or charcuterie—alongside crisp biscotti. Stop by the restaurant and have the staff assemble your meal on the fly, nibbling complimentary crostini and sipping free prosecco while you wait. Bonus: Each charming basket comes packed with a red-checked blanket and a garbage bag for cleanup.
Nearest green space: Two avenues to the High Line
306 W 13th St between Eighth Ave and W 4th St
More info
Picnics: $95–$110
Head to this shrine to dairy to nab a lawnworthy feast of finely crafted domestic and European fromage, packed into a picnic basket. Francophiles can opt for the special Bastille Day package (feeds four to six, $95)—an all-star roundup of cow, sheep and goat cheeses that includes unctuous Camembert, tart Le Chevrot, nutty Etorki and pungent Fourme d'Ambert blue. Parcel each out on crackers with a dab of your choice of fig, blueberry or blackberry jam and a coin of saucisson sec from New York charcutier Le Trois Petits Cochons.
Nearest green space: Seven blocks to Madison Square Park
Price band: 4/4
Critics choice
Picnics: $21
Chef Bill Telepan's locavore ethos extends to his park-ready picnics ($21 per person), which showcase seasonal entrees, sandwiches and sides. Choose fried chicken or preserved-tuna salad on crostini, plus dishes like farro tabouli or tomato-and-wax-bean salad. Vinegar-splashed fries come with every order, as does a dessert pastry, such as a blueberry pie crescent or a red velvet cupcake. Just be sure to place your order by 5pm the day before your excursion.
Nearest green space: One block to Central Park
72 W 69th St between Central Park West and Columbus Ave
Book online
Picnics: $50–$60
This well-appointed Upper West Side café and market stocks a handful of park-appropriate packages, many including beer. For a full meal, we like the Mediterranean (feeds two, $50), which harnesses the flavors of a seaside feast. Take the spread someplace sunny, where you can smear creamy Tremblaye Camembert across black-pepper croccantini crackers, pluck sardines from a tin and dig into sweet, fat Medjool dates. Add a bottle of Ommegang Hennepin—a light, summery saison—from the cold case on the way out ($11.50).
Nearest green space: One block to Central Park
491 Columbus Ave between 83rd and 84th Sts
More info
Price band: 2/4
Critics choice
Picnics: $100–$200
The team behind this tiny market reimagines classic picnic themes for pairs and quartets, providing a canvas bag filled with food, plus cutlery, cups and a corkscrew. The fried chicken dinner (feeds two, $135) offers crisp-skinned Cajun-spiced poultry and a pot of Mexican honey for dipping, along with lemonade, apples and chocolate chip cookies. The eclectic sides—hummus, Manchego cheese and cucumber-mint salad dotted with bits of feta—channel the Mediterranean. Plan ahead: You'll need to place your order at least 24 hours in advance.
Nearest green space: Five blocks to Washington Square Park
Picnics: $80–$100
Rally some friends and phone in an order for the Insta-Party Basket (feeds six to eight, $80) from this cheese-focused market in Cobble Hill. The haul is centered on three cheeses: Request favorites, or ask for a cheesemonger's choice, which will likely include something soft and mild, something hard and sharp, and something blue or stinky. The package also comes with spicy Salumeria Biellese sopressata, crackers and Mast Brothers chocolate for dessert. For $20 more, sister wineshop Smith & Vine will provide a bottle of beer or vino, paired specifically to your cheese. Give the shop 24 hours notice, and request that your order be packaged for the outdoors.
Nearest green space: Six blocks to Carroll Park
215 Smith St at Baltic St, Cobble Hill, Brooklyn
More info
Hill Country Barbecue Market
Picnics: $12–$99
Summer is prime barbecue season, and this homage to Texas-style pit-smoked meats will set you up with the carnivorous standards, streamlined for outdoor eating (Wet-Naps included). The restaurant offers a variety of to-go meals, built for one to four people—and will deliver to any park between 14th and 42nd Streets and First and Eleventh Avenues for free. The Two-Step ($51) feeds a duo with lean brisket (fat-ridged moist brisket is $4 extra), pork spareribs or a half chicken, plus two sides, such as mac and cheese or green-bean casserole. Toss in a jar of iced tea for $5 more.
Nearest green space: One block to Madison Square Park
30 W 26th St between Broadway and Sixth Ave
Picnics: $21–$25
This Mediterranean restaurant, named for an Istanbul neighborhood, assembles specialties from Turkey and Greece into a basket you can order to go. Outdoor-meal kits—which can be adapted for groups of any size—come loaded with meze such as hummus, whipped eggplant and tomato-and-onion salad. Those dishes, plus pistachio baklava, supplement a protein, like chicken brochette ($21 per person) or sliced lamb rolled into pita-like lavash with tomato, onions, parsley and sumac ($25 per person).
Nearest green space: One block to Bryant Park
Picnics: $10.95–$14.95
Weekenders en route to Prospect Park should make a beeline for this growler and gourmet-goods shop. The counter will pack you a lunch ($10.95 per person) on the spot, assembling an array of picnic victuals, starting with charcuterie from Salumeria Biellese, cheddar and another cheese, such as the raw cow's-milk Der Scharfe Maxx from Switzerland. A Branston pickle, olives and country bread from Pain D'Avignon complete the feast. For four bucks more, toss in a pint jar of cold draft beer; good summer options include Victory Summer Love, Brooklyn Brewery Gold Standard and Empire White Aphro.
Nearest green space: One and a half blocks to Prospect Park
438 Seventh Ave between 14th and 15th Sts, Park Slope, Brooklyn
More info
Picnics: $28–$500
Phone in your order a few hours in advance, and this picnic-delivery service will drop off anything from cured meat to caviar—bundled in a canvas bag with a tea towel and cutlery—to any Manhattan park. Extravagant options like the Platinum picnic (two people, $500) include setup and cleanup service. But even the affordable alternatives will net you something special: The classic picnic (feeds two, $32) consists of a meat-and-cheese feast featuring goodies from Salumeria Biellese and formidable baker Pain D'Avignon, enhanced by accoutrements like rosemary-garlic olives and sea-salt caramels. You can add pickled vegetables, potato chips or Bellinis for an extra charge.
Nearest green space: Delivers to any Manhattan park
9 Clinton St, (between E Houston and Stanton Sts), 10002
More info
---