Restaurant and bar openings: April 18–24, 2013
Lafayette, SmokeLine and more open in New York.
By Christina Izzo and Patty Lee Mon Apr 15 2013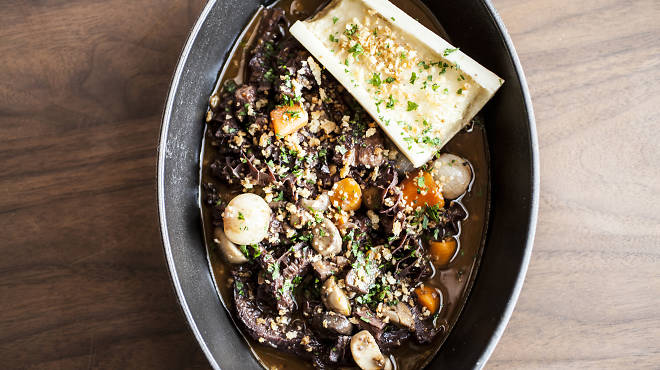 Tripe bourguignonne at Lafayette Photograph: Krista Schlueter
The following venues are expected to open by April 24th. Always call ahead, as openings can be delayed.
Alchemy, Texas Kansas City 'cue booster Josh Bowen (John Brown Smokehouse) turns his attention to smoked meats from the Lone Star State at this Jackson Heights roadhouse, in the former Ranger Texas Barbecue space. The menu highlights Texan standards—brisket, beef ribs, pork sausages—but diners can also dig into offbeat specials, such as frog legs and smoked lamb belly. Plus, the experimental pit master remixes Texas BBQ with seasonings from nearby Bengali spice shops, infusing sauces with chamomile and black tea, and adding nutty fenugreek to a dry rub with guajillo and pasilla chilies. Wash it all down with beers from Legends sports bar, which shares a space with the 40-seat eatery—Bowen's only decorative contribution: red-and-white checkered tablecloths. 71-04 35th Ave between 71st and 72nd Sts, Jackson Heights, Queens (718-803-8244)
Brooklyn Brewhouse Barclays Center sports fans can pregame at this tavern, featuring 14 craft drafts and a dozen flatscreens. From brother-beer-buff team Brendan and Sean Straw (Astoria Brewhouse), the granite-topped bar features suds like Huyghe's Delirium, Speakeasy Prohibition Ale and Goose Island IPA on tap, along with more than 50 brews by the bottle. Nab a white-leather barstool for booze-soaking grub like hickory-smoked BBQ ribs, pulled pork sliders and game-ready app "towers" (wings, lobster rolls, calamari). 229 Duffield St between Fulton and Willoughby Sts, Downtown, Brooklyn (718-254-7813)
Lafayette Ace culinary crew Andrew Carmellini, Josh Pickard and Luke Ostrom—the winning team behind blockbusters Locanda Verde and the Dutch—follow up those rollicking hot spots with this souped-up, 150-seat French bistro. The dream-team trio recruited boldfaced-name toque Damon Wise (Tom Colicchio's longtime right-hand man at Craft) to execute the Gallic menu, which marks Carmellini's return to his Francophilic roots (exemplified by runs at Café Boulud and Lespinasse). The menu focuses on the country's rustic South: House-made ravioli au pistou reps the eastern tip butting against Italy; grilled octopus with smoky eggplant and pipérade pledges allegiance to the Basque border; and roasted lamb chops with burnt orange and olives evoke France's Moroccan ties. A zinc-hooded rotisserie in the spacious, mahogany-floored eatery twirls roasted chicken pour deux, while an in-house bakery, manned by Per Se alum James Belisle, churns out Provençal staples like pain de campagne and whole-grain pain aux noix. Slip into a caramel-leather banquette for aperitifs (Bonal, Byrrh, Dubonnet) or vin—the by-the-glass list touts 25 Gallic bottles, featuring big-ticket wine regions (Loire, Bordeaux), as well as small-production, country-style varietals. 380 Lafayette St at Great Jones St (212-533-3000)
La Señorita Marc "King" Solomon (A Cafe) griddles house-made panqueques (South American crêpes) at this Latin-accented spot. The toque fills his savory crêpes with Puerto Rican pollo fricassee (adobo chicken stew) and Dominican slow-cooked beef stew, while sweet options follow Argentine tradition, drizzled in dulce de leche. Solomon also deep-fries snacks (cuchifritos) like empanadas and tostones, and forks out French-Caribbean plates: escargot dressed in cilantro-chili sauce; rum-soaked prawns with curry; and duck pâté à l'orange. Drinks lean toward Latin America (Chilean vino, Medalla brews), as do the tunes, with Nuyorican dancehall beats filling the space. Shelves of Pop Art–style painted Campbell's soup cans span one wall, while another boasts a mural depicted '80s R&B diva Lisa Lisa Velez, accompanied by the lyrics of her hit "I Wonder If I Take You Home." 115 Eldridge St between Broome and Grand Sts (646-438-9898)
MD Kitchen Legendary Midwood pizzeria Di Fara brings back meatballs, chicken Parm and pastas at a nearby takeout nook. In 2005, owner Dom De Marco axed the Italian staples to concentrate on flipping pies, but his sons and daughters are reintroducing some of the long-dormant dishes at a spin-off just down the street. Youngest son Harry takes the culinary baton, dispatching meatball heroes, shrimp marinara and other old-school best-sellers in the cheery yellow space. Keep an eye out for zeppoles, tiramisu and other classic Italian desserts from daughter Margaret. 1012 E 15th St between Aves J and K, Midwood, Brooklyn (917-789-9556)
SmokeLine Food & Drink Award–winning pit master Daniel Delaney brings the central Texas-style BBQ—plus pies and sodas—from his Williamsburg spot, BrisketTown, to the High Line. The open-air outpost—Delaney's first in Manhattan—doles out picnic-friendly renditions of his signature smoked meats, including a fried cheese-and-brisket sandwich, pulled pork (now tucked between Amy's Bread challah rolls) and, exclusive to SmokeLine, lamb ribs. Also on offer: made-to-order sodas with P&H syrups, and a rotating selection of seasonal pies (blueberry, apple) from Littleneck baker Rachell Roth. High Line at 15th St at Tenth Ave (718-701-8909)
Teaffee Carroll Gardens' caffeine-seekers can refuel at this neighborhood tea-and-coffee café, with Dallis Bros. beans and more than 80 loose-leaf varieties. Along with straightforward sips (cappuccinos, lattes, green and white teas), baristas percolate the namesake, the Teaffee, a concentrated coffee-tea mash-up in flavors like hazelnut and Earl Grey. Snag a stool at the lime-green counter for brews like lemongrass black tea (served in a ceramic pot with a timer for optimum brewing) or an icy treat. Tea-infused ice creams include ginger-matcha and marsala-chai, while frozen coffees (here known as "meeeshes") get blended with caramel cappuccino gelato. Loose-leaf teas, coffee beans and brewing accessories (kettles, French presses, infusers) are available in the steel-shelved retail section in back. 517 Court St at 9th St, Carroll Gardens, Brooklyn (888-832-3333)
You might also like
---