Restaurant and bar openings: August 1-7, 2013
Bromberg Bros. Blue Ribbon Fried Chicken, Tanoshi Bento and more launch in NYC.
By Christina Izzo and Patty Lee Mon Jul 29 2013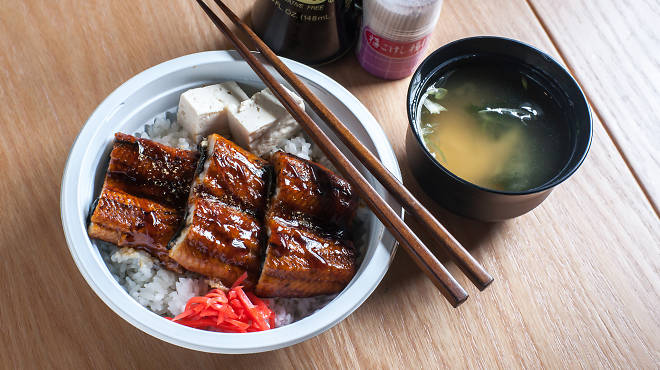 Eel donburi at Tanoshi Bento Photograph: Paul Wagtouicz
The following venues are expected to open by August 7th. Always call ahead, as openings can be delayed.
Bill's Bar & Burger Downtown The third Manhattan location of Steve Hanson's burger chain finds a home inside FiDi's New York Marriott Downtown. Like its Meatpacking and Rockefeller Center siblings, the 400-seat spot features gingham-topped dark-wood tables, more than 100 craft beers (Butternuts Porkslap Ale, Keegan Mothers Milk, Ommegang White) and flattop-griddled burgers (bacon-cheddar, mushroom-Swiss). Gravy-smothered disco fries, beer-battered onion rings and hand-dipped milk shakes are also on the all-American menu. 85 West St between Albany and Carlisle Sts (212-894-3800)
Bromberg Bros. Blue Ribbon Fried Chicken The Bromberg brothers' famed fried chicken—a cultishly loved favorite from their brasserie—finds a nest of its own at this fowlcentric East Village canteen on August 5th. At the 65-seat spot, outfitted with communal tables and graphic wallpaper, poultry is the headliner: Their honey-drizzled, matzo-crusted bird is available as a chicken dinner—teamed with cucumber salad, fries and rosemary bread—or in salads, sandwiches and burgers. Dive into offerings like the Kerry's Classic (pineapple, lettuce and a fried thigh wedged in house-made white country bun) or the Pit (a five-ounce patty cloaked in smoked Gouda and bacon). Sides like spiced fries, pickled peppers and fried okra tip a hat to the South, as do drinks: There's homemade sweet tea and Arnold Palmers, along with wine and beer. For dessert, cool off with house-churned ice cream in flavors such as banana–salted caramel and carrot-habanero. 28 E 1st St at Second Ave (212-228-0404)
Dolce Sweetness in Life Gelateria In the former L'Arte del Gelato space, Italy native Salvatore Potestio scoops 50 rotating flavors. At a white counter, choose from classic gelati (pistachio, olive oil) and sorbets (lemon, mango), available in handmade waffles cones or—in true Sicilian form—stuffed into a brioche bun. 33 Barrow St at Seventh Ave (212-206-8697)
Eight Turn Crepe Hailing from Ginza, Japan, this nook doles out crêpes with sweet and savory fillings. There are more than 30 combinations—such as matcha strawberry, banana almond and truffled egg whites—stuffed into rice-flour cones. To drink: house-made yuzu-ade, green-tea latte and La Colombe coffee. 55 Spring St between Lafayette and Mulberry Sts (212-334-3408)
Fairway Market The beloved local grocery chain launches its seventh NYC location at the base of the Chelsea Landmark building. At 26,500 square feet, it's Fairway's smallest location, but the supermarket packs in a chopped-salad bar, a kosher bakery and the company's largest selection of imported goods, including unfiltered barrel oils and artisanal cheeses. Sushi, pasta, sausage and mozzarella are all house-made, breads are baked in-house daily, and salmon is house-smoked. Full store-to-door delivery is also available. 766 Sixth Ave between 25th and 26th Sts (646-676-4550)
Flatiron Hall Jon Bloostein—owner of Heartland Brewery and Houston Hall—has expanded his sudsy holdings with a retro-style beer hall in NoMad. Beyond the reclaimed St. Paul's church signage in front—still bearing the name of Reverend W.H.A. Booker—find Greenpoint Beer Works brews at the dark-wood bar, such as an apricot ale, an oatmeal stout and a red lager. But those looking for a stiff drink can choose from cocktails like a peach mojito, a jalapeño margarita and a rosemary-Scotch quaff, the Mark Twain. Bar bites are of the fusion variety—chicken tikka masala wontons and pastrami Reuben spring rolls—while entrées skew more traditional (burgers, fish-and-chips). Circular metal chandeliers, antique irons and sepia-stained framed photos decorate the space. 38 W 26th St between Broadway and Sixth Ave (646-790-3200)
Kobeyaki The fast-casual Japanese restaurant—offering rolls, bowls and buns—has expanded with a second NYC location in midtown. The 1,600-square-foot space—outfitted with blond-wood booths and oversize Japanese-character photography—functions as a quick sushi spot, serving spider rolls, shrimp tempura and udon soup. You can also load up on burgers (kobe beef, chicken teriyaki), sake and beer (Sapporo, Asahi). 110 W 40th St between Sixth Ave and Broadway (212-391-1600)
Lock Yard Former Brooklyn firefighter Tommy Casatelli—behind Bay Ridge's Kettle Black and Ho' Brah Tacos—opens a third neighborhood watering hole, a wood-laden beer bar fittingly parked next to Engine 242. Housed inside an old locksmith shop where Casatelli worked as a kid, the copper-backed bar features 12 all-American craft beers—including local brews from Sixpoint, Kelso and Ommegang—and four wines on the black-iron taps. From the open kitchen come snacks including a dozen sausage varieties (such as a chicken-jalapeño-mango from Brooklyn Cured and a broccoli-rabe-and-provolone from Lioni's), alongside hot dogs, sweet-potato Tater-Tots and Frito pie. Out back is a 32-seat garden equipped with picnic tables, an apt setting for kicking back with one of the bar's 20 canned brews. 9221 Fifth Ave between 92nd and 94th Sts, Bay Ridge, Brooklyn (718-333-5282)
Maison O Loosely inspired by filmmaker Nobuhiko Obayashi's 1977 cult classic, House, this Japanese izakaya from Tadashi Ono (Matsuri) is whimsically outfitted with French-Japanese movie posters, magnet-covered walls and handheld video games. The yakitori grill is the focal point of the plywood-walled dining room, firing skewers of chicken gizzard, beef tongue and pork belly. At the sushi bar, raw-bar items (botan shrimp, sea scallops) are served with yuzu mignonette and wasabi cocktail sauce, alongside sashimi standards like hirame and amber jack. Twenty-seven bottles of sake—seven by the glass—and Japanese draft beers (Asahi, Sapporo) are available in the restaurant, but for cocktails, head to the basement's 25-seat cocktail bar: The Honda's Revenge features Yamazaki 12-year whiskey, ginger, yuzu and five-spice syrup, while Kato's Kick is made with tequila, shiso, cilantro syrup, ginger beer, fresh jalapeño and lime. Beyond the downstairs bar, find a mirrored karaoke lounge with themed private rooms: One is styled as a Japanese classroom with desks, while another is park-inspired and decorated with tree stumps. 98 Kenmare St between Centre and Mulberry Sts (212-274-9898)
Ootoya Expats and Japanophiles can tuck into tonkatsu and yakitori at the second location of this popular, and TONY-approved, Tokyo comfort-food chain, which boasts more than 100 locations in Tokyo alone. Called the T.G.I. Friday's of Japan—only better—the restaurant highlights teishoku, meal sets served alongside rice, asazuke pickles, miso soup and steamed egg custard: Options include cinnamon-marinated pork belly, horse mackerel with ponzu sauce and deep-fried chicken topped with soft-boiled egg and grated radish. Twenty-seven varieties of sake and shochu are poured at the amber-lit light-wood bar. 141 W 41st St between Sixth and Seventh Aves (212-704-0833)
Sweet Spot Sporting Lounge & Restaurant Astorians Harry Panagiotopoulos and George Dimou (Igloo Cafe) take the neighborhood sports bar up a notch with this 7,000-square-foot lounge. Housed in a former Off Track Betting parlor—a sign still hangs on the exposed-brick wall—the brew house features 18 beers on tap (Abita, Blue Moon) and nearly 20 by the bottle (Heineken, Amstel Light). In the 100-seat dining room—lined with high-def televisions and brown leather banquettes—tuck into Mediterranean dishes, like deep-fried feta and zucchini-and-eggplant pizza, inspired by the owners' Greek heritage. 22-72 31st St between Ditmars Blvd and 23rd Ave , Astoria, Queens (718-777-7475)
Tanoshi Bento With his stripped-down nigiri drawing hordes at sushi newcomer Tanoshi, chef Toshio Guma turns Gotham on to a more novel concept—a bento box restaurant—in the space next door. Drawing inspiration from daily market offerings, the Morimoto alum sticks to simple preparations, allowing seasonal ingredients like lotus and burdock to shine. Choose from mains (such as chicken teriyaki and shrimp tempura) and sides (like vegetable gyoza, shishito peppers and string beans, and a kaboucha-and-mixed-greens salad in apple dressing). The chef also makes soba daily, served with a cold dipping sauce in the summer and a hot broth come winter. Like his first restaurant, the space is trim and minimalist: Five wooden two-tops fill the room, accented by a single landscape painting. 1372 York Ave between 73rd and 74th Sts (917-265-8254)
Umami Burger Burger buffs, brace yourselves—Adam Fleischman's LA patty sensation has finally come east with this much-hyped Village outpost, opening July 29th. A champion of umami—that hard-to-place savory "fifth taste" found in everything from parmesan to mushrooms—Fleischman spotlights the funky flavor-bomb in sixteen burgers, including the beer-cheese-and-lardon-topped Manly Burger; a mook-baiting truffle-and-roasted-garlic variety; and an NYC-exclusive five-spice duck burger with peach-apple chutney. The meat comes coarse-ground and medium-rare—no substitutions allowed—on Portuguese-style buns branded with the signature "U" logo. Also on offer are truffle fries; "secret menu" cheesy tots; and ice-cream sandwiches built with Blue Marble ice cream and Good Batch cookies. The bilevel, 128-seat space—decked out with red leather banquettes and a framed portrait of umami-discovering scientist Kikunae Ikeda—features two full bars stocked with eight tap beers (Sixpoint Sweet Action, Allagash White) and 17 location-specific cocktails: the 21-U Club is a tribute to the birthplace of the Bloody Mary, while the Bobcat—a mix of cognac, black-cherry soda and lemonade—is named after NYU's mascot. 432 Sixth Ave between W 9th and 10th Sts (212-677-8626)
Wafels & Dinges The popular Belgian-waffle truck rolls out an East Village café. Savory offerings join the lineup of sweet toppings (spekuloos, maple syrup, strawberries): Combos like the 2nd Street Salmon Special (capers, lemon dill sour cream) and Wake Up, Grumpy (egg, bacon and cheese) are available only at the neon-accented shop. Wash them down with a cup of Belgian hot chocolate or custom Brooklyn Roasting Company coffee. 15 Ave B at 2nd St (no phone yet)
You might also like
---