Restaurant and bar openings: August 8-14, 2013
Contra, Hirohisa and more open in New York City.
By Christina Izzo and Patty Lee Mon Aug 5 2013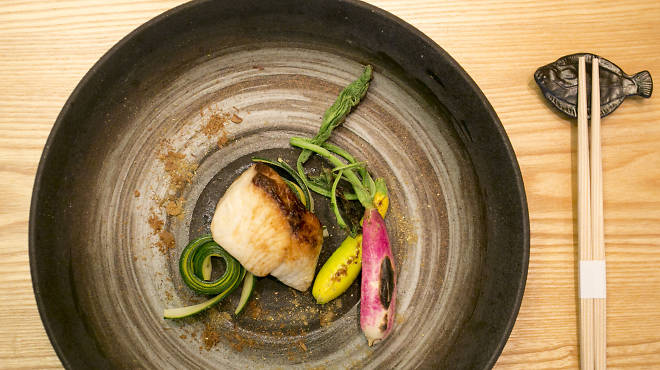 Amber jack at Hirohisa Photo: Caroline Voagen Nelson
The following venues are expected to open by August 14th. Always call ahead, as openings can be delayed.
Barley & Grain The team behind wine bar Tangled Vine turns its attention to whiskey with this American restaurant, serving the dark stuff both in glasses and on plates. From the kitchen, chef Eli Kahlon (Balaboosta, Oceana) sends out elevated comfort food, with dishes like foie gras with truffles, pistachio puree and apricot-whiskey jam; "cowboy" steak with a bourbon demi-glace and tobacco onions; and free-range chicken with cilantro dip and that malt favorite, barley. The copper-topped bar is stocked with 100 whiskey varieties, hailing from the U.S., Scotland and Ireland: bourbons including 1792 Ridgemont Reserve and Pappy Van Winkle 23-year; Glenmorangie and Cragganmore Scotch; and rye such as Four Roses Yellow Label and Michter's. Along with the brown stuff, there are a dozen American craft brews on tap (Sly Fox Irish Stout, Empire White Aphro) at the 12-seat bar. Whitewashed brick walls, walnut-stained tables and leather banquettes decorate the rustic corner spot. 421 Amsterdam Ave at 80th St (646-360-3231)
Bluestone Lane Coffee Melbourne native Nicholas Stone reps his hometown's coffee scene with this midtown café. Adorned with cricket balls and photos of Australian football stars, the takeout spot pulls flat whites and lattes using a custom Sightglass blend. To eat: treats from Balthazar, Downtown Cookie Co. and fellow Aussie bakery Bondi Bikkies. 805 Third Ave between 49th and 50th Sts (212-888-8848)
Brooklyn Roasting Company The Dumbo coffee company expands with a second Kings County location, taking over the JJ's Navy Yard Cocktail Lounge space. Outfitted with a pair of Loring Kestrel Smart Roasters, the airy café showcases four rotating espresso varieties (like Iris and BQE), as well as hot and iced coffee roasted from Fair Trade and Rainforest Alliance beans. For snacks, find croissants and sandwiches from Williamsburg's Margo Patisserie and doughnuts from Dough. The shop honors its nautical predecessor, JJ's, with ship-in-a-bottle models docked at the marble-topped bar, and artifacts from the old dive, including light fixtures and columns reclaimed from strippers' dressing rooms. 200 Flushing Ave at Washington Ave, Fort Greene, Brooklyn (718-858-5500)
Contra Jeremiah Stone (Isa) and Fabian von Hauske (Copenhagen's Noma) go way back, having bumped elbows during stints at the French Culinary Institute—Stone in the events kitchen and von Hauske for Dave Arnold. The pair reunite for this seasonal tasting-menu restaurant on the Lower East Side, dividing kitchen duties between savory and sweet. Stone trains his focus on stripped-down New American for his five-course prix fixe, highlighting dishes such as raw scallops with sweet-potato leaf and lamb fat; beets alongside hazelnut and yogurt; and sweetbreads, cabbage and onions. For dessert, Von Hauske doles out plates like peaches imbued with milk, olive oil and mixed flowers. At the six-seat bar, sommelier Linda Milagros Violago (alum of Spain's world-famous Mugaritz) helms a similarly trim beverage program, featuring one rotating local draft beer and seven by-the-glass biodynamic wines. Taking a page from geometry textbooks, the narrow 44-seat space is fitted with curved wooden banquettes, linear wood wall paneling and a block bar topped with a live-edge slab of oak. 138 Orchard St between Delancey and Rivington Sts (212-466-4633)
Crescent Grill This 95-seat New American restaurant highlights local ingredients and works by Long Island City artists. Find dishes like roasted Cascun Farm chicken with Yukon potatoes; Jameson Farm lamb shoulder and loin; and New York strip steak with house-made gnocchi. 38-40 Crescent St at 39th Ave, Long Island City, Queens (718-729-4040)
Dag's Patio Café United Nations office workers can chow down on Pat LaFrieda burgers and franks at this outdoor kiosk. Opened by the Carnegie Club's Mark Grossich, the gourmet snack shack flips short-rib-and-chuck patties topped with applewood-smoked bacon, grilled onions and more. Hot-dog combos salute American cities like New York (mustard and sauerkraut), Chicago (relish, chopped tomato, celery salt) and Los Angeles (chili, cheddar cheese). To drink: wine, beer and vodka-infused lemonades. Dag Hammarskjöld Plaza, 342 E 47th St between First and Second Aves (917-471-4827)
Heartbeet Juicery Health nuts can nab fruit and vegetable juices from this wood-paneled takeout window. In addition to seasonal specials like pineapple-jalapeño and watermelon-mint, find menu staples like the Super Greens (romaine lettuce, celery and apple) and Citrus Spirulina (orange, grapefruit and ginger), along with nut-based milks. 85 Stanton St between Allen and Orchard Sts (917-338-4646)
Hirohisa Goodbye, Kyoto; hello, Fukui—Hirohisa Hayashi, former owner of small-plates spot Hibino, culls inspiration farther up the Japanese coast for this eponymous Soho eatery. There's nary a sushi roll in sight—instead, find market-driven regional specialties from Hayashi's native town, Echizen, available à la carte or in multicourse omakase: roasted miso-marinated lamb; tofu-skin-wrapped shrimp cakes with shishito; and steamed koshihikari rice imported from Ikeda, Fukui. Styled as a traditional kappo, small plates are dispatched directly from the blond-wood chef's counter, giving a bull's-eye view as Hayashi tops sesame tofu with sea urchin and soy dashi à la minute. "Kanpai!"-ready beverage options consist of beer (Sapporo, Kunda) and sake, including Hirohisa's own house-made plum rice wine, a blend of Tokusen, Denshin and Kokuryu sake aged for more than two years. The minimalist 20-seat space—designed by Super Paprika, the firm behind Momofuku and Ippudo—features exposed brick, washi-papered service trays and whimsical ceramic tableware. 73 Thompson St between Broome and Spring Sts (212-925-1613)
2647 Catch the game on one of 11 hi-def TVs at this Harlem sports lounge. At a marble-topped bar, order draft beers (Guinness, Bronx Brewery IPA) or cocktails like the Fruit Without Flowers (blackberries, limoncello and vodka) and Finsbury Chapel (raspberries, tequila and mint). In the back lounge—outfitted with brown leather banquettes and black stools—fare both Latin (chimichurri steaks) and Southern (chicken and waffles) is on the menu. 2647 Frederick Douglass Blvd (Eighth Ave) at 141st St (646-398-9194)
---