Restaurant and bar openings: February 13-19, 2014
Gun Hill Brewing Co., Brooklyn Piggies and more roll out in New York City.
By Christina Izzo Mon Feb 10 2014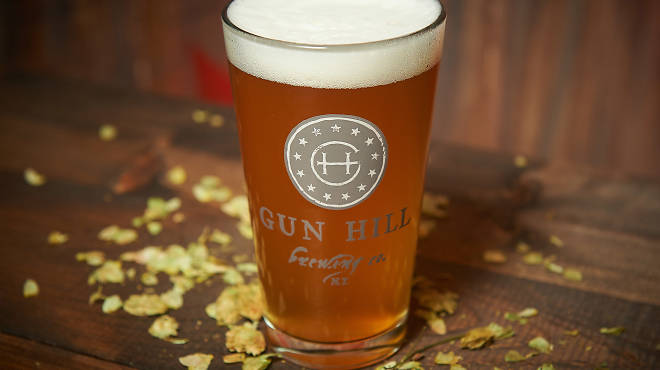 Gun Hill Gold at Gun Hill Brewing Co. Photograph: Filip Wolak
The following venues are expected to open by February 19th. Always call ahead, as openings can be delayed.
Bar 54 At this 54th-floor bar—New York's highest rooftop lounge—expect cocktails created by Clover Club owner Julie Reiner, as well as global bites (miso-glazed ribs, porchetta sandwich) from hotel chef Nicholas Pelliccione. Beneath a laser-cut mirrored ceiling, bartenders dole out quaffs like the tequila-based La Rosa (rosé champagne, amaro, strawberries) and the Tree House #2 (bourbon, macadamia-nut orgeat, mole bitters). Along with skyline views, the 1,400-square-foot terrace is outfitted with wood-paneled walls, leather banquettes and outdoor fireplaces. Hyatt Times Square, 135 W 45th St between Sixth and Seventh Aves (646-364-1234,timessquare.hyatt.com)
Brooklyn Piggies The one-dish-restaurant craze rages on with this pigs-in-a-blanket storefront, a permanent offshoot of Missy Koo and Stacy Cole's popular Smorgasburg stand. The pint-size takeout spot fuels East Village snackers into the wee hours via a streetside walk-up window, offering three varieties of the pastry-swaddled cocktail frank: a classic beef-and-pork link, a paprika-and-pepper version, and a chicken wiener pepped up with Parmesan, fennel and oregano. To complement the kitted-out sausages, Tot-like potato puffs and a trio of house-made condiments (ketchup, spicy mustard and BBQ) are also served in the brick-walled nook. 195 Ave A between 12th and 13th Sts (212-533-3800, brooklynpiggies.com)
Calexico The Vendy Award–winning Vendley brothers add a Park Slope outpost to their street-taco chain, joining three other locations and two carts. The 60-seat canteen features similar decor as its siblings, with brick walls and wood tables, and offers the same Cal-Mex menu: tacos (such as chipotle pork), rolled quesadillas (roasted mushroom, carne asada) and sandwiches like the Sloppy Jose (ancho-cumin beef, fried-green tomatillos, red-chili sauce). To curb the spice, find South of the Border drinks like jalapeño margaritas and Pacifico beer. 280 Fifth Ave between Garfield Pl and 1st St, Park Slope, Brooklyn (347-254-7644, calexico.net)
Fabio Cucina Italiana Rome native Fabio Hakill (Park Side, Piccolino) looks to old-line Italian dining for this midtown restaurant, furbished with gothic chandeliers and red-and-gold banquettes. House-made pastas are on offer, such as tortelloni al pomodoro and fettuccine with porcini mushrooms, while entrées include aged porterhouse in fennel sauce, veal scaloppine with artichoke hearts and Colorado rack of lamb in mint demi-glace. The Italian-heavy wine list includes 64 varietals by bottle and 18 by glass. 214 E 52nd St between Second and Third Aves (212-688-5200, fabiocucinaitaliana.com)
Gun Hill Brewing Co. For the first time in five decades, brewing returns to the Bronx. Since Rheingold closed shop in the late '60s, beer has been produced outside of the borough—City Island brews upstate and Bronx Brewery trucks in kegs from Connecticut. At this 5,000-square-foot draft operation, Chris Sheehan (Chelsea Brewing Company) makes all beer on-site, turning out a 30-barrel lineup of German-style ales, hearty stouts and a Frosted Hops ale, made with frozen upstate wet hops. The dark-wood taproom functions as a 25-seat bar and retail shop—a perk of a farm brewery license, which also requires Sheehan use local ingredients—selling pints, flights and to-go growlers. 3227 Laconia Ave between Boston Rd and Duncan St, Williamsbridge, Bronx (no phone yet, gunhillbrewing.com
Jacques Torres Chocolate At this 500-square-foot uptown outpost, Jacques "Mr. Chocolate" Torres serves the same indulgent offerings as at his four other NYC locations. Expect nut-studded chocolate bark, mudslide cookies and steamy mugs of his famed hot chocolate. 110 E 57th St between Park and Lexington Aves (no phone yet, mrchocolate.com)
Macaron Parlour Husband-and-wife team Christina Ha and Simon Tung expand with this Upper West Side bakeshop, their second NYC location. Find macarons in flavors like peanut-butter cup, Thai chili and black truffle, as well as other pastries like blueberry-ricotta muffins, crème brûlée doughnuts and bacon-Gruyère scones. The subway-tiled shop features a full espresso bar, highlighting Blue Bottle coffee. 560 Columbus Ave between 87th and 88th Sts (no phone yet, macaronparlour.com)
Matsunosuke Find all-American treats from an unexpected source: Japanese pastry chef Akiko Hirano, who adds this white-tiled US outpost to her Kyoto and Tokyo bakeshops. On the menu: banana-split brownies, cranberry-lemon muffins and chocolate-cream pie. But Hirano doesn't shy from her heritage altogether—she also offers five types of Japanese-style chiffon pancakes, including one topped with red-bean paste and house-made maple sauce. 58 W 8th St between Fifth and Sixth Aves (212-529-5888, matsunosukepie.com)
Untamed Sandwiches Low-and-slow meats are the star of this midtown sandwich shop, outfitted with a communal table, wood counters and exposed brick walls. Il Buco vet R.L King is behind combos like brisket with sweet-and-sour cabbage, pork butt with pepper jelly and goat with chermoula carrots, all built atop toasted ciabatta from Grandaisy Bakery. Seasonal sides include charred broccoli and rye-berry salad. 43 W 39th St between Fifth and Sixth Aves (646-669-9397, untamedsandwiches.com)
Wasabi London's sushi chain crosses the pond for its first U.S. outpost, a 3,400-square-foot spot in Times Square. Specializing in fast-casual sushi and bento boxes, the bi-level restaurant offers chicken katsu curry, tanmen noodle soup and onigiri (triangular sushi-rice patties) filled with roasted salmon, as well as cellophane-wrapped rolls to go. 561 Seventh Ave at 40th St (212-575-1410, wasabi.us.com)
---