Restaurant and bar openings: February 20–March 5, 2014
French Louie, Other Half Brewing and more roll out in New York City.
By Christina Izzo Fri Feb 14 2014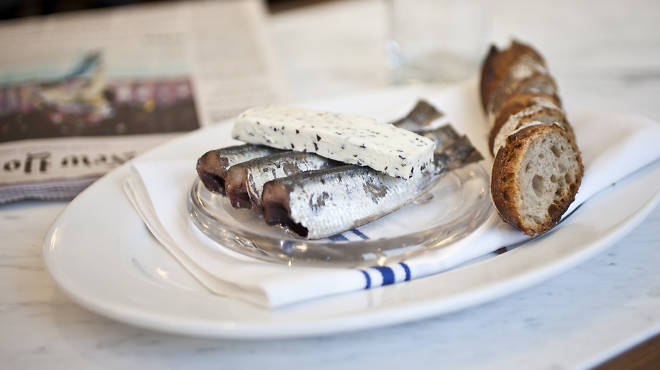 Smoked sardines at French Louie Photograph: Virginia Rollison
The following venues are expected to open by March 5th. Always call ahead, as openings can be delayed.
Arco Café Sebastiano Cappitta (Acqua, Isola) is behind this 42-seat Sardinian café. On the menu: lasagna-meets-casserole zuppa gallurese; house-made cannelloni with béchamel sauce; and pane frattau, a poached-egg-topped thin bread with tomato sauce. Native Italian grapes like moscato and vermentino are highlighted on the trim wine list. 886 Amsterdam Ave between 103rd and 104th St (212-665-0033)
Custom Fuel Pizza & Salads Picky eaters can build their own pies at this 30-seat, quick-service spot, the first NYC location of a Washington, DC chain. Mix-and-match offerings include three crusts—classic, wheat and gluten-free—your choice of sauce (pesto, spicy marinara), and more than 40 toppings, such as burrata cheese, grilled artichoke and farm egg. There are also signature pies, like sausage-and-pepper and BBQ chicken, turned out from the high-heat oven in 90 seconds. 2288 Frederick Douglass Blvd (Eighth Ave) at 123rd St (646-524-5636)
The Flagship Brewing Co. A hops' throw from the Ferry terminal, Harpoon vet Patrick Morse and former Phoenix beer distributor Jay Sykes bring brewing back to Staten Island—the borough has been brewery-free since Piels closed its plant in the 1960s. Highlighting local hops, the factory produces three beers: an American witte, a pale ale and a dark ale. The 4,000-square-foot tasting room—outfitted with a 15-seat bar, biergarten-style picnic tables and a glass wall overlooking the brewery—serves the beer on tap, along with small-batch and one-off varieties like white stout and cream ale. 40 Minthorne St at Bay St, Staten Island (718-448-5284)
French Louie Buttermilk Channel, that Beyoncé-baiting farm-to-table restaurant, is unabashedly taken with New York, from the Caputo's pasta tossed with chestnut ragout right down to its name (referring to the strait between Brooklyn and Governors Island). For their follow-up venture, owner Doug Crowell and chef Ryan Angulo look beyond the Empire State to locales slightly more exotic: Francophilic enclaves like New Orleans and Montreal. Named after Ottawan folk hero Louis Seymour, this French-inspired bistro dishes out smoked sardines with dulse-butter rye toast, foie gras–and-country-ham terrine and flounder grenobloise (in brown-butter–caper sauce). Find French and American wines in the 50-seat spot—furbished with a brass-backed mahogany bar, marble tables and brown banquettes—as well as classic cocktails from drinks man Tim Miner (the Long Island Bar, the JakeWalk). 320 Atlantic Ave between Hoyt and Smith Sts, Boerum Hill, Brooklyn (718-935-1200)
The Gilroy All-American bites and a Negroni-focused cocktail menu are featured at this 40-seat late-night den, outfitted with a copper-topped bar and raw-wood communal tables. Spigolo alum Joseph D'Angelo runs the kitchen, serving East Coast oysters, roasted fig tartlets and chicken potpie. Along with original cocktails—like the Heart of Cold (bourbon, maple, grapefruit bitters)—gin-and-tonics and Negronis are highlighted in different varieties, including seasonal, barrel-aged and bottled. 1561 Second Ave at 81st St (212-734-8800)
Navy Top Chef toque Camille Becerra (Paloma) steers the ship at this 51-seat, maritime-themed restaurant, offering a seafood-focused menu. A raw bar features uni toast, sardines with seed crackers, and blini topped with house-cured fish, while the kitchen turns out plates like gnocchi with tonnato (tuna-and-anchovy sauce) and a trout en croûte for two. The WWII-inspired space is decorated with walls covered with military canvas and partitions made of naval signal flags. 137 Sullivan St between W Houston and Prince Sts (212-533-1137)
Other Half Brewing After years spent manning the tanks at Greenpoint Beerworks, head brewer Sam Richardson strikes out on his own with this IPA-driven brewery. The 4,000-square-foot operation—not to be confused with Chicago's Better Half Brewing—turns out five hops-forward beers, including a West Coast–style IPA, a Motueka pale ale and a black IPA brewed with winter barley. Heavier selections include an imperial stout and sour beers. The factory is open for hops-head visits on weekends, while a taproom pours out pints and offers mix-and-match six-packs to go. 195 Centre St between Hamilton Ave and Smith St, Carroll Gardens, Brooklyn (347-987-3527)
You might also like
---