Restaurant and bar openings: January 30–February 5, 2014
The Royal Palms Shuffleboard Club, Lucky Luna and more roll out in New York City.
By Christina Izzo Mon Jan 27 2014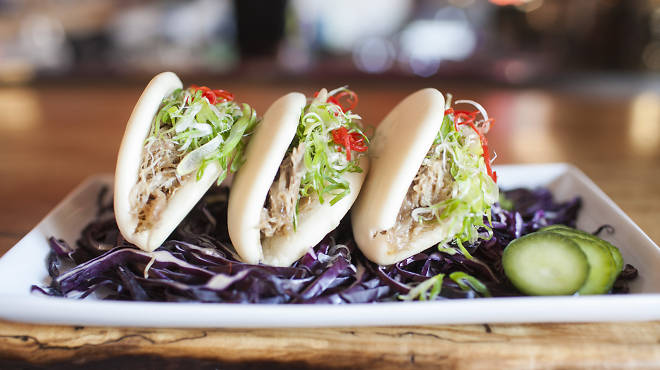 Peking-duck confit bao at Lucky Luna Photograph: Erica Gannett
The following venues are expected to open by February 5th. Always call ahead, as openings can be delayed.
Ariana St. Petersburg–born Vitalii Kovalev (Mari Vanna) retools the food of his homeland at this 80-seat West Village eatery, modernizing rustic Russian standbys like borscht (with short ribs, crème fraîche and oxtail stock) and stuffed cabbage (butter-poached lobster in black-caviar broth). At a marble bar inside the 2,000-square-foot space, Apothéke barman Orson Salicetti spotlights Russia's poison of choice, vodka, in cocktails like the Khurma (persimmon, apple cider, agave nectar) and the Lavender Sour (lavender-hibiscus elixir, egg white, sherry). 140 W Houston St between MacDougal and Sullivan Sts (646-678-4334)
Hudson Cafe This 20-seat European bistro—from the team behind Mole—offers Costadoro coffee, Balthazar pastries (apple braids, sticky buns) and panini (Cubano, caprese) in the morning, with heartier options for dinner: Moroccan-spiced lamb shank, cod-pepper stew, and pork loin stuffed with dried fruits and pistachio. Ten wines are available by bottle and glass, along with three draft lines: Spaten, Dos Equis and Lagunitas. 628 Hudson St between Horatio and Jane Sts (212-390-1744)
indikitch The founders of frozen-food line Tandoor Chef cooked up this fast-casual Indian joint, offering made-to-order sandwiches, salads and traditional dishes. Main courses like chicken tikka masala, Goan fish curry and paneer saag (spinach with Indian cheese) are prepared on an open grill and served with naan bread and beans. Also on offer are sandwiches wrapped in tawa flatbreads, biryani rice bowls (with pepper sauce and yogurt) and house-made juices (blood-orange lemonade, mango lassi). 25 W 23rd St between Fifth and Sixth Aves (646-590-7152)
Kung Fu Little Steamed Buns Ramen Peter Song—who was a famous variety-show actor in China before becoming a chef—learned the art of noodle-pulling at Lanzhou Handmade Noodle in Flushing's Golden Mall food court. The toque employs his table-slapping techniques at this Hell's Kitchen hole-in-the-wall. Taiwanese-style lamian strands come in six varieties (satay beef, grilled tempura), and diners can also choose from xiaolongbao (soup dumplings), teriyaki (chicken hearts, fish balls) and small plates like wined pork knuckles and red-oil potato salad at the 34-seat restaurant. 811 Eighth Ave at 49th St (917-388-2555)
Lachlan Following a drama-filled December 2013—which included owner Carl McCoy's arrest in an alleged drug bust and the subsequent departure of the kitchen crew—acclaimed Williamsburg charmer Gwynnett St has been revamped as a cheekily named gastropub (Lachlan McIntosh killed Button Gwinnett, a signer of the Declaration of Independence). At the helm is Allswell vet Alexis Krisel, who dispatches Gwynnett's famed whiskey bread, as well as her own originals, including fried ham-hock wontons, charred octopus with clementines, and pappardelle with guanciale and leeks. For drinks, find cocktails like the Wadsworth (gin, Luxardo Triplum, green chili, coriander) and the Mr. Pink (mescal, elderflower, absinthe, Cocchi Americano, pink peppercorn). 312 Graham Ave between Ainslie and Devoe Sts, Williamsburg, Brooklyn (347-889-7002)
Ladurée Soho Modeled after the Champs-Élysées flagship, this downtown outpost from the famed Parisian macaron house functions as both a pastry shop and a full-service restaurant, with a 2,000-square-foot terrace and two private salons. While the shop focuses on the brand's confections, the dining room—decorated with ornate chandeliers and gold-trimmed curtains—offers French-accented dishes like foie gras with caramelized apples and smoked salmon with caviar cream and roasted pumpkin. 398 West Broadway between Broome and Spring Sts (855-523-8733)
Lucky Luna New York is no stranger to head-scratching fusion fare: The city's seen Jewish-Japanese at Shalom Japan, Jamaican-Cantonese at Milk River and an Italian-Korean hybrid in Piora. A trio of San Francisco transplants—Boulevard alums Howard Jang and Ken Ho, along with Marisa Cadena (Palomino)—add to the list of oddball mash-ups with this Mexican-Taiwanese restaurant. Chef Jang's cross-cultural eats include vegan sautéed-shiitake tacos, cumin-and-coriander beans over steamed white rice and Peking-duck confit bao with hoisin mayo and chicharròns. The bar program, helmed by Ho, reps both countries with cocktails (micheladas, absinthe-lychee martinis) and beers including Bohemia and Taiwan. The 44-seat space—outfitted with Mexican black-pottery votives and punched-tin light fixtures—also acts as a supper club, hosts sustainability workshops and showcases artists, such as the Bay Area's Amina Lei and Brooklynite Julie Paveglio. 167 Nassau Ave between Diamond and Newell Sts, Greenpoint, Brooklyn (718-383-6038)
The Monarch Room Freemans alum Michael Citarella offers New American fare inside a bi-level 1930s warehouse, spruced up with upholstered leather banquettes, drum chandeliers and a 20-foot-long mahogany bar. Dishes include fried hen-of-the-woods mushrooms, red-pepper gnocchi and halibut with golden beets, while a ten-person oyster bar serves a rotating selection of Northeast bivalves. Evelyn Drinkery cofounder Christian Sanders created the cocktail menu, featuring twisted classics like a Byrrh-wine-infused Negroni and a white-pepper-and-clove gimlet, while the wine list spotlights more than 500 bottles, including rare vintages. 408 W 15th St between Ninth and Tenth Aves (646-790-7070)
Pink Nori This white-tableclothed sushi spot allows guests to mix and match ingredients for their own customizable rolls. Options include the standards (tuna, shrimp), as well as nontraditional ingredients like guacamole, cherry tomatoes and jalapeños. 36-06 30th Ave between 36th and 37th Sts, Astoria, Queens (718-685-2365)
Sushi Seki This Chelsea spin-off of the uptown sushi stalwart—a late-night favorite of chefs like Eric Ripert and Daniel Boulud—offers larger digs, with 48 seats in the dining room and 14 at the sushi bar. But regulars can expect the same whimsical nigiri combinations (jalapeño-topped yellowtail, king salmon with scallion sauce). 208 W 23rd St between Seventh and Eighth Aves (212-255-5988)
The Royal Palms Shuffleboard Club In the grand tradition of old-folks hobbies turned ironic cool-kid pastimes, this Gowanus game hall centers on that Florida-geriatric favorite, shuffleboard. Inspired by childhood visits to West Palm Beach, Jonathan Schnapp has rigged his 17,000-square-foot clubhouse with striped cabanas, retro lawn furniture and eight regulation-size courts. While broom meets biscuit on the aqua-hued decks, a duo of bars dole out umbrella drinks named for Sunshine State shuffleboard "luminaries" (er, right): The Christine Page—for the president of the St. Petersburg Shuffleboard Club—mixes rum, Luxardo cherries, grapefruit and lime juices, while the Jim Allen honors the son of hall-of-famer Sam "Mr. Shuffle" Allen and features tequila, Creole shrub, mango nectar and lime juice. Game-time grub comes courtesy of a daily-changing cast of local food trucks, parked in an adjacent loading dock: Mexicue, Crif Dogs, Morris Grilled Cheese and Mexico Blvd are all on the docket. 514 Union St between Nevins and Third Aves, Gowanus, Brooklyn (347-223-4410)
Taco Santo At Jacques Gautier's taqueria—which replaced his shuttered barbecue joint, Fort Reno—find made-to-order corn tortillas stuffed with fillings like duck mole, fried avocado and pork surtido (offal), as well as sopes, huaraches and quesadillas. To drink, sling back a mescal, a tequila or South of the Border brews like Tecate. 669 Union St between Fourth and Fifth Aves, Park Slope, Brooklyn (347-227-7777)
You might also like
---