Restaurant and bar openings: July 18-31, 2013
Khe-Yo, Shalom Japan and more debut in New York.
By Christina Izzo and Patty Lee Mon Jul 15 2013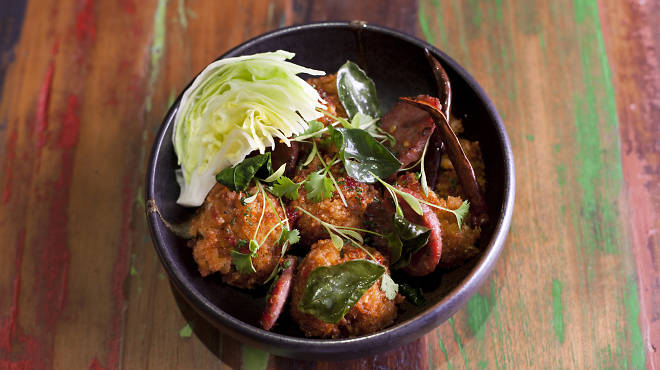 Crunchy coconut rice at Khe-Yo Photograph: Jessica Lin
The following venues are expected to open by July 31st. Always call ahead, as openings can be delayed.
Bed-Vyne Brews Hops-heads can cool their heels at this sister bar to neighboring Bed-Vyne Wine. The 40-seat drinkery evokes a cozy cabin with reclaimed-wood walls and benches. At a steel-topped bar, throw back brews both domestic (Stevens Point Special Lager) and foreign (Bellhaven Twisted Thistle), while noshing on snacks from Stinky Bklyn and Hot Bread Kitchen. 370 Tompkins Ave at Putnam Ave, Bedford-Stuyvesant, Brooklyn (347-915-1080)
City Rib Joining New York's burgeoning barbecue landscape is this 200-seat Queens smokehouse. From a duo of smokers come pit standards including baby back ribs, pork shoulder and barbecued chicken. Grab a chair at a wooden communal table for down-home dishes such as fried catfish, deviled eggs and shrimp-and-sausage gumbo. At the 30-seat bar—a blend of concrete and galvanized metal—find 14 beers on tap (Shiner Bock, Brooklyn East India Pale Ale) and cocktails like a Jack Daniel's–spiked lemonade and Caribbean rum punch. 89-14 Parsons Blvd between 159th and 160th Sts, Jamaica, Queens (718-878-3599)
Goldenrod Toast to Brooklyn's brewing past at this Carroll Gardens craft-beer bar from South Brooklyn Pizza owner James McGown. Located in the 19th-century home of the Otto Huber Brewery bar—Goldenrod was the brand of beer Otto's produced—the 75-seat brew den features 20 beers on tap, including a private-label pilsner from Brooklyn Brewery and a Goldenrod Ale from Olde Saratoga Brewing Company. At the salvaged 1893 dark-wood bar, you can also find cocktails made with Brooklyn spirits, including moonshine from Breuckelen Gin. Pub grub includes three burgers (Debragga's dry-aged rib eye, buffalo and beef), each served on a house-baked onion brioche, as well as individual pies from South Brooklyn Pizza (quail egg with speck and mushrooms). In the warm months, grab a soft pretzel and a cold one in the garden. 449 Court St between 3rd and 4th Pls, Carroll Gardens, Brooklyn (no phone)
Il Salumaio Salerno-born Fabio Casella (San Matteo Pizza) conjures a classic Italian salumeria on the Upper East Side. The small, tile-floored deli—a takeout affair—specializes in imported meats, cheeses and condiments: aged Modena balsamic vinegar; two types of prosciutto di Parma (dry-cured for 18 or 24 months); and buffalo mozzarella rolled with arugula and shaved Parmigiano-Reggiano. Along with the charcuterie, the offerings include prepared foods cooked in a wood-fired oven: sandwiches such as chicken parmigiana and a sausage-potato-porcini variety on Madonia Brothers bread, as well as pastas like farfalle with smoked salmon and rigatoni with house-made pesto. 1731 Second Ave between 89th and 90th Sts (646-852-6876)
Khe-Yo Wedged between Vietnam and Thailand, Laos draws culinary influences from both countries, employing the region's fragrant herbs and spices: lemongrass, galangal and kafir lime. On July 22nd, Soulayphet Schwader—Marc Forgione's longtime kitchen lieutenant—pushes those flavors to center stage with this 64-seat Tribeca restaurant. The first NYC spot specializing in the Southeast Asian cuisine, Khe-Yo—Laotian for green—features shared plates like lemongrass spareribs, crunchy coconut rice with spicy kafir sausage and a rau-rum (Vietnamese parsley) duck salad. Tweak the dishes with seasonal jaews (dipping sauces) at your wood-topped table, or snag a bar seat, where you can sip Beerlao brews and fruit-infused cocktails. An elephant mural and distressed-hemp walls add to the tropical vibe. 157 Duane St between Hudson St and West Broadway (212-587-1089)
L'Albero dei gelati Grab a scoop from this Lombardy, Italy, shop's first NYC location. Decorated with green walls and elm-wood tables, the Park Slope gelateria churns 21 seasonal varieties, both sweet (hazelnut, pistachio) and savory (yellow bell pepper, blue cheese). House-made pastries include Sicilian brioche, tiramisu and, when the holiday season rolls around, panettone. 341 Fifth Ave between 4th and 5th Sts, Park Slope, Brooklyn (718-788-2288)
Lady M Bryant Park Midtown office workers can recharge with pastries and Stumptown java at this Bryant Park location, the bakery's third. You'll find three flavors of its signature 20-layer crêpe cake, plus a green-tea éclair and sandwiches. 36 W 40th St between Fifth and Sixth Aves (212-452-2222)
Liquiteria The East Village juice bar expands to a second location, offering health-minded drinks and bites. Alongside its signature cold-pressed juices and smoothies, the Chelsea outpost serves an expanded food menu, with curry chicken salad, spinach hummus and quinoa brownies. 102 Eighth Ave at 15th St (212-929-0002)
Sembrado Mexico City native Danny Mena (Hecho en Dumbo) goes solo with this mescal-fueled East Village taqueria, decked out with Mexican plateware and vintage Spanish-language movie posters. The 42-seat restaurant specializes in traditional tacos al carbon, hand-pressed corn tortillas stuffed with grilled meat, such as pork-belly chorizo, salt-cured steak and free-range chicken breast. The checklist menu also features tacos al pastor, slow-cooked on a trompo rotisserie on display in the open kitchen. Meals are capped by desserts crafted by Fany Gerson of La Newyorkina, including sundaes topped with puffed amaranth, Mexican chocolate bits or sweet tomatillo sauce, as well as an exclusive mango-chamoy paleta. Post up to the ten-seat bar for cervezas (Negro Modelo, Pacifico), house-made horchata, and one- or two-ounce pours of mescal. There are 30 bottles of the earthy, agave-based spirit on offer, including selections from Mezcales de Leyenda, of which Mena is a partner. 432 E 13th St between First Ave and Ave A (212-729-4206)
Shalom Japan Forget Korean tacos or Thai burgers—a new form of fusion cuisine has hit Gotham. Inspired by the cross-cultural fare they prepare at home, husband-and-wife team Aaron Israel (Torrisi Italian Specialties, Mile End Deli) and Sawako Okochi (Annisa, the Good Fork) turn out Japanese-Jewish dishes. At Shalom Japan, dine on plates like sake kasu challah with sake-raisin butter; chickpea tofu topped with sesame vinaigrette; and pastrami-and-cabbage-stuffed chicken. Drinks also span cultures, with beverage director Micaela Grossman (Torrisi Italian Specialties, Seersucker) curating sakes as well as Eastern European wines. Bamboo-topped tables salute the East, while a train station painting by Israel—a former art student—adds an urban spark. 310 South 4th St at Rodney St, Williamsburg, Brooklyn (718-388-4012)
Treat House Find crisped rice treats at this Upper West Side sweetshop. Jennifer and Chris Russell—who first made the sticky snacks for a sidewalk bake sale—craft 12 varieties, like caramel fleur de sel, dark-chocolate chili and yuzu lemon. The café, outfitted in wood panels and tree-stump stools, also peddles homemade marshmallows and oatmeal breakfast bars, with a portion of sales benefiting the Food Bank for New York City. 452 Amsterdam Ave between 81st and 82nd Sts (212-799-7779)
Vacca Grill & Lounge Dominican artist Dario Oleaga transforms a mechanics' garage into a Latin restaurant and art gallery in Inwood. Along with South American–style grilled steaks, ceviches and raw-bar items from former Mesa Grill chef Humberto Leon, the 70-seat den spotlights South of the Border artists. Artwork covers the 5,800-square-foot space: tattoo-style pieces by Aneudi Hernandez in the lounge; Dister's comic-book-inspired graffiti art in the hallways; and a back-lit sculptural mural by Rider Ureña in the dining room. In the front champagne lounge, an entire wall is stacked with bottles of sparkling wine, overseen by Dominican sommelier Lina Tio: Veuve Clicquot, Perrier-Jouët, Don Perignon and Krug. Cocktail sippers can post up under an LED chandelier at the blackened-steel bar, where tropical quaffs are made with fruit purees, sugarcane and coconut water. 416 W 203rd St between Ninth and Tenth Aves (212-544-0070)
Vekslers Filipino chef Joe Bayley (Boqueria) fuses American, Spanish and Asian flavors at this 1,100-square-foot Cobble Hill eatery. Following his 2009 Chopped win, Bayley moved to San Sebastian, Spain, picking up an Iberian influence felt in plates like grilled squid with fingerling potatoes and a shrimp-and-chili tapenade, a play on txipirones y patata. The Cheez Whiz–covered burger also gets a Spanish accent with jalapeños, while a duck-egg–topped beef hash, plus sausage and cranberry beans with Chinese carrot mustard, hint at the chef's Southeast Asian background. The walnut bar is stocked with bottles of rye, moonshine and bourbon, along with six beers (such as Bernard Pils and Lagunitas IPA) and two wines on tap. The high-ceilinged, 115-year-old space—which was a funeral parlor in the '30s and a beauty salon in the '80s—is outfitted with wraparound crown molding and brass light fixtures. 521 Hicks St at DeGraw St, Cobble Hill, Brooklyn (no phone yet)
You might also like
---