Restaurant and bar openings: October 3-9, 2013
Norman's Cay, Clement and more roll out in New York City.
By Christina Izzo and Patty Lee Mon Sep 30 2013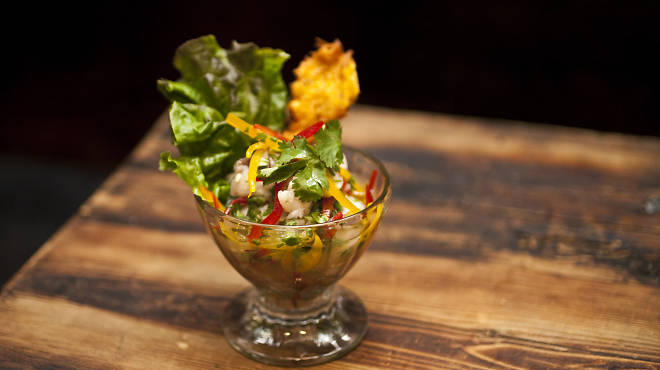 Lionfish ceviche at Norman's Cay Photograph: Virginia Rollison
The following venues are expected to open by October 9th. Always call ahead, as openings can be delayed.
Barbalu Former Barbarini owners Stefano Barbagallo and Adriana Luque bounce back from Hurricane Sandy with this 120-seat Italian eatery at the same location. The husband-and-wife team scaled back the retail area, making space for a skylighted dining room packed with wooden two-tops. Slide into a brown banquette for classics like mozzarella-and-eggplant caponatina, fettuccine with shrimp and tomatoes, and torta di pinoli (pine-nut cake). At the expanded bar area, find charcuterie and cheese plates along with Italian wines. 225-227 Front St between Beekman St and Peck Slip (646-918-6565)
Clement Brandon Kida (Asiate, Lutèce) oversees the kitchen at this 80-seat restaurant serving New American fare. Sourcing ingredients from the Northeast, Kida turns out dishes like Maine lobster with kabocha squash, Long Island duck with roasted pears, and Pennsylvania lamb with a kale puree. Adjacent to the wood-paneled dining room is a lounge serving Asian-inspired snacks such as Thai summer crab rolls and Peking duck buns. On the cocktail menu are drinks like the Ink & Dagger (gin, blackberries, cardamom leaves) and Lost in Shanghai (tequila, mango puree, lime juice, chili). Peninsula Hotel, 700 Fifth Ave at 55th St (212-903-3918)
Felice Next Door At this Italian-inspired sports lounge—attached to wine bar Felice 83—watch soccer matches on flatscreens and toast your team with European beers (Moretti, Forst) or wine from co-owner Jacopo Giustiniani's family vineyard, Fattoria Sardi. For cocktail drinkers, find quaffs like the Padova (white wine, Campari, aperol and grapefruit juice) and the Roma (rye, chamomile grappa and orange bitters). Bar bites include lobster-and-provolone macaroni and cheese, fried veal meatballs and home fries with Parmesan and truffle oil. 1593 First Ave at 83rd St (212-249-4080)
Isola on Columbus Sicilian-born Sebastiano Cappitta (Acqua, Bettola) resurrects his shuttered restaurant Isola (closed in 2006) with this uptown trattoria. In the rustic 50-seat space—punctuated by exposed brick walls, tiled floors and burgundy banquettes—a wood-burning brick oven fires individual thin-crust pizzas (pesto-shrimp, prosciutto-arugula) and homestyle meat lasagna. The kitchen rolls out southern Italian plates like fried artichoke hearts, salmon in tomato-mustard sauce and arugula-topped veal cutlet. Classic Italian cocktails (Negroni, Americano) are also on offer. 994 Columbus Ave at 109th St (212-665-2970)
Korchma Taras Bulba The first U.S. location of this popular Ukrainian chain offers traditional specialties like pierogi, pelmeni (Siberian ravioli) and borscht with pampushki (garlic doughnuts). Designed to look like a rural Ukrainian hut, the 110-seat space is decorated with wooden furniture, embroidered towels and woven baskets. 357 West Broadway between Broome and Grand Sts (212-510-7510)
Luzzo's BK At the Cobble Hill outpost of his East Village flagship, Neapolitan pizzaiolo Michele Iuliano (Luzzo's, Ovest) pulls Southern Italian rounds from a century-old wood-fired oven. The brick-walled, 60-seat spot offers charred pizzas like the Diavolo (mozzarella, marinara and spicy salami), the Sorrentina (arugula, shrimp and lemon) and the house pie (topped with mozz, lemon, sugar and black pepper). The Brooklyn menu also includes trattoria staples like fried calamari, caponata and fettuccine with wild boar ragù, as well as montepulciano wine and Moretti beer. 145 Atlantic Ave between Clinton and Henry Sts, Cobble Hill, Brooklyn (718-855-6400)
Norman's Cay A Bahamian breeze sweeps into Gotham with this rum-charged Lower East Side shack, from the team behind New England–themed Grey Lady. Like its sibling, the 46-seat Caribbean joint—named after an islet off Nassau—hooks its focus on seafood: Chef Gavin McLaughlin casts out red snapper ceviche with aranitas (shredded plantain fritters), coconut shrimp with mango chutney, and chicken skewers with pickled onions and mojo sauce. Beneath the 1966 Cessna Skyhawk airplane hanging from the ceiling, bartenders serve Kalik beers and tropical cocktails like planter's punch, Norman's Rum Dum (light and dark rums, lemon, egg white) and Sky Juice (gin, coconut water, seltzer and nutmeg). Palm-tree wallpaper and a mounted ten-foot hammerhead shark model add island kitsch to the white-walled spot. 74 Orchard St between Broome and Grand Sts (646-481-1229)
RedFarm Dumpling devotees can find signature plates at this uptown offshoot of Ed Schoenfeld and Joe Ng's West Village dim sum house. In the former Fatty Crab annex, chef Joe Ng serves dishes like yuzu-wasabi shrimp, Katz's-pastrami egg rolls and a slew of dumplings (duck-and-crab, shrimp-and-snow-pea). The bar menu is identical to its sibling's, offering Asian-inflected cocktails (shiso-cucumber martini, nori-infused old-fashioned), and the 80-seat spot is fixed up with exposed beams, white-washed walls and gingham-covered banquettes. 2170 Broadway between 76th and 77th Sts (212-724-9700)
Whitman & Bloom Liquor Company Named after a character in Ulysses, the 100-seat space consists of two levels: a cozy first floor outfitted with a fireplace and brown banquettes, and a basement furnished with brass tin ceilings and dark wood tables. Locavores can sip regional wines and spirits, including cocktails like the Earl, which is made with New Amsterdam gin, Earl Grey tea, honey, lemon juice and fresh mint. To accompany the booze are Mediterranean-influenced plates like grilled zucchini with hazelnuts and Podda cheese; ravioli with burnt beets and sage butter; and roast beef with pickled cabbage. 384 Third Ave between 27th and 28th Sts (212-725-4110)
---