Restaurant and bar openings: September 26-October 2, 2013
Toro, Pizzetteria Brunetti and more open in New York City.
By Christina Izzo and Patty Lee Mon Sep 23 2013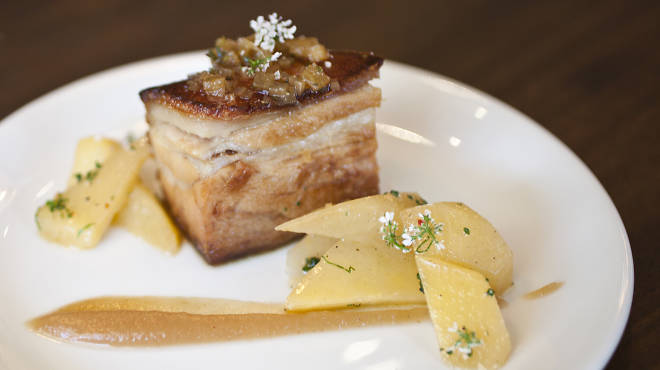 Pork belly at Toro Photograph: Virginia Rollison
The following venues are expected to open by October 2nd. Always call ahead, as openings can be delayed.
American Cut Marc Forgione bolsters his Tribeca holdings (Restaurant Marc Forgione, Khe-Yo) with this all-American steakhouse, modeled after his Atlantic City restaurant. A glass-enclosed hallway—lined with more than 3,000 bottles of red wine—leads into the 180-seat dining room, outfitted with copper ceilings, brass chandeliers and rosewood tables. Downtown meatheads can feast on chops sourced from steak kingpin Pat LaFrieda, plus souped-up seafood dishes like a cornflake-crusted crab cake and sriracha-laced lobster. 363 Greenwich St between Franklin and Harrison Sts (212-226-4736)
Cucina Ciano At this Italian trattoria—outfitted with leather banquettes and colorful oil paintings—find dishes like duck bolognese, veal meatballs and pappardelle with pork ragout. 181 E 78th St between Lexington and Third Aves (646-422-7550)
Hill & Bay Dig into brasserie fare at this 70-seat Kips Bay eatery, decorated with burgundy banquettes and white subway tiling. Inspired by his childhood on the French coast, chef James Barlow (Fig & Olive, Soho House) dispatches Gallic classics like chicken liver mousse, ratatouille with smoked ricotta and grilled hanger steak. To drink: American craft beers (Smuttynose pumpkin ale, Naragansett lager) and cocktails such as the East Side Pink Lady (sparkling wine, grapefruit liqueur, lemon juice). 581 Second Ave at 32nd St (212-245-5554)
La Cenita Gun for hire Akhtar Nawab (La Esquina, Craft) oversees the kitchen at this 240-seat Mexican cantina. Choose from a menu of spicy small plates: braised lobster tacos with poblano crema, a king crab tostada topped with chipotle ash and a tuna-and-watermelon ceviche. The airy, bi-level space is decked out with graffiti murals and an orange tiled bar pouring tequila and frozen cocktails. 409 W 14th St between Ninth and Tenth Aves (646-289-3930)
Manhattan Cricket Club Located above Aussie bistro Burke & Wills, this 40-seat den is furnished with gold-and-black wallpaper and velvet couches, a salute to the country's historic cricket clubs. Cocktails created by Greg Seider (the Summit Bar, Le Bernardin) are also inspired by the sport, with quaffs named for cricket-playing nations: West Indies (rum, chili pepper, honeybush tea), England (bourbon, mint, cider, cinnamon tincture) and Sri Lanka (rum, garam masala, passion fruit). Gourmet bar bites such as duck-leg rillettes, clams casino and lobster sliders accompany the booze. 226 W 79th St between Amsterdam Ave and Broadway (646-823-9252)
MexiBBQ South meets South of the Border at this Upper East Side canteen, the second iteration of the restaurant. At the 3,400-square-foot Manhattan location—outfitted with exposed-brick walls and leather banquettes—find menu staples like BBQ brisket tacos and baby back ribs with jalapeño-goat-cheese corn bread. Location exclusives include Chilean sea bass, tuna burritos and spice-rubbed beef ribs. Drinkers can choose from the 48-draft tap (Chelsea Blackberry Wheat, Dogfish Head Chicory Stout) and gussied-up margaritas (passion fruit–jalapeño, guava-chipotle). 1633 Second Ave at 85th St (212-837-8285)
Old Man Hustle This tiny Lower East Side dive is a hot-dog shack by day and a performance-art beer bar by night. On the daytime menu are zany tube steaks like the Italiano (all-beef frank with melted mozzarella, roasted red peppers and pesto sauce) and the Teriyakimoto (chicken-apple dog with chopped onions and teriyaki sauce). Come evening, comedians, contortionists and live bands take the stage in back. In between rounds of X-rated Pictionary on a chalkboard wall, hit the bar for all-American craft beers like Flying Dog Raging Bitch IPA, Rogue Dead Guy Ale and Lionshead Pilsner. 39 Essex St between Grand and Hester Sts (212-253-7747)
1200 Miles Pierre Rougey (Prandial) sticks close to his roots for this 75-seat Flatiron restaurant, named after the distance between Paris and Algiers. Born of a French father and Algerian mother, the chef puts forth a cross-cultural menu of traditional Gallic dishes (like smoked duck terrine) and North African specialties (including a lamb tagine stew). The digs also reflect the respective regions, decorated with Berber mohair-velvet banquettes, French gilt-wood mirrors and vintage maps. 31 W 21st St between Fifth and Sixth Aves (212-510-8722)
Pizzetteria Brunetti Bringing Westhampton to the West Village, this 65-seat slice-slinger is the first NYC outpost of Michael and Jason Brunetti's cult Long Island pie shop. Trained under Motorino's Mathieu Palombino, the father-son team pulls 20 pizza varieties from the Ferrara brick oven, including Neapolitan classics (marinara, Margherita) and newfangled rounds like the fungi e cipolla (shiitake mushrooms, honey-truffle oil and goat cheese). The Manhattan menu also includes Amalfi-inspired small plates: Italian tuna with capers and cannellini beans, and baby octopus stewed with tomatoes. Snag a stool at the white marble bar overlooking the blistering hearth for craft beers (Sixpoint's the Crisp, Sesonette) and Italian wine on tap. 626 Hudson St between Horatio and Jane Sts (212-255-5699)
The Rookery British and West Indian flavors collide at this 50-seat Bushwick gastropub, lined with vintage wallpaper and paintings. The menu features mash-ups like oxtail sloppy joes, samosa burgers and curried-goat shepherd's pie. At a horseshoe-shaped bar, owner Jamie Schmitz pours craft beers, British cask ales and rum cocktails. 425 Troutman St between St. Nicholas and Wyckoff Aves, Bushwick, Brooklyn (718-483-8048)
Toro Buzzy West Coast imports (Mission Chinese Food, Pok Pok Ny) may have ruled 2012, but this year, the spotlight has shifted back toward the Atlantic. Boston heavy hitters Ken Oringer (a James Beard Award winner) and Jamie Bissonnette—soon to be followed by D.C.'s legendary French toque Michel Richard—make their mark on Gotham, a Chelsea spin-off of their lauded Beantown tapas spot. The wood-paneled, 120-seat restaurant, decorated with a mounted bull's head, boasts floor-to-ceiling windows overlooking the Hudson River. From an open plancha bar, the chefs dispatch dishes like a rabbit, snail and artichoke paella; razor clams with piquillo pepper; and a tetilla-cheese-and-jamon pincho. The wine list features Spanish varietals, while a cocktail menu offers sherry quaffs and sangria on tap. 85 Tenth Ave at 15th St (212-691-2360)
---