Your St. Paddy's Day
This year, fete the Emerald Isle your own way. TONY breaks down festive plans for gourmands and boozehounds alike.
By Chris Schonberger Illustrations by Pascal Dizin Mon Mar 14 2011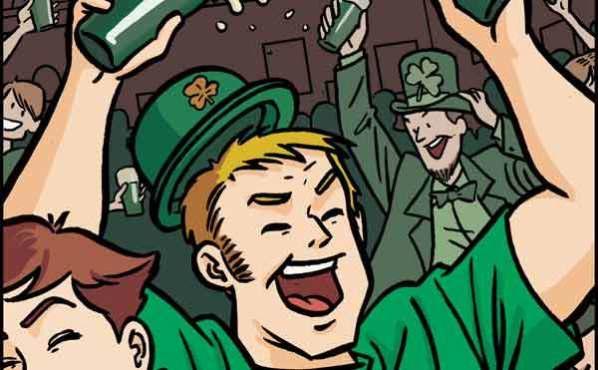 THE GUINNESS GUZZLER
You just want to get wasted. We get it. Here's where to find the craic, and where to recover the next day.
GO ON AN AUTHENTIC PUB CRAWL...
Sure, you could get loaded at any number of shamrock-covered watering holes around town. But those who want to add a little authenticity to their debaucherous wanderings should set their sights on Sunnyside and neighboring Woodside, where thick brogues still punctuate the pub banter. Here are your marching orders: Start a couple blocks from the 7 train's 61st St--Woodside stop at Sean Ogs (60-02 Woodside Ave at 60th St, Woodside, Queens; 718-889-3499), where a cathedral-style ceiling marks the pub as a fine spot to worship the splendor of a well-poured pint. Next, settle into the trapped-in-time barroom at Donovan's Pub (5724 Roosevelt Ave at 58th St, Woodside, Queens; 718-429-9339), and pick up some pointers from old-timers who know a thing or two about a bender. Stay for a few jars, but make sure you end up at Gaslight (43-17 Queens Blvd between 43rd and 44th Sts, Sunnyside, Queens; 718-729-9900). At this raucous tavern, expats hoist pints of the dangerously poundable house beer—Gaslight Lager ($4)—to the sounds of live bands playing Irish folk tunes.
...THEN CURE YOUR HANGOVER
In addition to a hearty fry-up (see "The Gastro Geek"), you'll need some Irish-style hair of the dog to coax yourself back into the land of the living. At Fort Defiance (365 Van Brunt St at Dikeman St, Red Hook, Brooklyn; 347-453-6672), owner and barkeep St. John Frizell elevates Irish coffee ($10) with his meticulous preparation: Counter Culture's chocolaty Toscano blend is brewed to order in a La Marzocco espresso machine, then spiked with Powers whiskey and topped with heavy cream and freshly grated cinnamon. Across the river, Manhattanites can go for the off-the-menu rendition ($10) at Ditch Plains (29 Bedford St at Downing St, 212-633-0202)—a generous mug of dark-roasted La Colombe coffee kicked up with Bushmills and crowned with sweet whipped cream. If you can't stomach the hard stuff first thing, the frosty Guinness Float ($9) at Southern Hospitality BBQ (645 Ninth Ave at 45th St, 212-265-1000)—a pint of Guinness crowned with two scoops of vanilla ice cream—should soothe your throbbing temples.

THE EVENT FOR YOU: ST. PADDY'S DAY PARTY
Ulysses channels the auld sod by carpeting Stone Street with real grass for a tented, all-day festival. Fuel up with a gratis Irish breakfast (8:30--10am); then throw back Guinness ($7) and Jameson ($8) till the wee hours. At 6pm, take a break from boozing to dance a jig or two with an Irish-American jam band. NO COVER Ulysses, 58 Stone St at Hanover St (212-482-0400). Thu 17. 8:30am--4am.
RECOMMENDED: A guide to St. Patrick's Day in NYC