Cash advances
I-bankers reveal how they spot gold diggers.
By Julia Allison Tue Nov 27 2007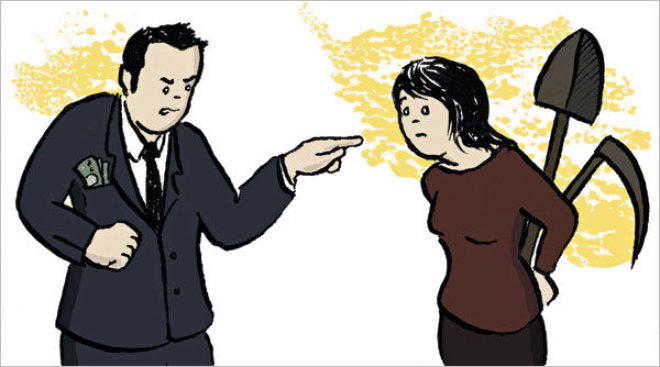 Illustration by Emily Flake
A few weeks ago, a suspiciously bold post appeared on Craigslist from a self-avowed beauty searching for a husband who "makes at least half a million." The unabashedly belligerent response—from a guy who supposedly makes that much—dismissed her plea as "a crappy business deal." As he wrote, "Your looks will fade and my money will likely continue into perpetuity." He got her good, that gold digger!
That the handle is attributed primarily to women, and is sexist, doesn't deter a certain set from denouncing "those types of women" with a vigor normally reserved for rapists and closeted gay Republicans. "There's nothing to suggest that there aren't men who date women for their money," points out Johnson & Johnson scion Jamie Johnson, who made the documentary Born Rich. K-Fed, anyone?
"I think that says more about the people with money and their anxiety than it does about anything else," he elaborates. "Many wealthy guys are overly concerned with it."
They sure are! I asked a few of these men about their techniques for spotting such ladies—at best, they were misguided, at worst, pathetic.
Keith, 27, a former investment banker, says that he avoids gold diggers by "talking about [his] favorite vintage of boxed wine, or international affairs." His reasoning has it that women interested in men with money couldn't possibly care about world events—or Franzia.
Then he asks: "What is the chemical composition of pyrite? And if I told you that my bank account is full of it, would you still sleep with me?" Puke. I hope every woman answers: "What is the chemical composition of blue balls? You'll have plenty of time to look that up tonight, because I'm out of here."
Tim Sykes, 26, one of the stars of Wall Street Warriors, says that his net worth is $600,000. "I've dated a few gold diggers—it's the curse of making $1 million before your 22nd birthday. Now that I'm off my highs, I can't afford them anymore. So, I avoid them by not wearing nice clothes, working 20-hour days and avoiding certain spots, like Tenjeune and Pastis."
Another thirtysomething banker (who wishes to remain anonymous), says that he actually checks a girl's closet, since "not only does it give you a sense of her style but if it's filled with stuff like Gucci and she has a mediocre job, then chalk it up as a good night of fun and exit." Forget gold digger; she's going to think she's dating a thieving trannie when she finds him rummaging through her wardrobe.
One woman e-mailed me that her wealthy male friends claim "they can spot a gold digger halfway through the first date." How? "Tell-tale signs include a woman who doesn't have a large, long-term plan for herself and her career, who isn't that interested in anything outside of herself, and who has overdeveloped interests in things such as yoga and shopping." Ah yes! Yoga and shopping. The test should be more sophisticated—"Do you eat food? Breathe? GOLD DIGGER!"
My friend Liz, 26, a banker, scoffed at the irrational fear of money-over-all dating. Most of her friends are "into men who are well-educated, smart and ambitious. Money generally comes with those things. [These friends], it should be noted, went to Ivy League schools and work at good jobs. So why shouldn't they look for similar things?"
Besides, times are different—be careful how you judge. "A lawyer I dated called me a gold digger," says Andrea. "I pointed out I make more money than him and then informed him that we just broke up."
See previous Julia Allison on Dating
Share your thoughts