Dates for quiet types
You won't have to worry about holding up a conversation on these stress-free, no-talking-required dates.
By Melissa Malamut Tue Feb 1 2011
---
Photograph: Sean Ellingson
Go to war at NYC Paintball and Laser Tag
Competition makes for some great foreplay. Turn up the heat without chitchat at this sprawling venue with two indoor courses, where you can battle zombies in the haunted house or play paintball in the "arena." The occasional shouted obscenity might be in order—which is more fun than talking about your five-year plan or your childhood. 47-11 Van Dam St between 47th and 48th Aves, Long Island City, Queens (718-361-8337, newyorkcitypaintball.com). Price varies; call ahead for reservations.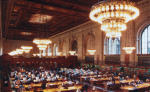 Shush yourselves at the New York Public Library
We don't expect you to just sit and read together—you're not married yet. Instead, take a free tour of the stunning Beaux Arts main branch of the library (officially named the Stephen A. Schwarzman Building), and gaze at so-remarkable-they'll-leave-you-speechless sights, like the magnificently beautiful McGraw Rotunda and Rose Main Reading Room. The grand splendor and culture will bring chills without either of you having to say a word. Fifth Ave at 42nd St (917-275-6975, nypl.org). Mon--Sat 11am, 2pm; Sun 2pm. Free.
Laugh at a live taping of Late Night with Jimmy Fallon
This nighttime show is taped at 5:30pm, so it can serve as a good barometer of how interesting your postshow dinner conversation will be. The outing does take a little planning, however; tickets are available by phone about a month in advance. Alternately, the two of you can line up with the tourists as early as 7am—at some point in those long hours you might think of something to say to one another. 30 Rockefeller Plaza, W 49th St between Fifth and Sixth Aves (212-664-3056, latenightwithjimmyfallon.com). Free.
Solve crimes at Accomplice: New York
Part walking tour, part interactive theater, part mystery, Accomplice takes you to various locations throughout downtown Manhattan where suspense and drama—not to mention actors posing as bystanders—can be found at every turn. A few alcoholic drinks are included in the roughly two-and-a-half-hour show, which should loosen tongues a bit, but that's just fine—you won't be able to blather on about the usual fare when you're trying to solve a thriller. Location disclosed with purchase (212-209-3370, accomplicetheshow.com). Sat, Sun every 30min 1--5pm; $65; Mar--Nov.
Stretch at Antigravity Yoga: Valentine's workshop for couples at Om Factory
Maybe you've been dating a little while and have run out of things to say. Communicate a different way at this two-hour class, where you'll connect via yogic goodness: breathing, gazing and a bit of massage. You'll even float from the ceiling in a hammock balanced by your partner's feet. 265 W 37th St at Eighth Ave (212-616-8662, omfactorynyc.com). Feb 13 5pm--7pm; $85 per couple.
Enjoy the silence at The Quiet Party
There is no chatting at this note-passing fete. The Quiet Party provides the paper and pens, but you are on your own when it comes to writing witticisms—texting and drawing are also permissible—to woo your date's heart. 94 W Houston St between LaGuardia Pl and Thompson St (quietparty.com). Next date TBA, 6:30--9:30 pm; $10 plus two drink minimum.
Whisper at Burp Castle
If you want to exchange a few private words with your date in very hushed tones, then head to Burp Castle for some Belgian beer and a monastic silence. The bartenders will shush you if you raise your voice too loudly, so you'll have to keep things down to a whisper if you must speak at all. 41 E 7th St between Second and Third Aves (212-982-4576, burpcastlenyc.wordpress.com)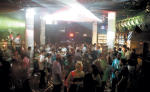 Dance at Santos Party House
Don't bother asking how your date's day was...They won't hear you. Thanks to the 150,000-watt sound system and regular lineup of parties and concerts, you'll both be too busy dancing to fake interest in one another's boring jobs. On Fridays, squeeze in for the reOPENed shindig with superproducer Just Blaze, who's dropped beats for Eminem, Jay-Z, DMX, Busta Rhymes and Fabolous, on the main floor. In the basement, Federation Sounds' Max Glazer, DJ Gravy and Micro Don spin Caribbean-oriented vibes. 96 Lafayette St at Walker St (212-584-5492, santospartyhouse.com). Fri 10pm; $20, before 11pm $10.