Hookup dates
Ten dating ideas to put sex on the cards.
By Sarah Theeboom Tue Feb 1 2011
---
Get tipsy at Bar 89
Alcohol is a social lubricant that's invaluable in romantic situations. Bar 89 understands this and helpfully hawks generous eight-ounce cocktails like the Tartini—a pants-dropping mix of raspberry vodka, Chambord and cranberry juice ($15). Even more suggestive are the unisex bathrooms with see-through doors that become opaque when locked—especially useful once your inhibitions have been completely drowned in booze. 89 Mercer St between Broome and Spring Sts (212-274-0989, bar89.com)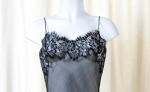 Lingerie shopping at Brooklyn Fox
Nothing says "I'd like to show you my underwear" quite like...well, you know. Steer clear of crowded department stores and head to a smaller indie outlet for more intimate intimates shopping. Browse garters, corsets and '50s pinup-style bras by Dirty Dolls ($75) beneath this boutique's chandelier. 132 North 5th St between Bedford Ave and Berry St, Williamsburg, Brooklyn (718-599-1555, brooklynfox.com)
Stripper poles not at strip clubs
You have so many choices for this one: Get in the mood to disrobe at the red-lit, clubby R Bar (218 Bowery between Prince and Spring Sts; 212-334-0484, rbarnyc.com); dare the shuffleboard loser to ride the pole at gamers' haven Whiskey Brooklyn (44 Berry St at North 11th St, Williamsburg, Brooklyn; 718-387-8444, whiskeybrooklyn.com); or join the bartenders dancing on the bar at the rowdy Iron Horse Saloon (32 Cliff St between Fulton and John Sts; 646-546-5426, ironhorsenyc.com). Lesbian spot Henrietta Hudson (438 Hudson St at Morton St; 212-924-3347, henriettahudson.com) takes things up a notch with a dance cage and a pole, as well as a mix of hip-hop, reggaetn and Latin music.
Cooking class at Brooklyn Kitchen Labs
If you want to impress your date with a night of wining and dining but your "famous" spaghetti bolognese won't cut it, cook up something special together at a hands-on class. Brooklyn Kitchen Labs offers near-daily workshops, including one on making fresh pasta on February 15 ($65). 100 Frost St at Manhattan Ave, Williamsburg, Brooklyn (718-389-2982, thebrooklynkitchen.com)
Aphrodisiacs at OralFix Aphrodisiac Caf
Try a "potion" from the eatery at the Museum of Sex; each contains three or more ingredients that will allegedly make you randy. Order the Azteca (vanilla, chocolate and chili mixed with soda and topped with a coconut--sea-salt rim; $4) to provide stimulation and induce euphoria. 233 Fifth Ave at 27th St (212-689-6337, ext 115; oralfixcafe.com)