How not to ruin Valentine's Day
A gentleman's guide to impressing her pants off on the most romantic day of the year.
By The Foggy Monocle Thu Feb 12 2009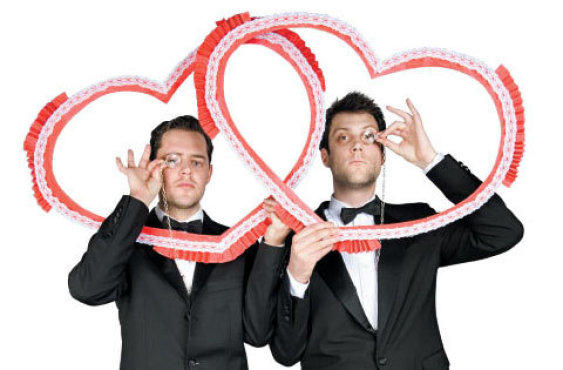 Photograph: Beth Levendis
Whether you're swinging and single or engaged in the chess match of a serious relationship, the obligatory romance of Valentine's Day often puts a guy in a pickle. Female expectations are high on Saturday 14, and men often buckle under the pressure, falling short of what constitutes a satisfactory date. That's why this year we've enlisted the help of the brains behind the Foggy Monocle—a tongue-in-cheek gentlemen's blog that posts self-deprecating, reader-submitted IM tales recounting debaucherous nights gone awry—to instruct you lads on how to conduct your dates like true gents come V-Day.
The first date
1
Thanks to the abundance of beautiful women in New York, finding a hot girl shouldn't be an issue. Securing one, however, is another matter. Rather than rely on your meager supply of looks and charm, we suggest trickery: Appeal to her sappy side by saying that you hate Valentine's Day because you spend it mourning the loss of your fiance, who, exactly three years ago, was struck and killed by a flower delivery truck that was ironically delivering her orchids. Trust us, it's a done deal.
2
At the restaurant, most guys gravitate toward buying the second cheapest bottle of wine on the list, thinking they're fooling their date by concealing their cheapskate ways. Don't be that guy—go with the third cheapest bottle.
3
Chances are, you live in a shithole apartment that's located in a dangerous, yet-to-be-gentrified neighborhood. So if you have any designs of taking this date home, confuse her over the exact whereabouts of your derelict abode by having your cab driver loop through better-appointed areas before finally delivering you to your dilapidated front door.
4
If you've followed our advice, a not-so-lucky lady will soon be lying on the dirty sheets of your futon mattress. Congrats. Now fully enjoy the carnal delights of engaging in awkward sex with a complete stranger, because after your lackluster performance tonight, chances are she won't be calling you again.
The long-termer
1
Make her a card. Fold a piece of paper in half and cut an ear shape out of the folded side. She'll open it to reveal a romantic heart. Girls believe in that "it's the thought that counts" crap.
2
Forget reservations at a swanky joint. Upscale restaurants spell nothing but trouble for a gentleman in a committed relationship—they're full of attractive guys who are more interesting than you and probably way better in bed. One cursory look around the room and your gal will soon be wondering why in God's name she's still with you. Your odds are much better at a Five Guys.
3
By now you're undoubtedly tired of sleeping with your girlfriend and she probably lost interest in fucking you long ago, so come out of left field over dinner and leave her totally satisfied by hitting the three G spots: Grin, Gesture and Guffaw. You'll appear to be listening and she'll be reminded of how much you really do care about what happened during her day.
4
If you're smart, you'll take her to a restaurant close to home, negating the need for a cab at the night's conclusion. The proximity allows for a leisurely stroll, which your girl will consider romantic, and you'll consider a lifeline since it will tire her out and clear her romantic brain of any erotic longings. You'll thank us later that evening when you're snuggled up with the television watching reruns of Seinfeld.
5
Don't do anything much more extravagant than usual. In these uncertain days, your woman's the only stable thing you've got, and you don't want to risk losing her by blowing her away on Valentine's Day, only to immediately return to the monotony of your "oh-let's-just-order-takeout-and-watch-HBO" lives. The last thing you want to do is remind her of what she's missing.
---