Online dating
What's new, and what the standbys have to offer.
By Jayme Klock Tue May 24 2011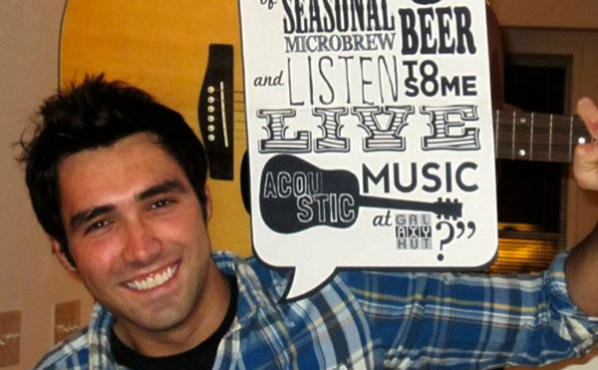 A HowAboutWe user makes a suggestion.
eHarmony
Price: One month $59.95
Users: 33 million
Good for: Those who are willing to put in some serious effort in order to find a long-term relationship. You've seen the commercials—eHarmony is known for leading to successful, long-term relationships, and a study conducted by Harris Interactive in 2009 found that eHarmony marriages account for about 4 percent of weddings in the country. They do not take the search for a spouse lightly, and the site has you fill out an extremely thorough "relationship questionnaire" before seeing any potential dates. You'll then be walked through an optional four-stage guided-communication process before you engage in any free-flowing conversation with your would-be mates.
Lavalife
Price: Free through August 2011; paid subscriptions TBA
Users: Number undisclosed; the ration of men to women is about 60:40
Good for: Finding people and connecting without the meddling of extreme matchmaking engines. And it's easy to find the commitment level you're looking for: Searches can be filtered by the categories "Dating," "Relationship" and "Intimate Encounters." Your profile can be as detailed and specific as you like, but once you make the connection, you can take things into your own hands—there are no hoops to jump through.
OkCupid
Price: Free
Users: About 100,000 New Yorkers
Good for: Casual dating. The lack of a fee might contribute to the more laid-back feel here; this matchmaker seems to require less of a commitment—both to the free site and the people on it. What's more, the overall experience is a bit more fun and informal than others. For instance, users can take a "Gaydar" test, in which they try to identify gay and lesbian users just by looking at their photos. (We're not sure if this is the reason that OK is known for being gay-friendly, but it is a gay favorite.) The site seems to know its business, too: You're paired by an elaborately weighted, number-crunched algorithm that gives you a "match percentage" based on both your and your potential date's answers to basic questions.
Match.com
Price: One month $34.99/month, three months $59.97, six months $101.94
Users: 1,924,000 paid subscribers; NYC is one of its largest markets (the specific number is undisclosed)
Good for: This one's a safe bet. As a pioneer in online dating, Match is one of the best-known sites, and as such, it attracts a lot of hopefuls looking for both casual dates and a relationship. That makes it a safe bet for anyone looking to up their odds. In the early days, Match let you search through profiles sorted by the characteristics that turned you on—you can still do that (and many other sites, of course, followed suit), but the company has upped its game a bit by introducing matching tools, like Singled Out, individuals you most closely match with, and the Daily 5, a customized list of profiles, based on your information, delivered to you each day.
HowAboutWe
Price: One month $28, three months $54, six months $72, one year $96
Users: About 30,000 in NYC; the ratio of men to women is about 45:55
Good for: Skipping the B.S. and getting down to the dating. One of the site's mottos is "go online to get offline," which is exactly what you'll do. You just describe your perfect date and then find someone who wants to join you on it. No games, no winks, just straight-up dating. "Two-parter dates get the most responses," says Brian Schechter, the site's co-CEO. "For example: 'How about we walk over the Brooklyn Bridge then get pizza at Grimaldi's?' or 'How about we go to the driving range at Chelsea Piers then enjoy a drink overlooking the Hudson?'"

Clique (cliqueinnyc.com)
Price: Free
Users: 80 percent of user base is in NYC; other cities include Chicago, San Francisco, Los Angeles and Washington, D.C.
Good for: Avoiding complete strangers. "Since you can only connect with someone who is less than two degrees away from a friend, every date can be vetted by someone you know," says co-founder Christy Purington (a former Web assistant at Time Out New York Kids). The site is also good for people—dubbed Wingmen by the site—looking to help (or annoy) their single pals. "Invite your friends and create a base network," says Purington. "Once you have this, your dating pool will quickly begin to grow. We also allow users to add social-media feeds to their profile; we recommend doing so—those who include them get substantially more dates than those without."
Alikewise
Price: Free
Users: About 2,000 in NYC (out of 12,000 total members)
Good for: Bookworms. Your profile includes all of the usual stuff, but also a list of books that mean the most to you and why. "Amazon has a very sophisticated recommendation engine for suggesting books," says co-founder Matt Sherman. "We tap into that data to build connections between people, based on the books they choose." Meet your potential literary love in person at Alikewise's gratis literary singles event, aptly titled I Like Your Glasses, on June 22 at Housing Works Bookstore Cafe (watch the venue's events page for more details).
JDate
Price: One month $36.99, three months $71.97, six months $119.94, six months premium $131.94
Users: About 130,000 active members in New York
Good for: Jewish singles seeking Jewish in search of each other. The site is set up to make you feel comfortable: Visit the Kibitz Corner to answer icebreaker questions, or use the synagogue directory to find a temple in your neighborhood. JDate organizes about two local meet-and-greets a month. Find out about them online (jdate.com/events), or from your mother.
DateMySchool
Price: Free
Users: About 14,500 in NYC out of 22,000 total members
Good for: Undergrads, graduates and alumni of certain universities who want to date within their academic sphere. Currently, you can shop for love at Columbia, Yale, Princeton, NYU, the New School, Fordham and FIT, plus more schools in other cities. "Users trust each other, since they are in similar life situations and are in close proximity to one another," says cofounder and Columbia grad Balazs Alexa. There's a catch, though: You must have an e-mail address ending in .edu from one of the participating colleges to join the site, making DateMySchool—like early Facebook—a simultaneously elitist and ingenious endeavor.