Summer dates in New York: Where to find a summer romance in New York City
Looking for someone to take on a summer date—or, let's be real, make out with? See who we found—and who you can expect to meet—at four hot spots.
By Sloan Rollins Wed May 23 2012
If you're seeking a summer fling in New York City, look no further: We scoped out the singles scenes at dance party the Rub, Target First Saturdays at the Brooklyn Museum, the bear-friendly shindig Buddies and Brooklyn Kickball in McCarren Park. Plus, you'll find plenty of cute boys and girls to ask out right now.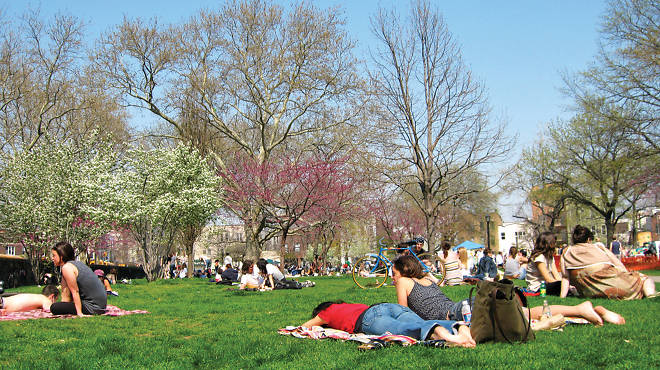 Photograph: Courtesy www.flickr.com/Steve and Sara
McCarren Park
The scene: Young Brooklynites crowd this green space on weekend afternoons, and on Sunday evenings, members of the Brooklyn Kickball league—still going strong in its ninth season—take over the field at the northern end of the park. According to Kyra, who we spotted at a recent game, "It's very easy to meet people playing kickball—you're forced to compete with people you don't know, and being competitive is kind of a turn-on." McCarren Park, midpark, enter at North 12th St and Bedford Ave, Greenpoint, Brooklyn (brooklynkickball.com, nyc.gov/parks). Sun 4–11pm; free.
Percent single: 75%
Most common single type: Relaxed and unpretentious twentysomethings
Ease of mingling: The structure of the league compels you to interact and communicate with other people. After games, participants down beers and absinthe margaritas ($8) at local dive the Turkey's Nest Tavern (94 Bedford Ave at North 12th St, Williamsburg, Brooklyn; 718-384-9774), where you can chat up that sun-kissed baller you made eyes at across the park.