Summer dates in New York: Where to find a summer romance in New York City
Looking for someone to take on a summer date—or, let's be real, make out with? See who we found—and who you can expect to meet—at four hot spots.
By Sloan Rollins Wed May 23 2012
If you're seeking a summer fling in New York City, look no further: We scoped out the singles scenes at dance party the Rub, Target First Saturdays at the Brooklyn Museum, the bear-friendly shindig Buddies and Brooklyn Kickball in McCarren Park. Plus, you'll find plenty of cute boys and girls to ask out right now.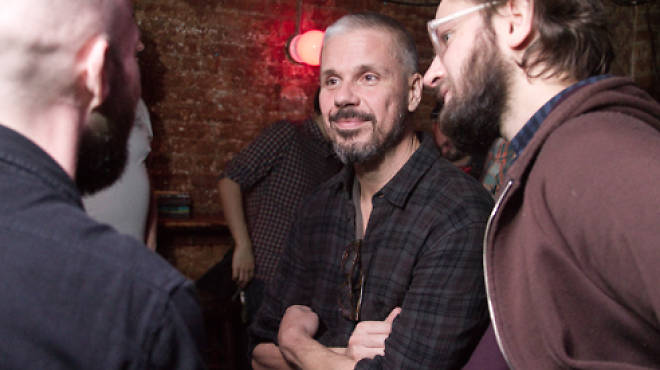 Buddies at Nowhere Bar Photograph: Jena Cumbo
Buddies
The scene: At first glance, it may seem like everyone knows everyone else at this casual Tuesday night party. But fear not: You're just one bear hug away from being one of the family. Hosted by DJ Damian Cote, who spins a diverse mix of rock and dance tunes, the low-key event attracts a crowd of furry fellows and their scruff-loving devotees. Plus, the atmosphere fosters a welcoming vibe: Nowhere Bar's faux fireplaces and smattering of sofas tucked away in corners help this barely lit cave feel intimate, even when the crowd begins to swell. Nowhere Bar, 322 E 14th St between First and Second Aves (212-477-4744). Tue 10pm; free.
Percent single: 70%
Most common single type: Thirties, plaid-wearing downtown cubs
Ease of mingling: "Once you meet a couple people here, it isn't long before you know everyone," says David, a single guy we found at a recent party. Patrons generally commune in the center of the long, narrow bar, and once you've found someone to get to know, there's ample seating (on bar stools, sofas and upholstered benches) lining the room.