Summer dates in New York: Where to find a summer romance in New York City
Looking for someone to take on a summer date—or, let's be real, make out with? See who we found—and who you can expect to meet—at four hot spots.
By Sloan Rollins Wed May 23 2012
If you're seeking a summer fling in New York City, look no further: We scoped out the singles scenes at dance party the Rub, Target First Saturdays at the Brooklyn Museum, the bear-friendly shindig Buddies and Brooklyn Kickball in McCarren Park. Plus, you'll find plenty of cute boys and girls to ask out right now.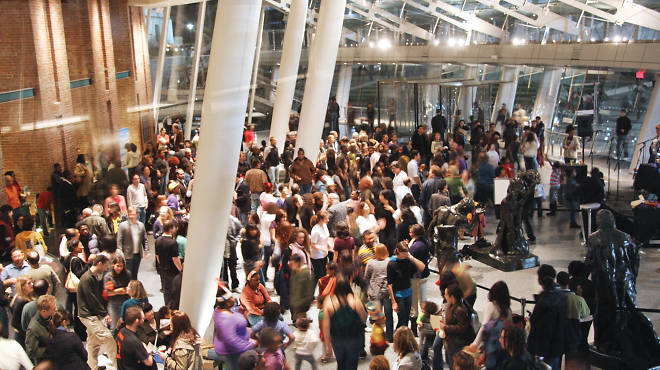 Target First Saturdays at the Brooklyn Museum
Target First Saturdays
The scene: Elevate your search's sophistication level at the Brooklyn Museum's monthly free parties. "There are a lot of young people here," notes Tori, a single photographer who attended the May event. "And you know that there will be people here who like art and music, so it's easy to find people with common interests." Art lovers wander throughout the galleries (check out the Keith Haring show, on view through July 8, which was buzzing with people when we stopped by), and once night falls, partyers crowd the deejayed dance affair out back. Brooklyn Museum, 200 Eastern Parkway at Washington Ave, Prospect Heights, Brooklyn (718-638-5000, brooklynmuseum.org). First Saturday of the month 5–11pm; free.
Percent single: 50%
Most common single type: A mixed group that runs the gamut from artsy Gen Yers to dressed-up older folks
Ease of mingling: There are plenty of places to meet people, whether you prefer striking up a conversation in the galleries or chatting up a cute guy or girl out on the dance floor.