40 things to do indoors
What to do when it's raining, snowing or stifling hot in NYC: score cheap drinks, play games, get cultured and more.
By Edited by Jonathan Shannon Fri Jun 22 2012
---
Photograph: Julie Larsen Maher
Cotton-top tamarin at Central Park Zoo
Explore
Central Park Zoo Tropic Zone
We admit, a daylong Planet Earth marathon is appealing, but what if your roomie is impersonating a rutting turtle in the next room? (Google "Turtle sex sounds"; it's more hilarious than disturbing, we promise.) Don shorts under your wet-weather gear and get to the balmy indoor section of this menagerie. Mammals are well represented with a tamandua, mouse deer, cotton-top tamarin, coatimundi and mongoose, among others, while the institution's tropical bird collection roams free above you.
Southeast corner of Central Park, enter at Fifth Ave at 64th St
Once we're in the dead of summer and sweltering conditions can be relied upon, plan ahead and book an underground tour that takes you 80 feet below street level to commune with the planet's most precious metal. Roughly a quarter of the world's gold (more than $200 billion) is stored here in a gigantic vault that rests on the bedrock of Manhattan Island. Learn about the history of moolah and the Fed's role in maintaining interest rates while touring the posh interior. Don't miss the impressive coin collection and the gold bars in the basement.
33 Liberty St between Nassau and William Sts
More info
Rated as: 4/5
Price band: 2/4
Critics choice
Explore 11 different habitats without venturing farther than the Bronx at this Victorian-style greenhouse. Walk between rainforest and desert environs until you find your perfect temperature.
For all the apparent stuffiness of the ornate Beaux Arts room, you can stroll right in and get lost in almost any of the collection's 450,000 sheet maps and 16,000 atlases. There are German army maps from World War II and 20,000-plus maps of New York, including a 1610 Dutch atlas. A giant 1782 British Headquarters Map used during the Revolution shows forts, hills, ponds and a small settlement below a wall at Manhattan's tip. An 1880 atlas transposes the modern Brooklyn grid onto the original topography and later farm lots, so you can see that a winding road to Gowanus would have bisected Smith Street, and that Luquer's Mill Pond covered much of Red Hook. Take that, Google.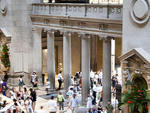 Price band: 3/4
Critics choice
Occupying 11-and-a-half acres of Central Park, the Met is the ideal unpleasant-weather diversion and surprisingly easy to negotiate. Visit the ground floor's north wing to view the collection of Egyptian art and the glass-walled atrium housing the Temple of Dendur, overlooking a reflective pool. Two halls in the southern wing house Greek and Roman art. Turning west brings you to the Arts of Africa, Oceania and the Americas collection; the American Wing houses the Charles Engelhard Court. Now more a sculpture court than an interior garden, it houses large-scale 19th-century works in bronze and marble.
This Madison Avenue institution began as the private library of savvy financier J. Pierpont Morgan, and is his artistic gift to the city. Begin with brunch in what was the Morgan family's original dining room, then meander your way through the exhibits. Make sure to visit Morgan's library from 1906, which was restored to its former glory in 2010.
Inside Radio City's lushly carpeted Art Deco halls, the city streets feel miles away. Stroll through the gorgeous interior, learn the secrets of the Great Stage and its intricate hydraulics system and meet one of the high-kicking Rockettes.
Duck into this institution's striking building, designed by architect Raimund Abraham, for an afternoon of intellectual enlightenment. Begin by browsing works of art in the galleries—gratis curator-led tours are held every Wednesday at 5pm. Then make your way to the library, pick up a book from the English-language section and settle into one of the white chairs by the window for an afternoon of reading. If lady luck is with you, you'll be able to finish your day at one of the many concerts, lectures or screenings the Forum hosts.
11 E 52nd St between Fifth and Madison Aves
More info
Price band: 1/4
Critics choice
Opened in 2004, this six-story museum (once home to Barneys New York) houses Donald and Shelley Rubin's impressive collection of Himalayan art and artifacts, as well as large-scale temporary exhibitions.
Price band: 2/4
Critics choice
Originally designed in 1964 by Radio City Music Hall architect Edward Durell Stone to house the Gallery of Modern Art, 2 Columbus Circle (nicknamed the "Lollipop Building" because of the Candyland-like columns that lined its base) was a windowless monolith that had sat empty since 1998. After an 18-month overhaul (with a price tag topping $90 million), the ten-story building now has a 150-seat auditorium for public events, classrooms, a restaurant and four floors of exhibition galleries, including the Tiffany & Co. Foundation Jewelry Gallery. Founded in 1956 as the Museum of Contemporary Crafts, the institution brings together contemporary objects created in a wide range of media—including clay, glass, wood, metal and cloth—with a strong focus on materials and process. Visitors can now watch as resident artists create works in studios on the sixth floor, and curators are able to display more of the 2,000-piece permanent collection in the larger space, including porcelain ware by Cindy Sherman, stained glass by Judith Schaechter, black-basalt ceramics by James Turrell and Robert Arneson's mural Alice House Wall, on view for the first time in two decades.
---
You might also like
---