Best gift shops: Nolita
Find out where to shop for gifts in this downtown Manhattan neighborhood.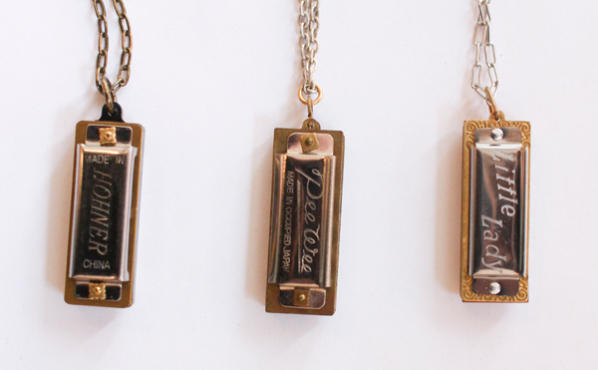 Erica Weiner Photograph: Grant Asken
Critics' picks
Price band: 2/4
Critics choice
Shop owner Loriann Smoak has racked up a lot of stamps on her passport (she traveled to 19 countries last year alone!), and now she's bringing her worldly finds to this Nolita boutique. The bright, white, marble-detailed space is decorated with plants and greenery, and it's loaded with garb from local and international designers. Eco-friendly silk tanks by Amour Vert come from France ($72), Ghost Dancer beaded bib necklaces are inspired by Native American culture ($178), Juma bird-printed scarves are made in India ($175) and cult photographer Neil Krug's Pulp Art Book of grainy Polaroid-film photos can decorate coffee tables ($50).
259 Elizabeth St, (between E Houston and Prince Sts)
More info
Price band: 2/4
Critics choice
Seamstress-turned-jewelry-designer Erica Weiner sells her own bronze, brass, silver and gold creations alongside vintage and reworked baubles in her first-ever, eponymous boutique. With a painted tin ceiling and white-tiled floors accented by early-20th-century furnishings, the store resembles an old-fashioned dress shop. Weiner combs estate sales and New England auction houses to line the shelves of her cozy shop with antique engagement rings, earrings, necklaces and bracelets, all of which have unique stories behind them. Her wares are often casts or modified versions of old objects, such as 1930s cocktail stirrers from the Waldorf-Astoria Hotel that she fashioned into polished brass necklaces ($85). Even better, much of Weiner's jewelry can be scooped up for less than $100. Browse winged cicada-insect dangling earrings ($30), mottled feather-and-mesh Chinese ginkgo-leaf charm necklaces ($35), brass floral-patterned reproduction Victorian wedding bracelets ($65) and 1930s vintage filigree diamond engagement rings ($625).
173 Elizabeth St, (between Kenmare and Spring Sts)
More info
The Bijoux family has been hand-making its fashionable accessories for 40 years at their atelier in Marseille, France. Each piece is assembled, polished and enameled by hand by their own master craftsmen. Producing only limited series and unique pieces ensure you won't be seen with the same jewels as every one else. The shop stocks its signature gold-plated filigreed chandelier earrings ($165), silver-plated cobra bangles ($235), silver heart necklaces ($135) and charm bracelets in every color (from $55).
---
More shops for gifts
---