Best gift shops: Park Slope
By Time Out editors Fri Nov 9 2012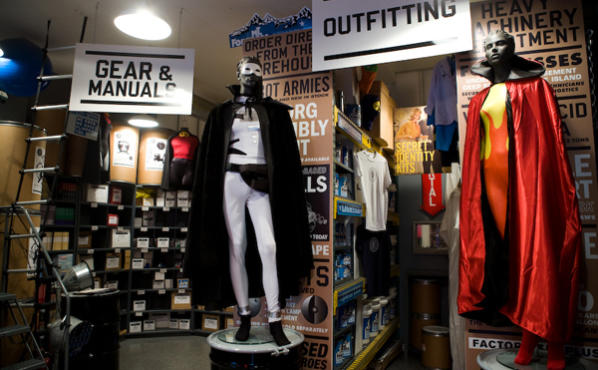 Brooklyn Superhero Supply Co.
Cog & Pearl
Conceived by partners Kristin Overson and Seth Walter in the back of a cab, this bright, airy Brooklyn institution offers a multitude of handmade works. You'll find an assortment of enviable loot from up-and-coming local designers such as gift tags by Sesame Letterpress ($3); hand-glazed ceramic, lidded teacups and coasters by Christina Cherry ($50); one-of-a-kind embroidered silk neckties by Bonnie Heart Clyde ($76); and Burrow Burrow's statuette of a horse cobbled together from discarded electronic parts ($750). 190 Fifth Ave at Sackett St, Park Slope, Brooklyn (718-623-8200, cogandpearl.com). Tue--Sat noon--8pm, Sun noon--6pm.
Homebody Boutique
Dorothy was right: There's no place like home—especially when your pad is decorated with hip trimmings by indie artists. This Park Slope boutique sells a whole mess of oddities to enhance the domestic life. Dinnerware, papers and stationary, wall hardware and more are all handcrafted, so you know you're getting something unique that you can treasure. 449 Seventh Ave between 15th and 16th Sts (718-369-8980, homebodyboutique.com). Tue noon-6pm, Wed-Sat noon-7pm, Sun 1-6.
Brooklyn Superhero Supply Co.
This mysterious shop—where you can buy such novelties as capes, X-ray goggles and gallon tins of immortality—is actually a front (and money-earner) for the nonprofit 826NYC, a kids' writing, tutoring and publishing center (a chapter of the San Francisco outfit founded by novelist Dave Eggers), hidden behind a concealed door. 372 Fifth Ave between 5th and 6th Sts (718-499-9884, superherosupplies.com). Daily 11am--5pm.
Brooklyn Mercantile
Escape the euro and still surprise your loved ones with fresh-from-Paris goodies thanks to this cozy home shop. Snag French table runners (from $45), vintage ticking pillows ($100--$150), Palais des Ths tea samplers ($76) and Ct Bastide soaps ($26--$60). For patriotic types, martini shakers ($48--$55) support the all-American ritual of cocktail hour. 335 Fifth Ave between 3rd and 4th Sts, Park Slope, Brooklyn (718-788-1233, brooklynmercantile.com). Mon--Thu noon--6pm, Fri--Sun 11am--7pm.
Scaredy Kat
This charming paperie dishes up letterpress birthday and thank-you cards. SK also offers a small selection of custom birth and wedding announcements, "well, because of the neighborhood," says co-owner Damond Gallagher. 232 Fifth Avenue between Carroll and President Sts (718-623-1839, scaredykatstore.com). Tue--Sat noon--7pm, Sun noon--6pm.
Share your thoughts