Dear Birthday
Charming prints define designer Valerie Soles's handmade clothing line.
By Time Out editors Tue Jul 22 2008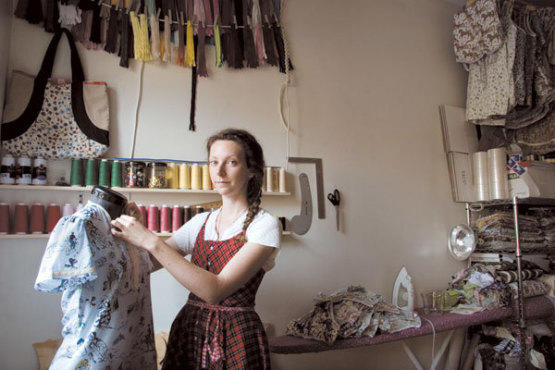 What it is Charmingly colorful prints—including argyles, animals and flowers—are hand-sewn into shirts, dresses, rompers and even undies for women, with the occasional men's button-down thrown into the mix.
Who's behind it Valerie Soles, a shy Brooklynite who says, "I could never be on Project Runway—it'd be way too traumatic and horrible for me." Soles began making clothes about 15 years ago, when her grandmother passed along her sewing machine. "A friend and I started our own brand called Lawn Chair Clothing and we sold it to all our friends," she says. "It was so cheesy!" Now her stuff is anything but, and her work is outfitting people in countries as far as Portugal, Germany and Australia.
What the name means Who knows? "I didn't want to just use my name, because I thought it sounded too serious, so I held a contest on my site: Whoever came up with the best name got a free shirt."
Where to buy it Treehouse, Sodafine and etsy.com.
What's next Soles is teaming up with her painter boyfriend, Ian Whitmore, to design and print their own fabric under the punchy combo name Valerian. It will be all organic, too!
Most random project "I made a giant patchwork tepee cover for Nike."
—Lisa Freedman
View slideshow
Soles's picks
Shops
• Sodafine "I'm completely biased, because I work there two days a week and the owner is a friend of mine and she carries Dear Birthday, but even before all of that was true, I was a fan. It's a great little clothing boutique filled with eco-friendly and independent designer labels." (119 Grand St between Berry St and Wythe Ave, Williamsburg, Brooklyn; 718-230-3060, sodafine.com)
• Sprout Home "I bought a banana plant here a while ago and it's become a cherished friend." (44 Grand St at River St, Williamsburg, Brooklyn; 718-388-4440)
• Kill Devil Hill "I'm a sucker for a fully realized aesthetic, and they've got their look down pat. Also, the owner's dad makes great soap." (170 Franklin St between Java and Kent Sts, Greenpoint, Brooklyn; no phone)
Restaurants
• The Queen's Hideaway "It's delicious and the menu changes all the time, so I'm always pleasantly surprised." (222 Franklin St between Green and Huron Sts, Greenpoint, Brooklyn; 718-383-2355)
• Marlow & Sons "I've only been once but its on my list of places I really want to go back to. " (81 Broadway between Berry St and Wythe Ave, Williamsburg, Brooklyn; 718-384-1441, marlowandsons.com)
• Acapulco "I go at least once a week." (1116 Manhattan Ave at Clay St, Greenpoint, Brooklyn; 718-349-8429, acapulcodeliandrestaurant.com)
Favorite things to do in NYC
• Impromptu picnics in McCarren Park: "Preferably on weekdays or early weekend mornings."
• Visiting the Cloisters "It's beautiful and totally worth the ridiculously long subway ride." (99 Margaret Corbin Dr, Fort Tryon Park; 212-923-3700, metmuseum.org)
• Riding the carousel in Prospect Park
See more Designer spotlight.
Share your thoughts