Mardi Gras parties and events in NYC
Food, cocktails and music to transport you to New Orleans.
By Eva Medoff Mon Feb 28 2011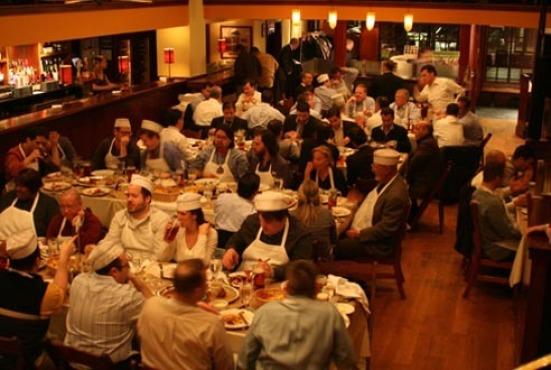 Beacon's Beefsteak Dinner
New York doesn't have much in common with the Big Easy. Our vibe is neurotic, theirs is laissez-faire. We speak freakishly fast, they drawl. We eat subs, they eat po' boys—you get the picture. There's one time a year, however, when everyone is invited to do as the New Orleanians do: Mardi Gras. While pre-Lenten festivals have different names and cultural interpretations, the overall tenor (blatant hedonism) is the same. Kick back with some plastic beads, a hurricane cocktail and a pot of gumbo, and pretend you're Cajun (or German, or Italian) for a day.
Eat, Drink and Think Like...Louis Armstrong
Jazz was his style of music, and New Orleans was his city. Take yourself back to old N'awlins with an insider's look at Louis Armstrong, including home recordings, scrapbooks and unreleased photographs courtesy of Michael Cogswell, author of Louis Armstrong: The Offstage Story of Satchmo. Then tuck into a feast of red beans and rice, gumbo and beignets (washed down by a sticky sweet hurricane, of course) prepared by Caf 92YTribeca chef Russell Moss. 200 Hudson St at Canal St (212-601-1000; 92Ytribeca.org for tickets). Sun 6 at 2pm; $65.
Beacon's 11th Annual Beefsteak
Gorge yourself silly at this Fat Tuesday celebration as Beacon co-owner--chef Waldy Malouf leads an all-star team of chefs (including David Burke, Charlie Palmer and more) in a massive beef-carving carnival. The hefty price tag covers all you can consume of the three bs: beef, bourbon and beer (as well as various other veggie and protein courses), along with a donation to Green Chimneys, which provides social services for children with emotional and behavioral issues. 25 W 56th St between Fifth and Sixth Aves (212-332-0500, beaconnyc.com). Tue 8 at 6:30pm; $150.
Fifth Annual Nolafunk Mardi Gras Ball
Give your feet a workout (instead of your stomach) at this down-South shindig. Legendary bluesman Dr. John and his band the Lower 911 will be joined by funk-reggae fusion act the Soul Rebels Brass Band, nine-piece soul group Sister Sparrow & the Dirty Birds, and DJ Cochon de Lait for a night of pure New Orleans--style revelry. (Le) Poisson Rouge, 158 Bleecker St between Sullivan and Thompson Sts (212-505-3474, lepoissonrouge.com for tickets). Sat 5 at 7:30pm; $45, advance $40.
Harlem Mardi Gras Masked Ball
Channel your inner Southern belle (or gent) at this old-school gala benefiting St. Mary's Episcopal Church and its homeless- and hunger-outreach programs. The entry fee includes a sit-down dinner by Broadway Community Soup Kitchen chef Michael Ennes, live jazz by the Swing Tones and beats by DJ Kym, and a raffle ticket for a chance to win prizes like dinner for two at Dinosaur BBQ or a one-month membership to Harlem New York Sports Club. Throw on a mask, a cocktail dress or a costume and prepare to let loose in anticipation of Fat Tuesday. St. Mary's Episcopal Church, 521 W 126th St between Amsterdam Ave and Broadway (212-864-4013, stmarysharlem.wordpress.com/stewardship). Sat 5 at 6:30pm; $25, advance $15; mask required.
Karneval at Loreley
Loreley will show us how debauchery's done at the German version of Mardi Gras, Karneval. On day one, start out at the Lower East Side location for Women's Carnival Night (7 Rivington St between Bowery and Chrystie St; 212-253-7077, loreleynyc.com; Thu 3 at 7pm; free), when tradition states that women are allowed to kiss whomever they'd like (no point in abandoning the old ways now). Dance the night away to German music (karnevalsmusik, neue deutsche welle and schlager, to be exact) spun by DJ Foosh (owner Michael Momm's alias) before heading to the Brooklyn outpost on Friday for a performance by '60s-style French-pop group Les Sans Culottes (64 Frost Street between Leonard and Lorimer Sts, Williamsburg, Brooklyn; 718-599-0025; Fri 4 at 9pm; free). Cap off the festivities back at the Rivington Street location where this year's German Rosenmontag parades will be screened (Mon 7 at 7pm; free).
Mardi Gras Week at Billy Hurricane's
At this East Village NOLA-themed bar, it's Mardi Gras year-round— which is all the more reason to stop in when the holiday actually occurs. Stop by all week (Tue 8--Mar 12) for free drinks between 7 and 8pm in honor of various Louisiana colleges (everyone, not just alums, is eligible), including University of New Orleans (Wed 9) and Tulane (Mar 11). If you miss the happy hour, there's no need to feel left out: A dangerous combination of Cajun comfort food (like po' boys and firecracker shrimp, starting at $8) and hit-the-floor cocktails like the Pardi' Gras, a mix of Southern Comfort, Bacardi 151, blue curaao, and sour mix ($10), will almost make you believe that Bourbon Street wall mural is real. 25 Ave B between 2nd and 3rd Sts (646-692-6216, billyhurricanes.com). Mon--Thu 5pm--2am; Fri 5pm--4am; Sat noon--4am; Sun noon--2am. Free.
A Taste of Mardi Gras: Hands-On Cooking & Cocktails
Learn how to whip up Creole classics (and get a chance to eat them, too) at this Astor Center tutorial, in which chef Joshua Stokes will teach you how to fire up a pot of gumbo, cook some crawfish and master rabbit jambalaya. The class ends with a serving of bananas Foster and a Sazerac cocktail to wash it all down. Fair warning: Tickets are scarce. 399 Lafayette St at 4th St (212-674-7501, astorcenternyc.com for tickets). Sun 6 at noon; $125.
Mardi Gras at d.b.a. Brooklyn
Head to the Williamsburg location of this craft-beer bar (which, it should be mentioned, has an outpost in New Orleans) for some tried-and-true Mardi Gras festivities, complete with Crescent City--style tunes from Jessy Carolina and the Hot Mess. Gratis masks, beads and king cake (a Southern-style Bundt cake topped with purple, green and gold sugar) will be yours for the taking, and cheap hurricanes ($6) will be hard to beat. 113 North 7th St between Berry St and Wythe Ave, Williamsburg, Brooklyn (718-218-6006, drinkgoodstuff.com). Tue 8 1pm--4am; free.
Carnevale Dinner
Satisfy your vices before the start of Lent at a four-course dinner organized by the Italian American Museum. As you gorge yourself on the included ricotta cheese cavatelli (among other dishes), prosecco, and red and white wines, you can check out a "Venetian Carnevale" exhibit featuring crystal masks and costumes designed by Luis Rivera NYC. A silent auction of vintage-style jewelry by Kenneth Jay Lane and Trifari will benefit the museum's expansion. Jolly Hotel Madison Towers, Leonardo Room, 22 E 38th St at Madison Ave (718-478-3551). Tue 8 at 6:30pm. $130, table of ten $1,250; Tickets must be reserved by Mar 4.
Bourbon Street Mardi Gras celebration
Just looking to get rowdy? Upper West Side bar Bourbon Street is your spot. Grab as many plastic beads as you can while you enjoy two-for-one Buds and $4 tequila, Jack Daniels and Southern Comfort shots all night. The DJ-spun tunes will encourage gluttonous merrymaking, as will the bring-your-own-food policy. 407 Amsterdam Ave between 79th and 80th Sts (212-721-1332, bourbonstreetnyc.com). Tue 8 noon--4am; free.