Pegleg NYC
Surprisingly, this funky label has nothing to do with pirates or prosthetics.
By Erin Wylie Wed May 14 2008
---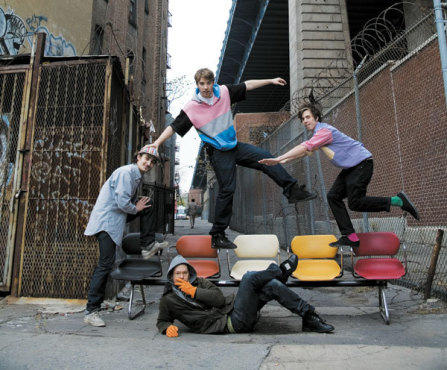 "Contrary to popular belief, Pegleg has nothing to do with pirates or prosthetics." Photograph: Shani Ba-Ron
What it is

Playful, NYC-flavored men's streetwear basics with a colorful twist, including fitted caps ($48) and cardigans ($170).
Who they are

A trio (Harry McNally, Nick Poe and Robert Waltzer) of precocious 23-year-old fashion autodidacts who grew up in New York. (Greg Passuntino, 22, far left, serves as a comrade and web designer.) They sent out their first Pegleg collection (named for its "audible symmetry") in the spring of 2006. "We started out with a few ideas for graphics that we felt were original and interesting and never looked back."
What they make

Colorful threads of the Fresh Prince–meets–Kanye West sort: color-blocked rugby shirts, polka-dot-embroidered skinny jeans and madcap printed anoraks. Although there's a Pac-Man-made-love-to-my-algebra-homework '80s vibe, especially in the prints, they maintain a more restrained view of their work, saying only: "We are experimental. We like color. We are not fans of the '80s." For guys who are still timid about wearing loud clothes, the designers say confidence is key. "If you feel good in it, you look good in it."
Where it's at

Patricia Field (302 Bowery at 1st St, 212-966-4066; patriciafield.com), Brinca Format Shop (92-29 Queens Blvd, Rego Park, Queens, 718-887-2918), Wealthy Hostage (1924 Church Ave, Flatbush,Brooklyn, 718-856-3043; wealthyhostagestore.com) and peglegnyc.com.
What's next

Ladies, pay attention: A women's collection will launch this fall, as an extension of the men's line. Says Harry, "It's small and concise, composed predominantly of leggings, denim and oversize tops."
Shops

* Oriental Books & Stationery Co., Inc. (29 E Broadway, between Market and Catherine Sts, 212-608-7848)
* S&F Supplies (110 Emerson Pl, between Myrtle and Park Aves, Clinton Hill, Brooklyn, 718-398-9457; sfsupplies.com)
* International Boutique (500 La Guardia Pl between Houston and Bleecker Sts, 212-677-0705)
Restaurants

* Lucky Strike (59 Grand St, between Wooster St and W Broadway, 212-941-0772; luckystrikeny.com)
* Pepe Rosso (149 Sullivan St, between W Houston and Prince Sts, 212-677-4555; peperossotogo.com)
Favorite things to do in NYC

* Make eye contact with strangers on the subway
* Navigate lower Broadway on a weekend
* Visit the rain forest in the Enid A. Haupt Conservatory at the New York Botanical Garden (Bronx River Pkwy at Fordham Rd, Bronx, 718-817-8700)
Click to view clothing by Pegleg
See more Designer spotlight.