Ray of light
A legendary designer turned porn star returns to sun-and-swim fashion.
By Beth Greenfield Wed Jan 30 2008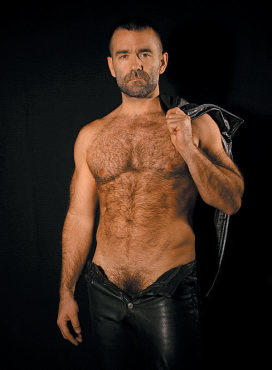 FUR AS FASHION Dragon is making his return to menswear design. Photograph: Raymond Dragon
The last time Raymond Dragon dove into the job of designing high-style swimsuits—barely-there wisps of brightly colored material that helped define an era's Chelsea and Fire Island boys—it was the early 1990s, and the world was quite a different place.
"I was an openly gay designer—whic was not chic at the time," says Dragon, 45, speaking with TONY about his recent return to fashion after a six-year hiatus, with a new line of men's swimwear: Resort 2008. "I was labeled a 'gay designer,' and people looked at my clothes as being for gay men. But it was at a time when the straight world was just discovering that there was a 'gay market,'" he adds, making air quotes for emphasis. Dragon, who has piercing brown eyes and sexy chin scruff, is sitting in the Le Pain Quotidien caf on Seventh Avenue in Chelsea—just a couple doors down from where he had his own retail shop until 2001 (now a UPS Store).
"After September 11, there was a pretty permanent drop in business," he explains. The trendsetter was then faced with a career decision: go corporate with his style skills, or hone another set of talents altogether. He chose the latter.
"To sell my soul for fashion? I couldn't do it," he says. Instead, he embraced what may seem like a surprising alternative: directing, producing and starring in porn.
It was a way to work creatively and on his own terms, he figured. Plus, he was inspired by a New York Times Magazine article that highlighted the profitability of the adult industry. "It seemed worth giving a try," he says, "especially since I was already a porn star."
It's true that years before, the designer's arresting, masculine look had caught the eye of photographer Jim French, founder of the legendary Colt Studio Group, who had used him as a frequent cover model and as an actor in two early-'90s flicks.
That was a titillating and surprising turn for Dragon—born Raymond Dragonajtys in Detroit, a student of computer engineering and musical theater at Michigan State, where he was also a gymnast.
"I came to New York to dance," he recalls with a smile. "It was the Flashdance era." The up-and-comer landed a part in a touring version of The Muppet Show ("So much for the glamour," he says) and snagged a coveted Actors' Equity card before going on to join a tour of Camelot and doing temp work between shows. By the late '80 life progressed swiftly: Dragon tried his hand at fashion by designing a women's sportswear line, he danced as a go-go boy at the now-defunct Men's Room, and sadly, he lost his lover to AIDS.
Unfortunately, the latter was not a unique experience, and it's that widespread feeling of grief that Dragon feels influenced the popularity of his swimwear among gay men.
"Whatever I did, it defined a period in the '90s," he says, referring to the sexy, physique-flaunting briefs and trunks that were eventually given play in publications from Out to Vanity Fair. "Whether or not it was gay men coming through a period of HIV and rediscovering respect for themselves, [the designs] seemed to fly in the face of what people were feeling then. Because I think it was a pretty dark time."
Even though Dragon has been a major success in the porn biz—and was inducted into adult entertainment's GAYVN Hall of Fame in 2007— he feels the time is right to jump back into the retail scene. "There's a huge hole in the swimsuit market right now," he says, adding that his new line will soon include men's underwear and dancewear (Dragon does ballet, along with Bikram yoga and regular gym workouts, to stay in shape). Though he hasn't yet found a local retailer, his suits are being carried at shops in both San Francisco and L.A., as well as online. And the porn? His popular porn site (raydragon.com) is still going strong; as far as returning to the studio, he'll wait and see. "I don't know if making films is my passion," he says. "But I do believe the universe kind of pushes you in a direction sometimes."
Raymond Dragon's Resort 2008 line of swimwear is available now at raymonddragon.com.