Tina Roth Eisenberg
Better known as Swiss Miss, this graphic designer helps us find nontraditional holiday serving pieces.
By Lisa Freedman Wed Nov 12 2008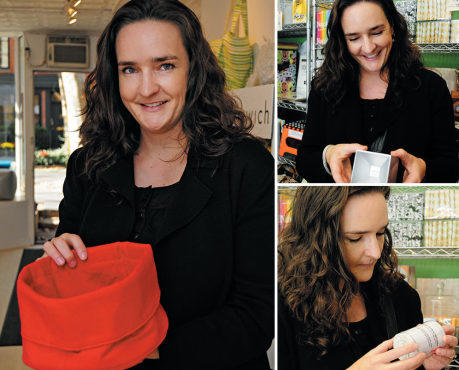 All these shops are dangerous. It's way too easy to want everything in sight Photographs: Christian Hartman
"New Yorkers don't have the space to store special Christmas platters and other holiday stuff," points out Tina Roth Eisenberg, a Swiss-born graphic designer who blogs about cool products that catch her eye—like teardrop-shaped humidifiers and dishes made from recycled milk jugs—on swiss-miss.com. So today we're on the hunt for decorative kitchen goods that can be used year-round but will also help her guests get into the holiday spirit at her unconventional dinner party.
1. Blue Ribbon General Store
(365 State St at Bond St Boerum Hill, Brooklyn; 718-522-9848, blueribbongeneralstore.net)
"I was walking past this store last December when I realized they carry all the random stuff I blog about," says Eisenberg. "My heart almost stopped." She bops from table to table picking up novelties like individually wrapped toothpicks bearing famous adages ($4.95) and a set of children's chopsticks ($7.95) before coming to this Kikkerland Aluminum Cube Jigger ($25). "This is an interesting way to measure out liquor for drinks. I'm all about having items that are conversation starters."
2. City Foundry Vintage Industrial
(365 Atlantic Ave between Bond and Hoyt Sts, Boerum Hill, Brooklyn; 718-923-1786, cityfoundry.com)
This vintage store is filled to the rafters with good finds. "You never know what you'll leave here with," she says, picking up a 1960s-era tooth model ($400) used in a German dental school. Twenty minutes later, we're walking out with a metallic pitcher-and-tumbler set from the 1950s ($120), which Eisenberg plans on using to serve mojitos. "It's so cold during the holidays, I'd like to serve something that reminds my guests of summer."
3. Vintage Signage
(334 Atlantic Ave between Hoyt and Smith Sts, Boerum Hill, Brooklyn; 718-834-9268)
"You can fill apartments with modern stuff, but you always need a few pieces with a sense of history," Eisenberg explains. She likes this quirky store because the goods are usually just as well-traveled as the French owners. "It's like a flea market here with a revolving door of items. I'm always afraid I'm going to miss something totally incredible," she says. Luckily, we're there on the right day: Eisenberg spots a 1953 cola ice cooler ($75) that she says will be great for holding beers.
4. A Cook's Companion
(197 Atlantic Ave bvetween Clinton and Court Sts, Cobble Hill, Brooklyn; 718-852-6902)
"I love to cook, and I fully believe in having lots of gadgets to help you," she says. And, since Eisenberg's gathering is already not your typical Christmas ham dinner, she picks out a ceramic fondue pot ($110). "Fondue is such a social meal. In fact, the Swiss have a rule that, if you drop your bread in the pot, you have to kiss the person to the right."
5. Abitare
(309 Henry St between Atlantic Ave and State st, Brooklyn Heights; 718-797-3555, abitareshop.com)
"This store has lots of things that look expensive but aren't," Eisenberg points out. Specifically, she highlights a set of big and small Kahler vases ($80 and $40, respectively) and an old-school thermos by Erik Magnussen ($89). But it's a cotton breadbasket ($39) that Eisenberg says she really needs. "I'll fill it with fresh Balthazar bread from Tazza, which is right next door."