Single-session classes and pay-by-the-day gyms
Affordable sessions and fitness centers for the membership-phobe.
By Sharyn Jackson Tue Dec 27 2011
---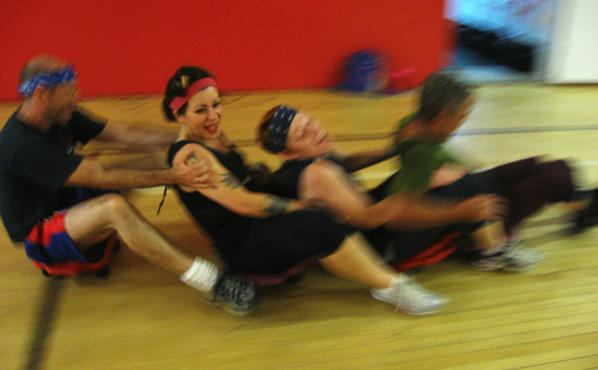 Punk Rope at Greenpoint YMCA
Punk Rope at Greenpoint YMCA
This weekly class mixes all the best parts of elementary-school gym class (the toys, basically) with a high-energy workout for adults. Despite its name, it isn't all about jump rope: You'll also participate in relay races, slide around on gym scooters (those butt-sized squares with wheels) and fight with foam swords. The soundtrack changes each session and can include country, classical, rockabilly, zydeco or punk. Y members can attend for free, but newcomers can try the class out gratis—after that, it's $15. 99 Meserole Ave between Lorimer St and Manhattan Ave, Greenpoint, Brooklyn (718-389-3700, ymcanyc.org). Wed 7:30pm.
RECOMMENDED: Fitness guide to NYC
Krav Maga at Otom Gym
The Israeli Defense Forces' brand of self-defense combat is taught at this Greenpoint gym three nights a week, and it's presented without frills—no music, no shoes and no pity. The intense workout trains students by building coordination, speed and intuition in improvised sparring sessions. Beginners can join on Tuesdays and Thursdays at 6:45pm, while more advanced fighters meet on Tuesdays and Thursdays at 7:50pm. Classes run $25 each and no gym membership is required. 169 Calyer St between Lorimer St and Manhattan Ave, Greenpoint, Brooklyn (718-501-7586, kravmagabrooklyn.com)
Core Fusion at Exhale Mind Body Spa
This hour-long class tones arms, abs and butts via sweat-inducing combos of aerobics, core-strengthening stretches, and yoga and Pilates positions. It's easy to reserve a spot online (walk-ins are also welcome), and although package deals run cheaper, a single class at any of Exhale's five Manhattan sites goes for $37. Location and times vary; visit exhalespa.com for details. $37, students $25, multiclass packages available.
Barry's Bootcamp
Work a different body part each day of the week at this 3,500-square-foot studio. Hour-long sessions are devoted to arms and abs (Monday), butt and legs (Tuesday), chest and abs (Wednesday), back and shoulders (Thursday) and full-body (Friday--Sunday). Don't need the whole circuit? Drop in on any one session for $32. 135 W 20th St between Sixth and Seventh Aves (646-559-2721, barrysbootcamp.com)
Green Fitness Studio
This Bushwick center touts its eco-friendliness: Studio floors are made of bamboo and recycled tires, and its sauna uses infrared heat, which is more energy-efficient than traditional methods. The gym also offers more than 40 weekly classes, including mixed martial arts, capoeira and Spinning, which you can access with a $15 day pass. Or spend the same amount on a drop-in boxing class. 232 Varet St between Bogart and White Sts, Bushwick, Brooklyn (347-599-0663, greenfitnessstudio.com)
Winter Blues Busters at 92nd Street Y
The 92Y's uptown location offers Hot Hula Fitness (Feb 12 at 2pm; $25), a workout for glutes, arms, abs and quads set to traditional Polynesian music and moves. It's one of three fitness workshops open to nonmembers in early 2012; another is Mind and Spirit-Lifting Yoga (Mar 18 at 2pm; $25). Day passes to the gym run $35 and gets you access to any class, such as the Masala Bhangra Workout (Thu at 7:30pm), a cardio-dance class backed by high-energy Bollywood tunes, and Aqua Pump (Fri at 8:30am), a weight training workout utilizing the resistance of water. 1395 Lexington Ave at 92nd St (212-415-5500, 92y.org)
Zumba at Bodystrength Fitness
Pretend your dancing on a Saturday night at one of this workout center's multiple Zumba classes—there are traditional, beginners' and a hip-hop-inflected offerings, some of the more than 50 classes on site. The studio has teamed up with four fitness centers citywide to sell passes to 126 classes, and each will cost you $18 (or less when you buy in bulk). Bodystrength Fitness, 250 W 106th St at Broadway, second floor (212-316-3338, bodystrengthfitness.com)
NYC Parks & Recreation
New York City's Parks department operates 50 recreation centers in the five boroughs that boast amenities such as indoor pools, basketball courts and weight rooms. Memberships are a pittance compared to the city's luxury gyms, but for an even better deal, stop by on the first Monday of the month for free admission. Some weekly fitness sessions are always free to nonmembers through a program called Shape UP NYC. A sampling of available classes includes Zumba at Asser Levy Recreation Center (392 Asser Levy Place at E 23rd St; 212-447-2020; Mon at 11am); Cardio Fit at Chelsea Recreation Center (430 W 25th St between Ninth and Tenth Aves; 212-255-3705; Thu at 10am); and Hula-Hoop Aerobics at Hansborough Recreation Center (35 W 134th St at Lenox Terrace Pl; 212-234-9603; Thu at 8:15pm). Search for more classes at nycgovparks.org.
SurfSET at Chelsea Piers
Surfing in winter? Gnarly! This dry-land fitness company comes to New York in January, in partnership with Chelsea Piers, and you don't have to be a member of the megagym to take the class. SurfSET uses a pivoting balance board that simulates the instability of waves to work the lower-back muscles and core while giving you a cardio workout to boot—no gear or swimsuit required. Each 45-minute session costs $40, and more than 20 will be offered per week. For $50, get a day pass to Chelsea Piers and take any of the more than 100 weekly classes that include ab workouts, cycling and hip-hop dance. Chelsea Piers, Pier 60, 20th St at Hudson River Park (209-819-7873, surfsetfitness.com/chelsea-piers). Classes start Jan 9.
Center for Balanced Living
The Educational Alliance, a 120-year-old community organization, offers a variety of classes that include international dance (Zumba), ancient Chinese balance (tai chi) and improvisational martial arts (Neuro Muscular Integrative Action), as well as yoga and pilates. While a year's membership is only $90, newbies can get a free pass for one week of classes (call 646-395-4530 to register), or drop in on a single session for $15 at either of the CBL's two sites. 197 E Broadway between Clinton and Jefferson Sts (212-780-2300) * 331 E 12th St between First and Second Aves (212-780-0800) * edalliance.org
Users say
hothulafitnesswithLOreal@gmail.com
I offer Hot Hula fitness® classes at 81 White street, Manhattan, NY 10013. Email me for details and class schedule.