Where to run: The midlength green run
By Tory Hoen Thu Sep 9 2010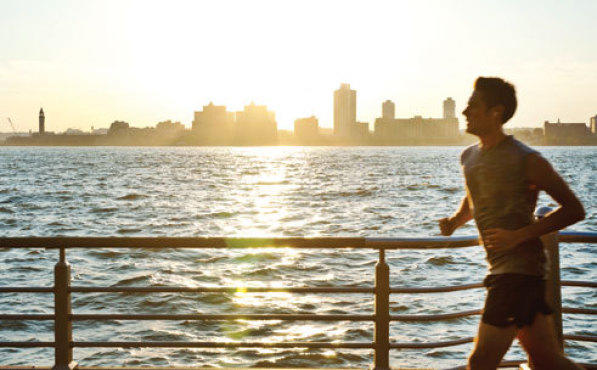 Green Kitchen Caf to Greenmarket
6.27 miles
Bergland suggests trying this run on a Saturday morning so you can hit the Greenmarket when you're done.

View Mid-Length Run in a larger map
1. Start at health hub the Green Kitchen Caf (486 Fifth Ave at 11th St, Park Slope, Brooklyn; 718-499-1555, greenkitchenbrooklyn.com), where you can power up with the Calypso (a blend of fresh carrot, orange, apple and celery juices, 16 ounces for $5.50) or a wheatgrass shot ($2.50).
2. Pay attention to your form, and lock it down while you're still feeling fresh and energized. "Be aware of how your feet are striking," says Bergland. "You should land on the ball of your foot and focus on popping off the ground, as opposed to a heel-to-toe roll."
3. "Straightaways like this can suck your energy," says Bergland. "Think of it as a recovery period."
4. "When you head uphill, lean into the incline and shift your stride to your toes," says Bergland.
5. "On this hill, you're going anaerobic, which builds muscle and boosts your metabolism," says Bergland. "Don't let the hill beat you; you want to beat the hill."
6. Think of going downhill as "managing a free fall," says Bergland. Open up your stride and let gravity create your momentum.
7. "Running past the activity at the Prospect Park dog beach always psychs me up for the final uphill push."
8. If it's a Saturday, end your run at the Greenmarket at Grand Army Plaza (Prospect Park West at Flatbush Ave, Park Slope, Brooklyn; grownyc.org/grandarmygreenmarket; Sat 8am--4pm), where you can stock up on healthy, farm-fresh foods from local producers.
After-work run/walk | The midlength green run | The NYC marathon-training long run
NEXT Running groups
BACK TO MAIN PAGE
Get fit in NYC
Transform the five boroughs into your weight room. Plus: Running and biking routes, water sports and the best gyms for every personality.