Closet drinking
How to turn extra storage space into a party-ready bar.
By Lisa Freedman Tue Dec 16 2008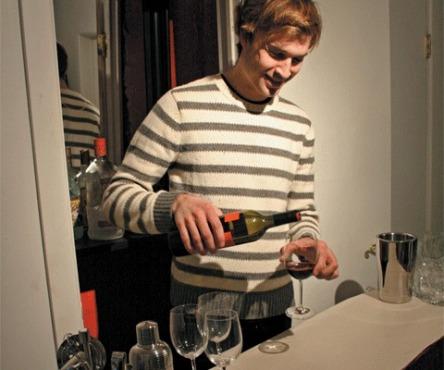 Even the smallest of apartments can make room for a full bar—just find somewhere else to stash your junk in order to pull off this fun-filled transformation. (It's about priorities, man!) To show you how, Ross Gill, head chef and designer of tiny two-seater bar Home (20 Cornelia St between Bleecker and W 4th Sts; 212-243-9579, homerestaurantnyc.com), demonstrates his handiwork on a TONY staffer's closet.
Gill's shopping list:

Ikea (1 Beard St at Ostego St, Red Hook, Brooklyn; 718-246-4532, ikea.com) Hemnes mirror in black-brown, $49.99; Jarpen shelf in black-brown, $9.99
Home Depot (40 W 23rd St between Fifth and Sixth Aves; 212-929-9571, homedepot.com) Behr Premium Paint, 1 quart for $11.98; Industrial-strength Velcro tape, 15 feet for $26.67; Amerelle Moon Lites, two for $4.97
Bed Bath & Beyond (620 Sixth Aveat 19th St; 212-255-3550, bedbathandbeyond.com) Rowenta Professional Ironing Board, $99.99; Silk Indulgence curtain, $99.99
Crate and Barrel (611 Broadway between Bleecker and W Houston Sts; 212-780-0004, crateandbarrel.com) Barware and accessories; check website for prices and info
Paint the back wall of the closet. If you're a perfectionist, you can paint the whole closet. If you're lazy, like us, just paint the parts that are visible when you stand outside of the closet.
Remove the padding from the ironing board and cover with contact paper (available at any drugstore).
Line the perimeter of the ironing board with one side of the sticky Velcro tape. Affix the other side to the top edge of the curtain. Then stick the curtain to the board.
Hang the mirror on the back wall of the closet so the bottom edge is level with your chest. Hang the shelf slightly below the mirror.
Using Velcro tape, attach the Moon Lites to the wall above the door for added ambience.
Position the ironing board, er, bar in front of the closet, leaving you a bit of room to get behind it and accessorize your space with glasses, shakers and, most importantly, bottles of booze.
---
---
/>