Celebrate Festivus with Big Gay Ice Cream
By Hannah Norwick Wed Dec 21 2011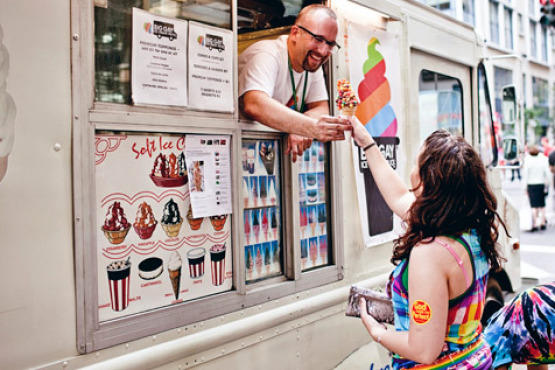 With Hanukkah in full swing and Christmas almost upon us, the crew over at the Big Gay Ice Cream Shop (125 E 7th St between First Ave and Ave A, 212-533-9333) is stepping up to make sure we don't forget about that other great December tradition: a Festivus for the rest of us! The alternative holiday—a Seinfeld-inspired celebration that mockingly shuns holiday commercialism—offers a fine excuse to pack in some frozen treats before BGIC takes a weeklong hiatus.
The curmudgeonly fun kicks off today with special Festivus Miracle Cones, featuring vanilla ice cream that'll be dyed green and topped with red sprinkles ($6). Eat 'em up with a guilt-free conscience: All proceeds, as well as any donations over the next two days, will make their way to New York Cares, the city's largest volunteer organization.
In addition to snacking on Festivus cones, those who stop by on Friday can partake in the customary Airing of the Grievances: Stand in front of the BGICTV webcam and rant about anything that got your goat in 2011, or just sit back and watch some special guests air out their dirty laundry. Other Festivus traditions will also be on display throughout the afternoon and evening: There'll be a Festivus pole—a staple for true devotees, with no tinsel in sight—and owner Doug Quint has invited Ottavia Bourdain to come by and wrestle him in honor of the Feats of Strength portion of the holiday. The shop will be open both days from 2 to 11pm.