Where to party for Cinco de Mayo
By Chris Schonberger Tue May 3 2011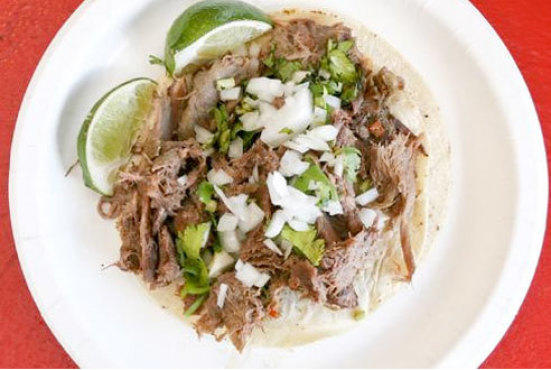 Need a plan for your celebrating Cinco de Mayo this Thursday? We've got you covered. In between eating your way through our 26 favorite tacos in NYC, hit up one of these TONY-approved parties. You can find other essential intel—like where to find the best mescal cocktails in town—at our Cinco de Mayo HQ. As for actually figuring out what, exactly, you're celebrating? Your guess is as good as ours.
THU 5 CINCO DE MAYO AT LOS FELIZ Drop by this taqueria after 10pm for a titillating shindig, where burlesque seductress Dita Von Teese will be launching a new cocktail called the Cointreau MargaDita (Cointreau, tequila, lime, rose syrup and chipotle). Dance to tunes from the Cassette Kids and try out her signature concoction ($10)—or a Mexican beer ($6)—alongside Baja-style fish tacos with Cointreau-chipotle-honey glaze ($12). Los Feliz, 109 Ludlow St between Delancey and Rivington Sts (212-228-8383). 10pm--4am.
THU 5 CINCO DE MAYO AT THE PAN AMERICAN This Nolita restaurant was closed due to a fire in March, but it makes its triumphant return for this fiesta. Toast the comeback with unlimited margaritas and beers during an open bar from 4 to 7pm. You can also sample some of the most popular appetizers on the menu for $5, including made-to-order guacamole, lamb meatballs with chipotle yogurt, queso fundido with shrimp and chorizo, and crab turnovers. Margaritas will also cost $5 should you decide to keep drinking past 7pm. The Pan American, 202 Mott St at Spring St (212-925-9225). 4pm--midnight. [Eds note: This event has been cancelled.]
THU 5 CINCO DE MAYO AT TOLOACHE Gather a crew for the family-style prix fixe at Julian Medina's midtown eatery—for $50, you get a platter and three entres for the table, plus a shot of tarragon-infused Riazul tequila to get in a festive mood. Choose from four platters (options include zucchini-flower quesadillas and chocolate- and-coffee-glazed pork-belly arepas) and five entres, such as seafood paella, roasted chicken and whole sea bass. After the welcome shooter, move on to special margaritas made with Herradura tequila, poblano pepper, ginger, Cointreau and champagne ($13). Call ahead to snag a seating at 6, 8 or 10pm. Toloache, 251 W 50th St between Broadway and Eighth Ave (212-581-1818). 6, 8, 10pm; $50.
THU 5 OFRENDA MEXICAN STREET FAIR If you're looking for an alfresco celebration, head to this traditional tianguis—a Mexican open-air marke—that will be set up outside Ofrenda. Through the afternoon and evening there will be live music, dancing and wandering luchadores; sip a smoky jalapeo margarita ($10), tequila ($9--$10) or Mexican beer ($6), and hit up food stalls for $3 fairground food like cotton candy and paletas (creamy Popsicles). A special menu is available both at the fair and in the restaurant—items like assorted tamales ($8), chicken tostadas ($14) and carne asada ($18) will keep you partying well into the night. Ofrenda, 113 Seventh Ave South between Christopher and W 10th Sts (212-924-2305). Noon--2am.
SUN 8 GUACTACULAR 2011 Twenty amateur culinarians will compete at this guacamole cook-off, hosted by niche food blog Nachos NY. Enjoy a gratis Brooklyn Lager as you dip your way through the field (past riffs have included ingredients like pomegranate, bacon and ginger), then vote for your favorite and see if the panel of food-blogger judges agrees. If you need some booze, the Bell House bar will be serving beer, wine and mixed drinks for $5 to $10. The Bell House, 149 7th St between Second and Third Aves, Gowanus, Brooklyn (718-643-6510). 5--8pm; $18, advance $15.