Barrio hopping
Repertorio Espaol woos new artists and audiences beyond the familiar.
By Helen Shaw Thu Feb 12 2009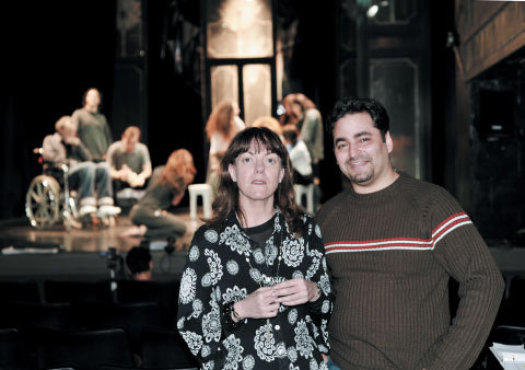 BILINGUAL TEACHING Svich, left, and Zayas happily straddle cultures. Photograph: Michael Palma
New York, as any self-respecting recently appointed senator could tell you, is a city of immigrants. Even Broadway has gotten the bilingual memo: Lin-Manuel Miranda's In the Heights has survived a harsh theatrical season, and the coming revival of West Side Story has traded cheesy accents for actual Spanish lyrics (courtesy of translator Miranda). But many theatergoers are blithely unaware of the Spanish-language theater groups that already exist in their midst.
The oldest and most honored of these is the Obie Award--winning Repertorio Espaol, a 140-seat space on East 27th Street that produces about 15 shows a season on a rotating schedule. As larger institutions reel from the economic crunch, the Rep enjoys a million-dollar endowment and full houses. And yet the company is in the mood for a risk. For its next production—an adaptation of Isabel Allende's politically charged family novel The House of the Spirits—the frequently conventional stage will roar with sex and violence, puppets and projection design. Suddenly, this ain't your abuela's Repertorio.
Adaptor Caridad Svich and director Jos Zayas are already familiar names on the avant-garde circuit. Svich, a Philadelphia-born Latina writing her first play in Spanish, already has a national presence as a playwright of intoxicating riffs on Shakespeare and Euripides. Zayas has been busy directing provocateur Thomas Bradshaw's premieres—which means he has spent a lot of time staging excruciatingly deadpan sexual assaults. They're newbies at the Rep, which wants to bring its work aesthetically up to date. (All performances are in Spanish, with simultaneous English translation via headset.)
Some of the impetus is sustainability as the founders (and founding audiences) age. So far, Repertorio has been nearly invisible, even among those who happily queue up for an opera in Spanish at BAM. Svich reluctantly blames the media. "Even trying to get coverage for this piece, a New York television station will direct us to the Spanish channels. There's no sense that people might want to cross over." Svich laughs that she and Zayas are a two-man publicity team. "How do we haul our friends over here?" she asks rhetorically. "This has become a private project for us: how to connect these sides of our lives."
Of course, the transition hasn't been easy. Puerto Rican--born Zayas's first language is Spanish, but he confesses, "I feel more comfortable directing in English. In Spanish, I thought faster than I could speak. I had to get over believing that if I spoke English in the room then I'd be cheating." The Rep, with its frantic production schedule and minuscule storage spaces, is adjusting too. "Designwise, they're eager to hang up some curtains and let lights do the rest," admits Zayas from a closet (the only place where he can hide from his actors). "We have to fight that. But they're willing to go there. They're willing to change." Here's hoping audiences will do the same.
The House of the Spirits is at Repertorio Espaol.
Share your thoughts