Black Milk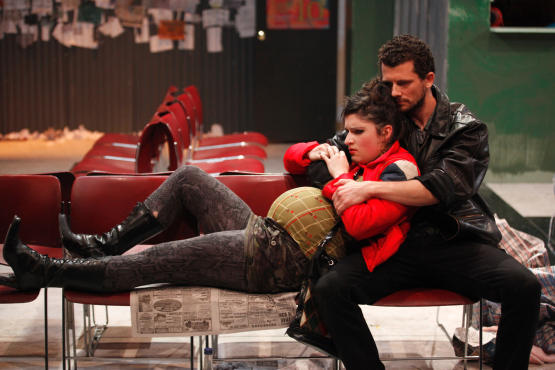 Photograph: Carol Rosegg
Time Out rating:
<strong>Rating: </strong>2/5
User ratings:
<strong>Rating: </strong>5/5
Rate this
Time Out says
Fri Jul 27 2012
The unsubtle juxtaposition in the title of Vassily Sigarev's Black Milk—a blustery sado-drama about modern Russia—sets the tone for Michel Hausmann's bipolar production now at the East 13th Street Theater. Hausmann's production is expensively glossy and yet still reeks of student work: lovely to look at but a punishment to undergo.
Playwright Sigarev's own style is a blend of in-yer-face brutalism and bleak Russian hyperlocality, a "punch first and ask dramaturgical questions later" enthusiasm familiar to fans of the genre known as New Russian Drama. Certainly there's no subtlety in his tale of a shrill couple who, having come into the Russian hinterlands to gull the locals with crappy toasters, must now try to get out by train. Will pregnant Poppet (Liba Vaynberg) have her baby in this backwater? Will the locals turn cruel—like the naked chap brandishing the shotgun—or suddenly become kind?
Sigarev plays a few clever tricks with his horror-movie setup, and there's no doubting his genuine revulsion at his generation's materialism and cruelty. Unfortunately, the text contains so little dramatic modulation it encourages self-conscious swaggering—even hamminess—in performance. (A few older actors try for control, but everyone in the cast under 30 is just windmilling helplessly.) Hausmann's production attacks us with a lunatic cacophony of voices: First Sasha Dugdale's British-English translation sounds wonky in the actors' mouths, then Hausmann has a few actors randomly adopt broad Southern accents. It's a series of cloth-eared decisions, of rookie mistakes. Still, context is all—Black Milk may have been genuinely nourishing in the classroom, where I'm afraid it ought to have stayed.—Helen Shaw
Write your own review