Experience necessary
The latest work of multitalent Dan Fishback tackles topics from Iraq to sex.
By Beth Greenfield Thu Apr 9 2009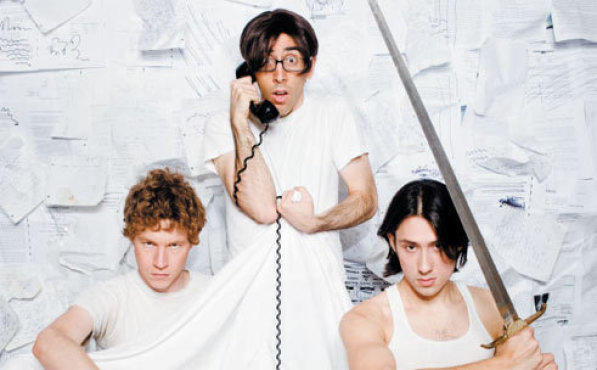 THE TALENTED MR. FISHBACK The playwright (center) costars in You Will Experience Silence with Max Steele, left, and Joseph Keckler.
"I love the anti-aesthetic spirit of old Socialist Jews," laughs performance artist Dan Fishback on a recent rainy spring night. He has just finished a rehearsal of his sexed-up new play, You Will Experience Silence, in what first appears to be the most unlikely of places: a dusty, vacant office space (formerly occupied by the Forward) at the headquarters of Workmen's Circle, the century-old Jewish social-justice organization. But the more you learn about him, the more you realize that this is the perfect place for the artist to be honing his craft.
Fishback's show, opening this week at Dixon Place, juxtaposes the tale of two horny gay teens living in ancient Jerusalem during the Hanukkah war with that of a modern-day, neurotic, Jewish antiwar activist. It was developed with funds he received as a recipient of the Six Points Fellowship for Emerging Jewish Artists, funded by the UJA Federation of New York. Those contacts led him to the Workmen's Circle and his free, if aesthetically challenged, rehearsal space.
But it's all familiar to Fishback, 27, who grew up in Maryland, just outside of D.C., in a family that has been active in the Workmen's Circle for generations. That made for an accepting home for a boy who knew he was gay at an early age. He came out in high school, while costarring in a production of Fiddler on the Roof with his brother (also gay, though not yet out at that point) and his then-boyfriend. "He played a Cossack," Fishback says with a roll of his eyes, "and wound up dumping me and telling everyone I was a slut!"
Though he attended a Reform Jewish synagogue as a boy, he recalls, "My grandmother would take me aside and say, 'God doesn't exist. Labor organizations exist!'?" Her activist stories "were like bible stories to me," he says, adding that he wanted to be just like her when he grew up.
To that end, Fishback emerged as a protest leader during his tenure as a college student at the University of Pennsylvania. "Getting students involved with antiwar activism was like pulling teeth," he recalls. Still, he imagined a life as a professional activist, and when he made his way to New York in 2003, moving into his South Williamsburg apartment, it was with the plan to spend no more than a year "getting art out of my system," he says.
That's when his creative life really began to take off: A talented musician as well as a writer and actor, Fishback became involved with the local antifolk scene through an open-mike night at the Sidewalk Cafe soon after his arrival. Six years later, he's still creating—in spades. He's made three solo CDs, including his debut Sweet Chastity, and has a fourth slated for a 2010 release. He performs periodically with one of his bands, the grunge/punk group the Faggots, and has toured extensively with another, Cheese on Bread. As a performance artist, he's mounted several shows at spaces including Galapagos and P.S. 122. Still more projects include drumming with a junkyard band and dancing with a punk troupe. In his spare time, he works as a "super-ghetto" life coach for friends (he's not certified) and speaks at colleges about the connections between being queer and being Jewish.
"I make obsessive lists," he says, by way of explaining how he does it all. "Whenever I have a whim, I set myself a deadline. I'm always booking CD release parties before the CD is finished, or booking plays before the play is written."
It's all the more impressive considering the fact that Fishback suffers from frequent bouts of chronic fatigue syndrome, which sucks, he says, because "people think you're making it up."
The artist says he was inspired to write his current show by finding a connection between the war in Iraq and the ancient Hanukkah war. "It celebrated the triumph of fundamentalism," he explains, "which seemed a lot like the insurgency in Iraq. But I also knew I wanted to write a show that had to do with sex and intimacy."
Director Stephen Brackett says he was thrilled when Fishback approached him with the script. "I do a lot of gay-themed work and it's rare to come across something so jam-packed with ideas, and so smart," he says. "And I like that he's tackling these things with a wicked sense of humor."
He's got no plans to stop, either. Next up: Fishback's June residency at the MacDowell Colony, where he plans to work on The Material World, a play about—what else?—Madonna and Britney studying Kabbalah together.
You Will Experience Silence opens Fri 10 at Dixon Place. See danfishback.com and youwillexperiencesilence.com.
MORE: Dan on where Judaism and queerness collide
See more Gay & Lesbian