Fortuna Fantasia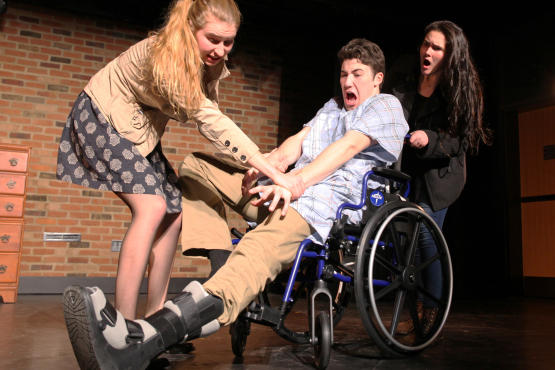 Fortuna Fantasia Photograph: Jesse Schreck
Time Out rating:
<strong>Rating: </strong><span class='lf-avgRating'>3</span>/5
Time Out says
Posted: Mon Aug 11 2014
How do randomness and destiny affect our lives? In Jesse Schreck's Fortune Fantasia, college sweethearts Claire (Chandler Rosenthal) and Jeffrey (Paul Hinkes) live together happily until a premature marriage proposal dissolves their domestic bliss. Unfortunately, due to seemingly arbitrary series of events, Jeffrey suffers a foot injury that sidelines him in their Baltimore apartment, leaving the ex-couple to awkwardly navigate their post-breakup dating lives while sharing the same square footage. The action is spearheaded by the Ringmaster (the likable Jeremy Weiss), who narrates the scenes and controls the fate of these young lovers like a puppeteer—and takes a bit too much glee in their troubles, which begin when Claire walks in on Jeffrey in a compromising position with the unstable Kathleen (Juliana Canfield), leading her to take up with poetry-loving, not-quite-Russian Thomas (Jacob Osborne). Postgrad themes of uncertainty and commitment abound in this production from Yale theater company Common Room, but the laughs from a solid first act wane in the increasingly cartoonish second half, which highlights the silliness of the one-dimensional Kathleen and Thomas in one outlandish incident after another. Despite strong performances by Rosenthal and Hinkes, by the time the Ringmaster muses about the ramifications of chance in everyday life, you might start to wonder what this two-hour-long show might've been without the final, unnecessary 20 minutes.—Anny Kim
Click here for full TONY coverage of the 2014 New York International Fringe Festival.
Users say
<strong>Rating: </strong><span class='lf-avgRating'>0</span>/5
Near Robert Moss Theater (at 440 Studios)