Going for broke
Nathan Louis Jackson moves on up to the West Side with Broke-ology.
By Helen Shaw Tue Sep 8 2009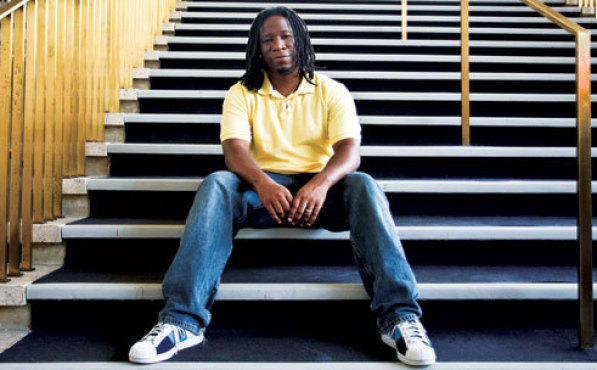 Fledgling playwrights, take note: This is not usually how it's done. Writers from Kansas with nothing but college shows on their rsums don't get snatched up by Juilliard; unknown grad students, showing for the first time at the Williamstown Theatre Festival, don't snag instantaneous offers from Lincoln Center Theater. But Nathan Louis Jackson has done just those things. A Wizard of Oz--worthy whirlwind has brought him from Manhattan, Kansas, to Manhattan Island, and his family drama Broke-ology—directed by Thomas Kail (In the Heights) and starring The Wire's Wendell Pierce—starts previews this week at LCT's Mitzi E. Newhouse Theater.
"If you told me that this is how it would turn out, I would have called you a liar," claims Jackson, 30, taking a break from rehearsals and his obsessive rewriting. In early 2007, Jackson was still frantically applying to graduate programs, having finished up at Kansas State University. "My wife had just found out she was pregnant, and I was working at Famous Dave's Barbecue," he recalls. "I always smelled disgusting—dogs in the neighborhood would follow me home because my feet were covered in meat. Life was nasty; bills were not getting paid. And I was thinking, How long can I wait for this playwright thing to happen?"
He was accepted into Juilliard two days before the baby was born, but that didn't make things much easier. Jackson's lowest moment came in the summer after he moved to New York City, followed by his wife, baby and brother; the apartment Jackson had lined up fell through. "We were in the subway: my brother on one side, my wife on the other," he says. "I'm holding the baby. Everybody has fallen asleep on me, and I'm thinking, We're homeless. I'll have to send everybody home, and we'll get a divorce, and the baby will hate me because I'll never be around. I've dropped the ball."
No wonder, then, that Broke-ology seems to know whereof it speaks. Jackson is a realistic playwright of the old school—"My job is to re-create life, and I need life to do that," he says—and the play borrows heavily from his own biography: It tells the story of a small African-American family in Kansas City, struggling with serious money problems and a father dying of multiple sclerosis (as Jackson's did). One brother has a way out; the other feels his responsibilities—baby on the way, job at a barbecue joint—too keenly to leave. "Broke-ology" itself is "the science of going broke," and the brothers consider themselves experts. Jackson has an advanced degree.
Refreshingly, Broke-ology's family isn't dysfunctional at all, despite its stories of eating possum to survive lean times. Jackson's language is contemporary—anytime a character uses the n-word, he has to chant, "I love black people! I love black people!"—but the play has earned comparisons to the great family dramas of 50 years ago. When people liken his work to Arthur Miller's, Jackson denies any conscious imitation, but doesn't protest either: "Look, you don't want to hear that the play reminds people of Soul Plane. You say Death of a Salesman? Great!"
Broke-ology is also notable for how beautifully its humor reads on paper. Paige Evans had just started her job as the director of LCT3, Lincoln Center Theater's Off-Off Broadway arm, when she came across the script. "I was blown away," she marvels. The theater immediately commissioned a new work from Jackson, but when she went to Williamstown last summer to pick up an early version of that piece, she also caught the first preview of Broke-ology at the festival—and concluded that it, too, needed to be at Lincoln Center. "Seeing the play that night confirmed everything we felt on reading it," she says. "We made an offer on it the next morning." (The commissioned piece, for its part, will show up at LCT3 next season.)
Evans didn't love Broke-ology just for its ease and humor. She is frank: "It's set in a black, working-class Kansas City neighborhood, and you don't often see that on New York stages." That is clearly a vast understatement. "It was pretty pale in Williamstown as well," Jackson observes with a chuckle. "But this family isn't going through African-American problems, they're going through American problems. Father getting sick, going broke, feeling stuck? We all go through that. We're all going through it together."
Broke-ology opens Oct 5 at the Mitzi E. Newhouse Theater at Lincoln Center.