Impressionism
By Time Out editors Thu Apr 2 2009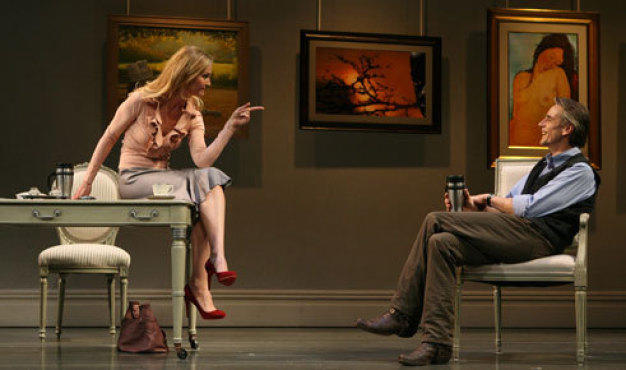 Time Out Ratings :
<strong>Rating: </strong>2/5
YES WE CANVAS Allen and Irons chat about art and love.
Photo: Joan Marcus
We expect movie stars to do hack work for easy money. Who begrudges Joan Allen her silly turn in Death Race or Jeremy Irons's stopping by the set of Dungeons & Dragons en route to the check-cashing joint? But seeing these talented actors in a vanity project as weak as Impressionism is uniquely embarrassing, a waste of resources nowhere near as fun or forgivable as a summer popcorn flick.
The story of how this tin-eared, clich-ridden rom-com made it to Broadway is probably much more entertaining than the play itself, but here goes. Michael Jacobs's tale mostly takes place in the art gallery of Katharine Keenan (Allen), a lonely woman with remarkably generic problems—her dad left her mother and she grew up shy and awkward, finding solace in painting. So Katharine makes it difficult for clients to buy her expensive prints; each frame holds too many associations for her. Jeremy Irons is Thomas Buckle, a world-weary photojournalist who loiters in Katharine's gallery, pining after his frosty friend. Their exceptionally dull and charmless scenes are relieved by explanatory flashbacks, in which the leads play various figures in each other's memories and Irons treats us to a couple of laughable American accents. Jacobs (a TV producer) stirs a spiceless stew of sitcom jokes, middlebrow art observations and maudlin romance. For a show that invites us to dote on famous artworks by Mary Cassatt, Modigliani and others, the final specially commissioned images projected onto the front scrim are god-awful and should be banished to a seedy motel room on the outskirts of Detroit. But that's just my first impression.—David Cote
See more Theater reviews
Schoenfeld Theatre. By Michael Jacobs. Dir. Jack O'Brien. With Jeremy Irons, Joan Allen. 1hr 40mins. No intermission.