Lincoln Center Festival: DruidSynge
Gerald W. Lynch Theater. By John Millington Synge. Dir. Garry Hynes. With ensemble cast.
By Time Out editors Thu Jul 20 2006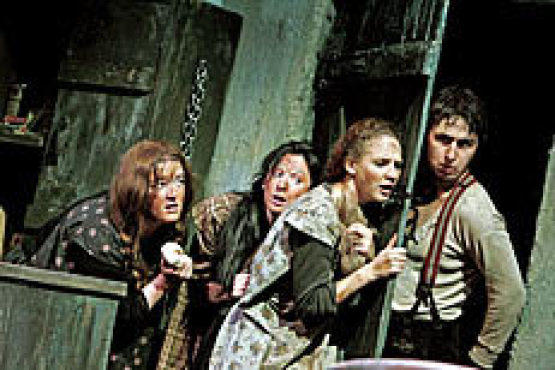 BOY CRAZY Gemma Reeves, left, stalks playboy Aaron Monaghan. Photograph: Keith Patterson
Time Out Ratings :
<strong>Rating: </strong>1/5
What do vampires and Irishmen have in common? Judging by the earthy set for the grueling theatrical marathon DruidSynge, both keep close to their native soil. But whereas Dracula sleeps in a dirt-lined coffin, the 19 actors who perform DruidSynge lustily kick up the rich, dark loam that carpets Francis O'Connor's austere, wattle-walled box. Stumbling out of this eight-and-a-half-hour survey of seminal dramatist John Millington Synge (1871--1909), you too might feel a bit like the undead—certainly in need of a whiskey transfusion.
RECOMMENDED: All Lincoln Center Festival coverage

To say the event is exhausting is less a criticism than a statement of fact. Unlike last year's comparably lengthy Le Dernier Caravansrail (Odysss), director Garry Hynes's ambitious undertaking doesn't accumulate enough dramatic force to energize its audience. With the exception of the first play, the grandly grim Riders to the Sea, and Synge's one genuine masterpiece, Playboy of the Western World, the entries yield mixed results. And as the hours wear on, you might find the performers' heavy, rapid-fire brogue harder, not easier, to decipher. (At times I yearned for supertitles.) But if Synge's lyricism conveys more texture than sense, Hynes's picturesque and lushly atmospheric staging is never dull. Marie Mullen (The Beauty Queen of Leenane) appears in five of the six plays as various tramps, widows and servants, and her sly, vivacious presence elevates the playwright's earnest fusion of Celtic folk tales and expressionism. DruidSynge is impressive for letting New Yorkers walk around in Synge country for a day. You may even find yourself looking down to see if you've got peat on your soles. — David Cote