Lipsynch
Images at the speed of sound.
By Helen Shaw Wed Sep 30 2009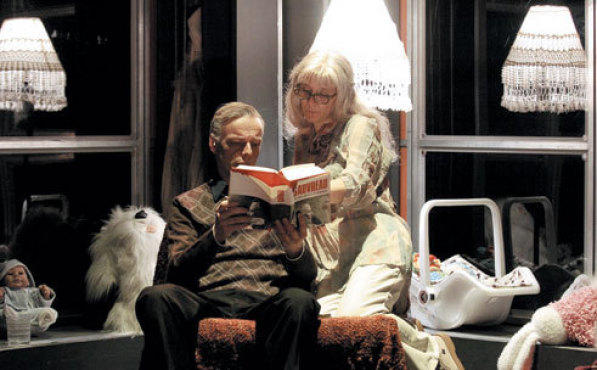 SCREAM TEST Miller, left, makes some eardrums bleed. Photograph: Erick Labbe
When people find themselves on an airplane caught between an opera diva rehearsing her aria in first class and a baby crying in coach, they get a headache. They might even steal a neighbor's headphones. But the virtuosic Quebecois director Robert Lepage gets ideas. On just such a nightmare flight, Lepage began to ponder the immense range of output of the human voice. Flash forward seven years, and Lepage is ready to (reluctantly) concede that the result—a nine-hour extravaganza called Lipsynch, opening Saturday at BAM—is basically finished.
For those of us who whine that Europe gets all the good visual directors, Lepage offers a tart rebuke. He stands among the top ten directors working today, snatching up international awards left and right. An early adaptor to video set design, Lepage has managed to stay ahead of the most tech-savvy designers: In 1994, New York audiences swooned for his wistful one-man fantasia Far Side of the Moon, and last season he stunned jaded Metropolitan Opera--goers with his La Damnation de Faust, in which a grid of screens and interactive projection technology seemed to sink the gilded auditorium underwater.
But in the episodic Lipsynch, Lepage—who has also made pieces for Cirque du Soleil (the spectacle K) and rocker Peter Gabriel—opted for a change. Speaking from Toronto (he has a series of short Stravinsky operas up next at the Canadian National Opera), Lepage admitted, "Lipsynch was challenging to develop because our company, Ex Machina, is usually associated with image. I'm not saying this piece is nonvisual, but for once it wasn't our starting point. We tried very hard to indulge in sound instead of vision."
That takes us back to the noisy airplane. "Somewhere between those two extremities exist all the other forms of vocal expression," Lepage says. Rather than whip up a quick piece about sound, he launched into his customarily exhaustive workshop process, inviting artists to participate in improvisations that eventually become the show.
Lepage approached the topic as a completist, trying to paint a comprehensive portrait of all human vocal emanations. A cadre of creative minds—including Spanish, German, British and Quebecois performers—built the piece, throwing everything from clinical research to personal reminiscence into the mix. In an Ex Machina production, Lepage doesn't exactly cast people. He bumps into performers, invites them to collaborate, and then reinvents his process to fit with each new company. You'd think that would result in more cacophony than the infant-infested airplane, but that's just how Lepage likes it. "I don't want to sound like an old hippie," he protests wryly. "There's a lot of conflict; it's not a commune."
Lepage doesn't seem to mind chaos. "In a team like this, where everybody has a different cultural sensibility," he notes with a laugh, "chances are that the scientific stuff will be brought in by the German guy, and the raw passionate singing will be brought by the Spaniard. But you have to let these things happen if you want the work to be a reflection of the world."
Canadian comedian Rick Miller, who plays the grown-up version of that squalling baby, knows a little bit about the multiplicity of voices: He once recorded a version of "Bohemian Rhapsody" in which he impersonated 27 of "the most annoying voices in the music industry." (Miller includes Corey Hart and Julio Iglesias in that number.) When the performer talks about Lepage, he sounds marginally more respectful. "There's discussion, disagreement, distraction," Miller says of the Ex Machina process. "The challenge is having so many cooks in the kitchen, but it's mitigated by having Robert in charge. We trust him, but more importantly, he trusts himself, and his confidence sets the rest of us at ease."
That confidence shows. Out of Lipsynch's branching story lines—which include a farcical funeral, an extended riff on dubbing and a bitter vignette of a sex worker from Manchester—Lepage's familiar gifts for dreamlike melancholy and unforgettable visual metaphors (imagine a man drowning in a tabletop) emerge. Somehow, Lepage has turned sound back into his favorite thing: image. The auteur's gift lies in helping us see physical manifestations of language. "If you want to understand the difference between French and English, just fly over London or Paris," Lepage says. "Look at how each city is built, and you'll understand how its language is built." Everybody says you can't dance about architecture, but according to Lepage, we have been speaking it all along.
Lipsynch is playing at the BAM Harvey Theater through Oct 11.