Loveness: I Will Only Love You Once.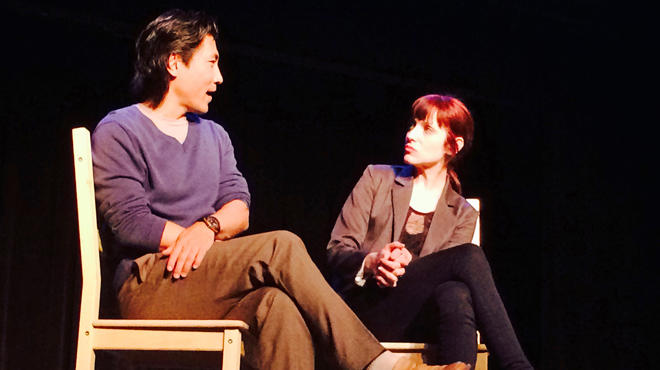 Loveness: I Will Only Love You Once.
Time Out rating:
<strong>Rating: </strong><span class='lf-avgRating'>2</span>/5
Time Out says
Posted: Wed Aug 20 2014
With dialogue alternating between free verse and clichés, and a plot that bends itself into a question mark, Loveness sends you ambling out of the theater wondering, That was a joke, right? Artistic types Isabelle (Meridith Nicolaev) and Carlyle (Jinn Kim) are in their mid-thirties and on an awkward first date. Carlyle impetuously asks a question intended to make him look sexy: "What do you want?" Isabelle responds with her dinner order. "No, in life," he clarifies, his laugh half Boy Scout, half creep at the bar. Isabelle observes that you can't paint the fruit until you have tasted it. Carlyle is confused. They begin to date. Isabelle blathers to her matronly therapist (Kelley Rae O'Donnell) about her concerns, while he sees his own doctor—a bartender (Marco Greco). Following his drink-slinger's advice, Carlyle squanders his good fortune by gambling and doing drugs. Will Isabelle still love him? Did she ever? Playwright Craig muMs Grant is a notable poet, but his lyrical detours are too dense to elevate the relationship into drama. Alternatively, if Loveness were to succeed as comedy, it would need snappier direction and comic acting. As Isabelle, Nicolaev might have served as the voice of reason, guiding us through the absurdity, if she had downplayed her angst and the other cast members had ramped up the humor. Sadly, it's not a good match.—Sarah Andrew
Click here for full TONY coverage of the 2014 New York International Fringe Festival.
Users say
<strong>Rating: </strong><span class='lf-avgRating'>0</span>/5
Also on at Players Theatre