Makeup artist
berglam performance beast Taylor Mac asks, Who's my daddy?
By Adam Feldman Thu Sep 27 2007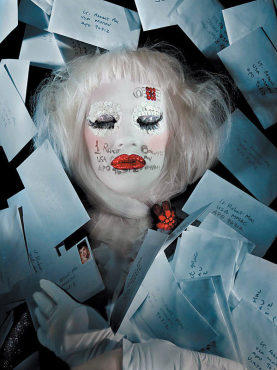 GOING POSTAL Mac immerses himself in his father's correspondence. Photo: Steven Menendez
In his stage performances, the outrageously outré Taylor Mac doesn't just let his freak flag fly: He waves it ferociously, then swaddles himself in it, then burns it to ashes. With his unique blend of bleak humor, personal revelation, political engagement, folk-inflected music and astonishingly elaborate, gender-twisting, gorgeous-grotesque costumes, Mac has emerged as an essential figure in the downtown performance scene. (In 2005, he was the first recipient of P.S. 122's annual Ethyl Eichelberger Award.) In person, however, the 34-year-old writer-performer is surprisingly unprepossessing. No one who saw him meet with TONY to discuss his latest project, The Young Ladies of…, would have guessed that this gentle man in a torn gray T-shirt, his shaved head wrapped in a light-blue handkerchief, was behind some of the fiercest theater in New York.
Whenever I meet you out of costume, I'm always freshly amazed at the difference.
Right now I'm wearing my boy drag; nobody notices me on the street. I'm hiding my emotional turmoil and fabulousness and chaos and anger and sadness and joy—I'm hiding it underneath my skin. But when I craft my plays, I try to figure out what I look like on the inside. I want it to be as multifaceted as possible, so when you look at me you're not quite sure what you're looking at. You see something that is chaotic and specific and graceful and clumsy and professional and community-theater-like and beautiful to watch and disturbing, all at the same time.
You refer to your pieces as plays. What's at stake for you in that term?
I get performance art all the time, and it cracks me up because I don't feel like a performance artist at all. First and foremost I'm a theater artist working in the genre of pastiche—I take different genres and squish them together. But it's very traditionally constructed: I take a basic three-act, linear structure, and then I figure out how to screw with that.
Drag sometimes functions as a kind of armor, but you seem very vulnerable onstage.
It has to do with the idea that I'm exposing myself instead of hiding behind a persona. Like most things, drag has dwindled down to mere entertainment. When drag first started, it was dangerous: You'd be scared when you saw a drag queen. That's what I'm trying to get back to. When I create my work, I say, "What about me is the thing I don't want the world to know?" And then I say, "Okay, that is what this piece is about." So they turn out to be about things like the time my ex-lover stuck crystal meth in my ass while I was sleeping.
Which bring us to your latest piece…
The Young Ladies of… is my father play. When my dad was in Vietnam in 1968, he placed an ad in an Australian newspaper. He had his leave in Sydney and he basically wanted to go on a couple of dates. And thousands of women wrote to him. I never knew my father; he died when I was a little kid. So the play is about trying to figure out who he was and who these women were, and it's also an exploration of the polarization of the United States. My father was from Texas and I'm a New Yorker, and he was a soldier and a macho guy and I'm a drag queen, so it's an exploration of that gap.
How long does it take to get all that makeup on and off?
I spend hours upon hours getting ready—and that's the point, actually. I re-create the look every single night, and it does take a long-ass time, and I want the audience to know it. I want them to go, "Oh my God, somebody must have really cared about this. Maybe I should sit up a little bit in my seat." What I find missing a lot of the time in theater is that I look at the stage and I think people don't care enough about what they're creating.
There's been a lot of hand-wringing about the death of the East Village performance scene. Are things as dire as people say?
Yes, we're on the decline. New York is not the most interesting city in the world anymore. I've spent some time in London this year; it's alive and exciting there, and New York is dwindling. Good! As is America. Good! Why do we have to be No. 1 all the time? Can we please be No. 2?
The Young Ladies of… plays at HERE through Oct 19. See Off-Off Broadway.