Memphis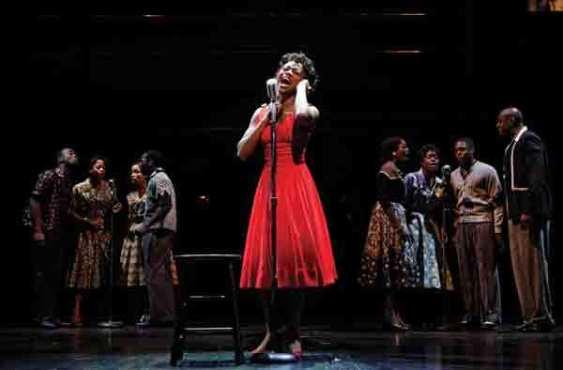 Montego Glover hits a high note. Photograph by Joan Marcus
Time Out rating:
<strong>Rating: </strong>3/5
User ratings:
<strong>Rating: </strong>5/5
Rate this
Time Out says
Thu Mar 15 2012
Now that Broadway no longer benefits from Hairspray's retro uplift, space on the Great White Way has been cleared for another musical about the racial integration of a television dance program in the early years of the civil-rights movement. Joe DiPietro and David Bryan's Memphis cannot be faulted for its intentions: Its heart and its soul music are in the right place. The show's assets begin with Chad Kimball's dynamic, courageously outr leading performance as Huey, a Tennessee radio DJ in the 1950s, who champions "race records" and embarks on a risky romance with a black singer (the lovely Montego Glover, an impressive vocalist). The music has laudable drive, which Sergio Trujillo's choreography brings to vibrant life.
Yet the Hairspray comparison ultimately helps explain why the competent Memphis doesn't quite connect. For while the former show cleverly weaved multiple plots together into a braid of common themes, and did so within the idiom of campy musical comedy, the latter has no subplots whatsoever: It is single-minded and, for the most part, deadly earnest. (At one point, the heroine is the victim of a brutal street beating.) DiPietro and Bryan previously collaborated on the enjoyable horror spoof The Toxic Avenger, but musical drama requires greater depth than they and director Christopher Ashley (Xanadu) have mustered. Aside from Huey, the characters are thin, and the racists are nameless goons; the only exception is Huey's mother (Cass Morgan), whose eventual coming-around is as inevitable as the moment when the heroine's mute friend, Gator (Derrick Baskin), breaks into mournful song. Lacking the range of color that could give it a hold on us, the show spends its first act arguing for integration and its second in gradual disintegration.—Adam Feldman
See more Theater reviews
Write your own review