Musical theater report: THE ANTHROPOLOGIST
Michael Friedman flaunts mad songwriting skills with catchy tunes about sex, teens and Jesus for his new project, Saved.
By David Cote Wed Apr 9 2008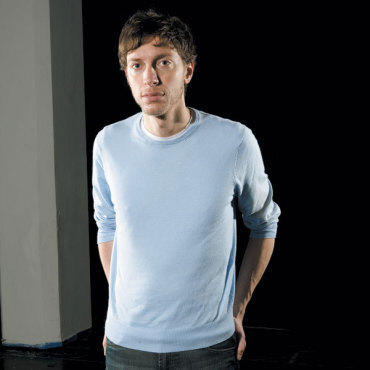 Photograph: Michael Kirby
Nobody talks about an "Off Broadway sound," but if they did, it might resemble the music of Michael Friedman. The intensely busy composer-lyricist is all over town these days. He's mostly known for his ruminative yet touching incidental songs for the collaborative troupe the Civilians (whose Paris Commune is running at the Public), but he also penned tunes for God's Ear and The Drunken City (both currently playing). Friedman, 32, has a talent for mixing catchy, up-tempo hooks and smart, searching lyrics with a wistful undertow. Who else could have written a chipper ditty about memory loss and identity, likening the mind to a child's toy in Gone Missing's "Etch a Sketch"?
Friedman's next and biggest project is a musical adaptation of the 2004 film Saved, a satire about Christian teens navigating theology and sexuality. Previews start in May at Playwrights Horizons, and Friedman has been polishing his score with book writers and colyricists Rinne Groff and John Dempsey. ("It's like a crazy tag team," he notes. "We're lucky we all get along.") There's enhancement money behind the production, meaning that commercial producers are betting on a Broadway transfer, à la Spring Awakening. Like that rock-musical hit, Saved runs on teen power—its cast features 13 young characters rocking out against two adult authority figures.
If Friedman feels the commercial heat, he's not showing it. First things first: He's not trying to write sentimental Broadway hits. "Half of me is really cheesy and half of me runs desperately from the emotional heart of things," the songwriter says, reflecting on his musical rationale. "So I go both ways. I think I still tend to prefer theater that goes here [Taps his temple] than here [Touches his chest]."
Luckily, Friedman has demonstrated an aptitude for wrapping brittle concepts around a sweet center. Sitting at a piano at Playwrights Horizons, he plays "Heaven," from the score of Saved, a clever ballad sung by Hilary Faye (Mandy Moore's character in the film), in which the pushy little Bible-thumper goes from sanctimonious smugness to a profound crisis of faith—then back again. He follows the impromptu performance with a song from the Civilians' latest work-in-progress, This Beautiful City, a documentary musical about Christian fundamentalism and the culture of megachurches. Friedman plunks out the hauntingly simple number sung by the character of Nancy Jo, a transsexual ex–city planner ostracized from her Christian community. The lyrics were adapted from an interview with the real Nancy Jo; Friedman shakes his head in wonder, recalling the story of the city planner who, as it were, rezoned himself. "It's amazing when you talk to people, and you're like, 'You've come up with more good metaphors in your life than I could possibly come up with on my own.' "
Between Saved and This Beautiful City, Friedman has been spending a lot of time in McJesus world. For a break, he time-warps to 19th-century France to hang with socialist revolutionaries—the milieu of Paris Commune. Friedman likes to call himself a musical anthropologist-cum-archaeologist. "On any show—whether it's about the origin of populism or evangelicals, what's really interesting to me is in getting inside other people's heads by having them sing," he says. "The best moment in theater is the moment of empathy, when the audience leaps into something, or suddenly sees that quality in themselves."
Listen to a sample track by Friedman. (It make take a few seconds for the audio player to load.)
Paris Commune is playing at the Public Theater through Apr 20, 2008. Saved starts previews at Playwrights Horizons May 9.