Oooh man group
The cocreator of De La Guarda brings his visceral action-theater to the airspace above Off Broadway.
By Smith Galtney Thu Oct 11 2007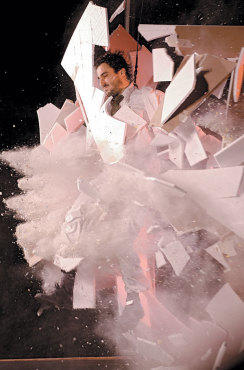 Hanging around a midweek rehearsal for Fuerzabruta in the Daryl Roth Theatre on Union Square, it's hard to distinguish between who's in the show and who's running it. There's no stage, per se, so both groups mix freely. The performers are strapped into harnesses, but then again, so are the technicians. Suddenly, booming techno music overtakes the PA system, and the entire crowd erupts into whoops and hollers as a humongous, translucent tank (picture a clear plastic container the size of a tennis court, with a see-through bottom and filled with water) descends from the rafters.
Everyone gazes heavenward. The cast swims through the rippling light above, their silhouettes taking on any number of shapes: tadpoles, sea monkeys, blow-up dolls. Wait—are those…fetuses? "Slow down," a soft Argentine voice half-whispers through the PA. "Slow down, slow down, shhhhhh…" The swimming silhouettes come to a halt, and all eyes are on the tall, thin, unimposing man clutching a mike near the soundboard. "Great day, very good day!" he shouts, as the room fills with applause and then quickly clears out for the night.
The man with the mike is Diqui James. As one of the creators of De La Guarda—the interactive theatrical experience that originated in Buenos Aires and went on to run for six years Off Broadway—he put ten years of his life into that show, first as a performer and then as a producer, overseeing stagings from Tokyo and Las Vegas to Berlin. James, 42, made lots of money, and bought a new house for his family. But after the century turned, the steady stream of plane rides, hotel suites, press interviews and rehearsals, rehearsals, rehearsals left him bored and depressed.
"Nobody wanted to make anything different," he remembers over a beer in an Irish pub after rehearsal. "They were like, 'Keep everybody calm and make another company.' Maybe that's why theater is so boring: Nobody encourages anybody to make new things!"
Parting ways amicably in 2002 with cocreator Pichon Baldinu (who continues with De La Guarda even though no versions are performing at the moment), James gathered the rest of the original DLG crew, rechristened it Fuerzabruta (it means "brute force") and set up shop in a warehouse back home in Buenos Aires. They spent a year generating the new production. Fuerzabruta incorporates abundant audience participation and many of the same in-your-face elements that drove De La Guarda—flight, wind, rain, juddering strobe-lit motion. But it also deploys recurring visual motifs and even a story line that conveys a real sense of journey—something its predecessor lacked completely.
"De La Guarda was less of a script," admits James, who honed the show while double-timing as a cast member ("I was flying and giving cues to the lighting guy"). But that's not to say James, a former street performer, hopes to be the next Tony Kushner. Fuerzabruta remains strictly physical. "Theater has been so intellectual in the last 200 years," says James. "To me, that doesn't make sense. You do a play. It's action and space—it's not literature."
He's four years into Fuerzabruta—the company rehearsed alone in a warehouse for a year, and then in audience previews for another, before finally playing in Lisbon and London and perfecting it in NYC. And it's clear that all that the boredom and depression of the De La Guarda days is long gone. "Now we're close to achieving something," says James. "I don't know what it is. But we are closer. Now I feel that we are really going somewhere."
Fuerzabruta begins previews at the DarylRoth Theatre Thu 11.