Oroonoko
By Time Out editors Wed Feb 20 2008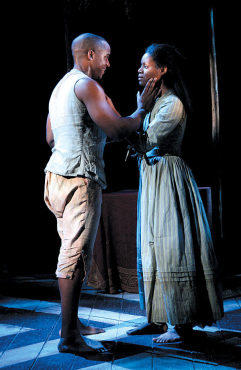 REUNITED AND IT FEELS SO GOOD Jones, left, meets up with Perkins. Photograph: Gerry Goodstein
When discussing Theatre for a New Audience's new production, Oroonoko, comparisons to last season's unfairly maligned Coram Boy are apt and unavoidable. Both shows feature the same sprawling epic structure and Gothic spirit of danger. So for those who found Coram Boy enthralling (admittedly an elite bunch), Nigerian playwright Biyi Bandele's expansion of Aphra Behn's 17th-century novella about an enslaved African king is a colorful, percussive treat.
Although the title character (an appropriately regal Albert Jones) is next in line to the throne, his grandfather (Ira Hawkins) is running the country into the ground by listening to his corrupt advisor Orombo (John Douglas Thompson)—not to mention his insatiable libido. After proving himself in battle, Oroonoko weds Imoinda (Toi Perkins) but Orombo seeks to destroy the union—and turn the king against his kin—by bringing the bride to his master's bed. Imoinda murders the king, Oroonoko is crowned, Orombo sells them into slavery…and that's just Act I.
Behn's original story began with Oroonoko already a slave, so the entire first half is Bandele's invention. At times the dialogue—particularly the poetic but raunchy sexual humor—sounds contemporary, which makes the second act seem all the more stilted (and much less funny). There are also jarring shifts in tone that may make audiences yearn for mood-stabilizing meds. But director Kate Whoriskey keeps the action moving so excitingly that you can hear your heart pounding in your ears, along with the African drums.
—Raven Snook
Duke on 42nd Street. By Biyi Bandele. Dir. Kate Whoriskey. With ensemble cast. 2hrs 15mins. One intermission.