Our Leading Lady
By Time Out editors Thu Mar 22 2007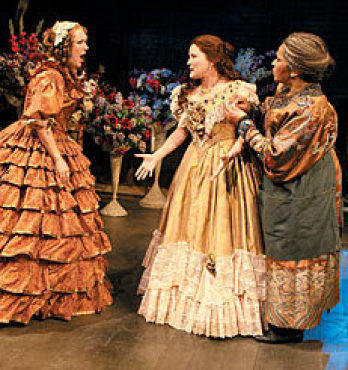 AXIS OF DIVAS Nielsen, Mulgrew and Duquesnay bicker backstage. Photograph: Joan Marcus
Time Out Ratings :
<strong>Rating: </strong>4/5
John Wilkes Booth used a reliable laugh line in Our American Cousin to mask the sound of his pistol shot directed at Abraham Lincoln's head on April 14, 1865, in Ford's Theatre. The discharge was still heard, followed by the actor's hasty escape. It's unlikely that our own decider-in-chief will attend Manhattan Theatre Club's historical seriocomedy Our Leading Lady, but would-be assassins take note: You will have many opportunities to muffle your guns.
Charles Busch's semicampy love letter to theater folks upstaged by history is curiously but effectively divided into a silly first act and a somber second one. British-born stage diva Laura Keene (Mulgrew, in fine fettle) is enjoying an extended engagement in Washington, D.C., where she hopes to wow President Lincoln, buy the theater and import her own performers from New York. Opposing this plan is a ragtag bunch of local theatrical hams and hacks who fear the unemployment line if Keene gets her way. Most memorably, these include a Southern rival diva (Kristine Nielsen) and her boy-crazy thespian husband (Reed Birney). An escaped slave (Ann Duquesnay) masquerades ridiculously as Keene's Chinese secretary. For all her backstage fits and histrionics, Keene's momentous performance is overshadowed by Booth's solo turn.
You wish that Busch, toying with this intriguing historical footnote, had more penetrating insights into authority, race and the power of illusions, but he only lightly touches on the actress/whore dichotomy and the fluidity of ethnic signifiers. Still, the playwright and drag icon is a seasoned craftsman and maintains an engaging tension between camp and drama. So other than that, Mrs. Lincoln, the show was pretty good. — David Cote
Manhattan Theatre Club . By Charles Busch. Dir. Lynne Meadow. With Kate Mulgrew. 2hrs 5mins. One intermission.