Pin the tale
Glen Berger spins fantastic yarns in The Wooden Breeks
By Diane Snyder Thu Feb 2 2006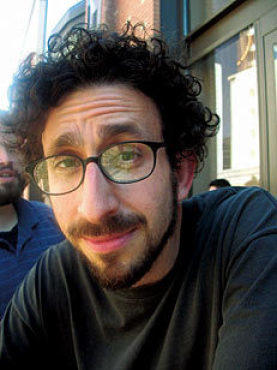 THROUGH EYEGLASSES, DARKLY Moody playwright Berger mixes sweet and sour. Photo: Courtesy of MCC Theater
After many years, Glen Berger has become an expert on brooding. Brood is the name of a fictional Scottish village in his new play, The Wooden Breeks, and brooding is what Berger has been doing over the script for about 15 years. A sprawling folktale with equal doses of angst, whimsy and heart, the piece is finally getting its New York premiere, courtesy of MCC Theater. The lanky writer, whose shock of black hair, unshaven face and untucked shirt capture the mood of a rainy Monday morning, is still finessing the text. He's chagrined to learn that the draft provided to TONY didn't include recently incorporated ideas. "It's all autobiographical, so you're working on everything you're working out in your own life," Berger explains expansively. "You and your characters are going to have the epiphany at the same time. I never thought it would take so long."
Until recently, Berger, 37, thought he was done moping over The Wooden Breeks. He directed its premiere in Seattle in 1991, then shepherded it through subsequent productions in Los Angeles, Atlanta and Juneau, Alaska. He quashed a 1994 New York production featuring James Urbaniak during rehearsals because he wasn't happy with the script. "That made me a lot of friends," he jokes. "After a reading at MCC last September, I was agog and appalled again," Berger continues. "I thought I had cracked everything, and decided to overhaul it one more time."
The playwright, whose 2001 monodrama, Underneath the Lintel, enjoyed a lengthy run Off Broadway, is as good a teller of tales as the lovelorn tinker Bosch, the hero of The Wooden Breeks. After nine years, Bosch has given up hope that his fiance, Hetty Griggs, will return. She promised she'd be back before his fire died, so he's been nursing it since she ran away. But when he stamps it out, one ember remains, and Hetty's irritating son, Wicker, guilts him into recounting one last installment of a fable he's been reciting for years: the story of what happened to his mother. The characters in Bosch's tales have a touching Dickensian quirkiness: There's Anna Livia Spoon, a saleswoman pushing bell devices for coffins (in case of accidental burials), and Jarl van Hoother, a lighthouse keeper who's never had contact with the outside world.
Berger began Breeks at age 23, inspired by a youthful love of literature and private obsessions. "I was very influenced by Beckett and Dylan Thomas and was in the middle of a lot of personal upheaval that found its way into the script," he says. "The process since then has been chipping away at it. At the very heart was a story about the nature of memory and love and brooding—that strange loop of unanswerable questions that we keep trying to answer."
T. Ryder Smith, who plays the lonely lighthouse keeper (he was a Drama Desk nominee for Lintel) describes working on a Berger play as the equivalent of "having a samurai sword-fight with Mr. Rogers, blindfolded and in the mud. On the surface, it's very bookish and wordy, but it's informed by tremendous passion—operatic passion—because there's a lot at stake. Some of the characters are in love with memories of people, others are waking up to what might have been an illusion of love. The trick is to play the eccentricity as well as the passion underneath."
Married with two children, Berger is also an Emmy-nominated writer who worked on the PBS children's show Arthur. He paid homage to his hero Beckett with an episode inspired by Waiting for Godot: Two children bide their time while waiting for their mothers to pick them up from soccer practice.
So is Berger done brooding? Not when he can focus on the word's more uplifting connotations. "To brood doesn't mean just to mull darkly over things long past," he clarifies, "but also to wait for a new life. The original definition referred to hens hatching eggs, so there's something incredibly positive about the word, too."
The Wooden Breeks is at the Lucille Lortel Theatre through March 11.