Sontag: Reborn
The Builders Association reopens Susan Sontag's intense, private journals.
By David Cote Fri Jan 6 2012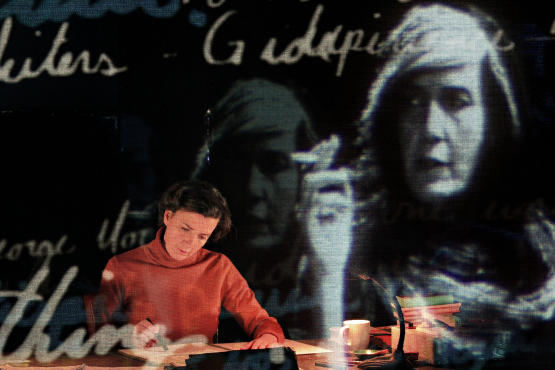 Sontag: Reborn Photograph: James Gibbs
Time Out Ratings :
<strong>Rating: </strong>4/5
In 1957 Susan Sontag wrote: "Superficial to understand the journal as just a receptacle for one's private, secret thoughts—like a confidante who is deaf, dumb and illiterate." She has a point: Why put our inchoate fears and longings on paper unless we have an unconscious (or very calculated) desire for them to be read one day? Sontag never published the diaries she began keeping as a teenager, but her son, David Rieff, edited and published them in 2008 as Sontag: Reborn. Now the Builders Association has gone a step further and theatricalized excerpts from said journals and notebooks, with later annotations by the author herself. The multimedia result, also called Sontag: Reborn, offers a touchingly nuanced portrait of the late, great thinker and writer as bookish student, anguished bisexual, single mother, culture vulture and self-invented genius.

Sontag is not a simple or sympathetic character to evoke—prickly, snobby, coolly narcissistic—and solo performer Moe Angelos (who adapted the book) finds a delicate middle ground between impersonation and neutral recitation. Angelos sits at a desk piled with volumes and notebooks, reading from journals and gradually aging from a precocious 14-year-old to an imperious theorist turning 30. All the while, she is swathed in clever multimedia layering: An older version of Sontag with the signature white-striped hair supervises her younger self from a pre-recorded video, now and then commenting on entries. A bird's-eye video of Angelos seated at the desk (or lying on top of it in her more vulnerable moments) provides a neatly detached perspective. Sontag's language is characteristically magisterial, dry, serious and incisive.

Director Marianne Weems balances technovisual flash with a dramaturgical clarity that has always distinguished the Builders Association's work. However, there's a sense of the piece being unfinished. At scarcely more than an hour, Sontag: Reborn comes across as the first act of a more ambitious work, one that begs for climax. Perhaps the sense of incompleteness is intentional, but we can take comfort in the fact that two more volumes of Sontag's journals have yet to be published. Is a theatrical trilogy waiting to be born?
Public Theater. Based on the book by Susan Sontag and edited by David Rieff. Adapted by Moe Angelos. Dir. Marianne Weems. With Angelos. 1hr 10mins. No intermission.