The 25 best Tony Awards performances
We choose the top musical numbers from 44 years of Tony telecasts.
By Adam Feldman Thu Jun 2 2011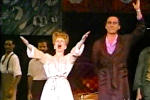 20. Evita, "A New Argentina" (1980)
Click here to view
Evita was the show that put Broadway superdiva Patti LuPone on the map—or at least the map of South America. The unlikely subject of Andrew Lloyd Webber and Tim Rice's pop opera was the former first lady of Argentina, Eva Peron, and her oft-repeated theme song, "Don't Cry for Me, Argentina," was the show's signature tune. But for the Tonys, the show chose Harold Prince's brilliant staging of its Act I closer, in which an aquiline, predatory LuPone knocks out huge notes that help explain Eva's role in the political rise of her populist-strongman husband: When this lady belts, people listen. (The performance might rank higher on this list if those money notes were not pretaped for the telecast.)
19. Guys and Dolls, "Sit Down, You're Rockin' the Boat" (1992)
Click here to view
The beloved 1992 revival of Frank Loesser's classic Guys and Dolls had a lot going for it, including a swell cast led by Nathan Lane and Faith Prince and an old-school aesthetic that went hand in glove with the show's colorfully cartoonish world of lovable New York gangsters. The show's liveliest number found a minor character, Nicely-Nicely Johnson—played by Walter Bobbie, who went on to direct the Chicago revival—pretending to have seen the religious light. Choreographer Christopher Chadman, a longtime associate of Bob Fosse's, came up with a staging that is pure musical-comedy elation.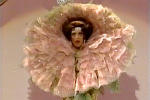 18. La Cage Aux Folles, "We Are What We Are"/"I Am What I Am" (1984)
Click here to view
Broadway finally came out of the closet, where it had apparently been trying on its mom's nuttiest clothes, with the groundbreaking 1983 musical comedy La Cage Aux Folles. Introduced as though they were exotic flowers in some alien garden, the show's unabashed transvestites shed their puffy gowns and perform a snappy tap number in sparkly miniskirts. And although George Hearn—as the show's drag queen bee, Zaza—bizarrely performs the show's gay-pride anthem in a tuxedo instead of a frock, the former Sweeney Todd star sings with forceful dignity.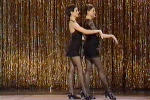 17. Chicago, "All That Jazz"/"Hot Honey Rag" (1997)
Click here to view
The hugely successful Broadway revival of Kander and Ebb's cynical Chicago began as a concert staging at Encores!, and the production's sleek, pointed style retains an air of presentational formality that is in perfect tune with Bebe Neuwirth's icy-hot delivery of the show's opening number. Ann Reinking's choreography summons the spirit of Bob Fosse, but this Tony sequence is most compelling when, in "Hot Honey Rag," Neuwirth and Reinking dance the 90-second synchronized duet that Fosse himself devised for the musical's original 1975 production.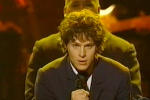 16. Spring Awakening, "Mama Who Bore Me"/"The Bitch of Living"/"Totally Fucked" (2007)
Click here to view
One of the first rock musicals to sound like contemporary rock music, Spring Awakening throbbed with new blood—a quality accentuated by an attractive young cast (fronted by Jonathan Groff and Lea Michele). By offering a medley instead of a single number, the show smartly emphasizes newness, speed and change. And when the cast explodes into the last song, whose unsafe-for-TV language the actors preemptively struck, the nothing-to-lose wildness of Bill T. Jones's choreography is heightened by herky-jerky pans and zooms of the camera.